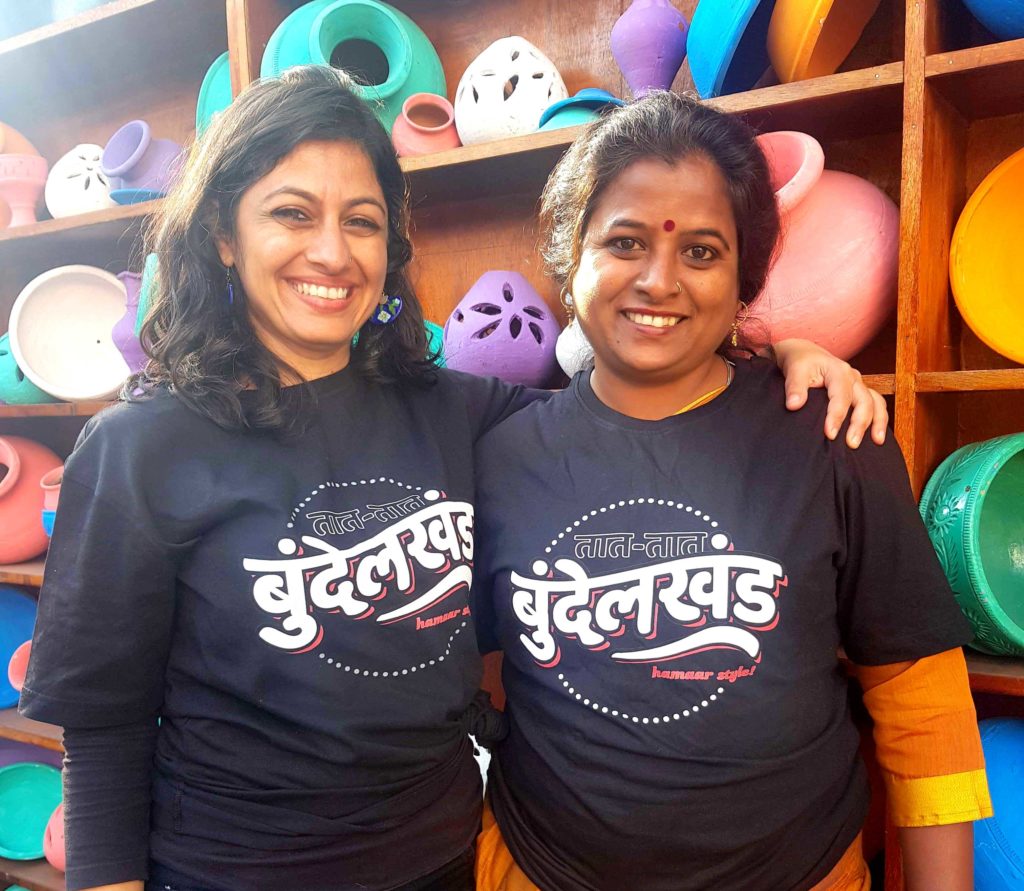 Resuming our new series featuring conversations between Disha Mullick and Kavita Bundelkhandi, Khabar Lahariya's co-founders, in times of lockdown.
Aiming to focus on the myriad meanings of keeping safe and sane, Delhi-U.P., while reporting in the north Indian hinterlands during the ongoing global health crisis, these dispatches are illustrative of the unique diverse identity of Khabar Lahariya, and the bonds we forge as women at work.
D: You sound like you're asleep, or unwell. Your voice is so heavy.
K: I don't know. There's nothing wrong with me, but I don't feel OK. Inside. This month has been terrible. It's like we're stuck in a cycle of bad luck. That's breaking us down. 
D: There's some reserve we find, each time, isn't there? To heal from one piece of bad news, or a nightmare case we've reported on, and to face the next one? I've been thinking so much of that training in Chitrakoot, and holding Shraddha, and losing her daughter, and how you were the one taking that 3-month old from doctor to doctor in the night… But we heal each time and live to see another trauma.
K: Yes. Rizwana's death has brought back so many memories. When Laali's sister hung herself, and I went to Jhansi to be with her, and then spent the night in the same room… And so many other times. But this time, I don't know why, I feel weaker than other times. I feel like I'm not able to stand up again. After a 1000 times! My stomach feels like it's on fire. 
D: Did you feel any peace with the statement you put out? Because I felt some peace, and yet I haven't been able to stop thinking about her since. Where's the line between being a friend and colleague in mourning, and a feminist reporter? Which role do you play, when? How do you balance letting go, and not letting go? Everything has seemed blurred and restless, and it's keeping me up at night, still. I still feel like she's going to call, anytime. 
K: I do feel some peace. I still see her everywhere, but I've stopped getting those calls from everyone to ask me for a byte. I've even got apologies from people who had posted something about her death on social media. So it's had some impact. I could barely read it through, though.
D: Are things getting better there, with the lockdown easing up?
K: You step outside, and no one has anything to say except about Corona. All the women in my house gather in the aangan everyday day to discuss when this lockdown will be over. And it's funny, I've been thinking of doing this story: everywhere you go, in this quiet, uncrowded version of the city, you see women keeping the world going. Women standing in queues for ration; women in the long queues at the bank; women getting their groceries. You only see men who are returning from cities, and in queues at the liquor shops. Otherwise they're indoors, waiting for the worst to pass.
D: What are returning workers saying, are they glad to be home? Does it feel less dystopic with them filling the streets and villages?
K: It's pretty harrowing. I've been getting calls from people coming from Surat, Maharashtra. Stuck at borders. Sending photos and videos of the conditions they are in. Walking, in trucks, on cycles. Last night a group from Naraini was stuck at the MP border, stopped by the cops at 3am, starving and thirsty. I had to tell them to stay calm and be patient, they were so close to home, they shouldn't jeopardise it. Another group reached their village and were being harassed by the pradhan, abused and not allowed food or water. They called to ask us to report it. As if their journeys weren't enough. This week two migrants died in quarantine. Of 'stomach ache'. Truckloads of migrants are being disinfected with machines, it's just crazy. The situation is going to get worse here very quickly.
D: I think we have to gather up our courage, from where it's pooling around our ankles, and think of better and better stories to do, Kavita. That's how we're going to stay afloat. That and your yoga, of course. 
K: I've been getting up at 4am, and meditating, you know. Deep breathing. I don't even miss the gym anymore; maybe I'll never go back! I have so many ideas for stories, you wouldn't imagine. I couldn't say much in the monthly planning meeting today, I was feeling a bit overwhelmed, seeing everyone after Rizwana's memorial. But there are stories we're itching to do – of life at home with those who've been away so long, of pregnant women walking kilometres to the district hospital and being turned away, or paying for ultrasounds with their day's food money; of how the news from Bundelkhand is going to be key in how Corona unfolds in the next few months. This is what keeps us going. Let's plan another edit meeting soon. 
Also read:
Dispatch One
Dispatch Two
Dispatch Three