Press
खबर लहरिया का असर | Impact, Awards and Media
Rani Laxmibai Award for Bravery, March 2016
TheBobs Global Media Forum Award, May 2014
The Bobs awards honor websites and projects in 14 languages that champion the open exchange of ideas and freedom of expression. The Global Media Forum Award was for sites that examine how interconnectedness, interactivity and participation influence and spur on the democratic process.
30 May 2013 and 30 May 2014 (Journalism Day), Special Mention for Khabar Lahariya's journalism in Mahoba and Hamirpur districts
Marico Innovation Award, March 2014
The Marico Innovation Foundation presented Khabar Lahariya the Innovation for India Award in the social sector for its uniqueness, sustainability and scalability.
Kaifi Azmi International Award, May 2013
This award is presented annually to those working with literacy, especially in the local language.
Times Now Amazing Indian Award, January 2013
English news channel Times Now honoured Khabar Lahariya with the Amazing Indian Award calling Khabar Lahariya as one of the makers of change in the country.
Laadli Media Award for Gender Sensitive Reporting, December 2012
Population First, an NGO and a communications initiative presented Khabar Lahariya's collective of women journalists with the Special Jury Award for Gender Sensitive Reporting.
Mahindra Spark the Rise Challenge, November 2012
UNESCO King Sejong Award for Literacy, 2009
Women's World Summit Foundation Award for Creativity in Rural Life, 2009
Chameli Devi Jain Award for Outstanding Woman Mediapersons, 2004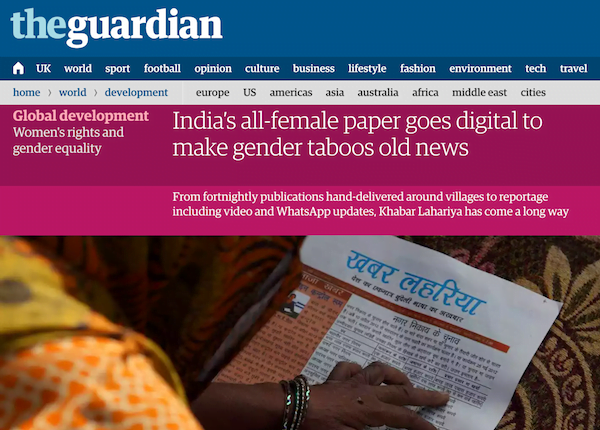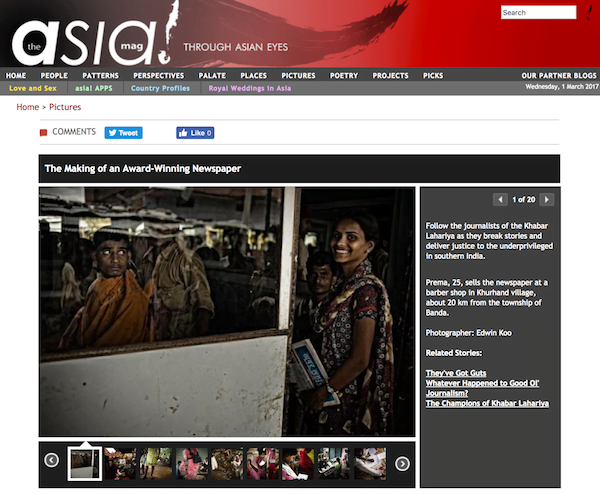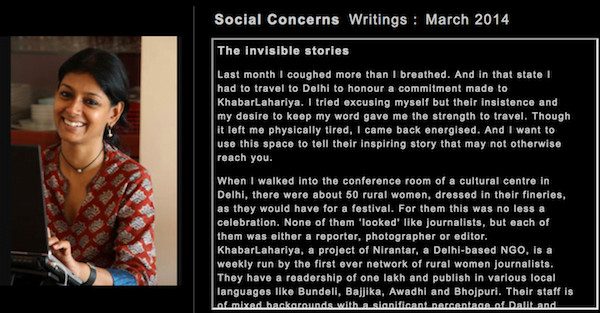 PRINT
---
The Hindu Business Line | A Reporter's Notebook, Priyanka Kotamraju (2014)
---
The Week | Last Word | The Invisible Stories, Nandita Das (2014)
---
The Hindu | Making Waves with News, Meena Menon (2013)
---
Firstpost | UP to Bihar: Why a group of rural women journalists went online, Mazumdar (2013)
---
Marie Claire France | Rural journalists make a difference in remote villages in India, Suzanne Lee (2012-13)
---
The Guardian | New Writers, New Readers, Newspaper, Manini Sheker (2011)
---
The Asia Mag | What Happened to Good ol' Journalism?, Edwin Koo (2010)
---
Los Angeles Times | Dalit Women find their voice through a Newspaper, Mark Magnier (2009)
---
Aljazeera | Reading the Future, Andrew Wander (2009)
---
BBC Hindi | खबर लहरिया के लिए यूनेस्को सम्मान, Vineet Khare (2009)
---
Columbia Journalism Review | Postcard from Chitrakoot, Betwa Sharma (2009)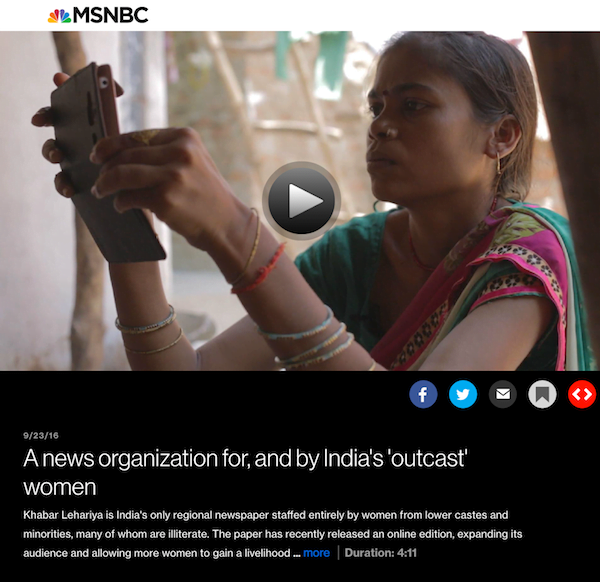 ACCOLADES
The newspaper has been lauded as an exemplary model for transformative rural media
by Wharton Business school and a CII/KPMG report on ICT in India.
'In a region notorious for its feudal mindset, where remnants of erstwhile aristocracy still rule the roost, an eight-page weekly, Khabar Lahariya is a ray of hope. It has created awareness among the oppressed and deprived sections of the Chitrakoot and the Banda districts in the Bundelkhand region of Uttar Pradesh.'
[The Hindu, August 2009.]
'There are areas and pockets in our country where development programmes have not reached. The concept and idea of a rural newspaper like Khabar Lahariya is very strong and if we want to bring awareness and go towards development – it is the only way… From now on, I will see the schemes we plan through the prism of Khabar Lahariya.'
[Syeda Hamid, member, Planning Commission]