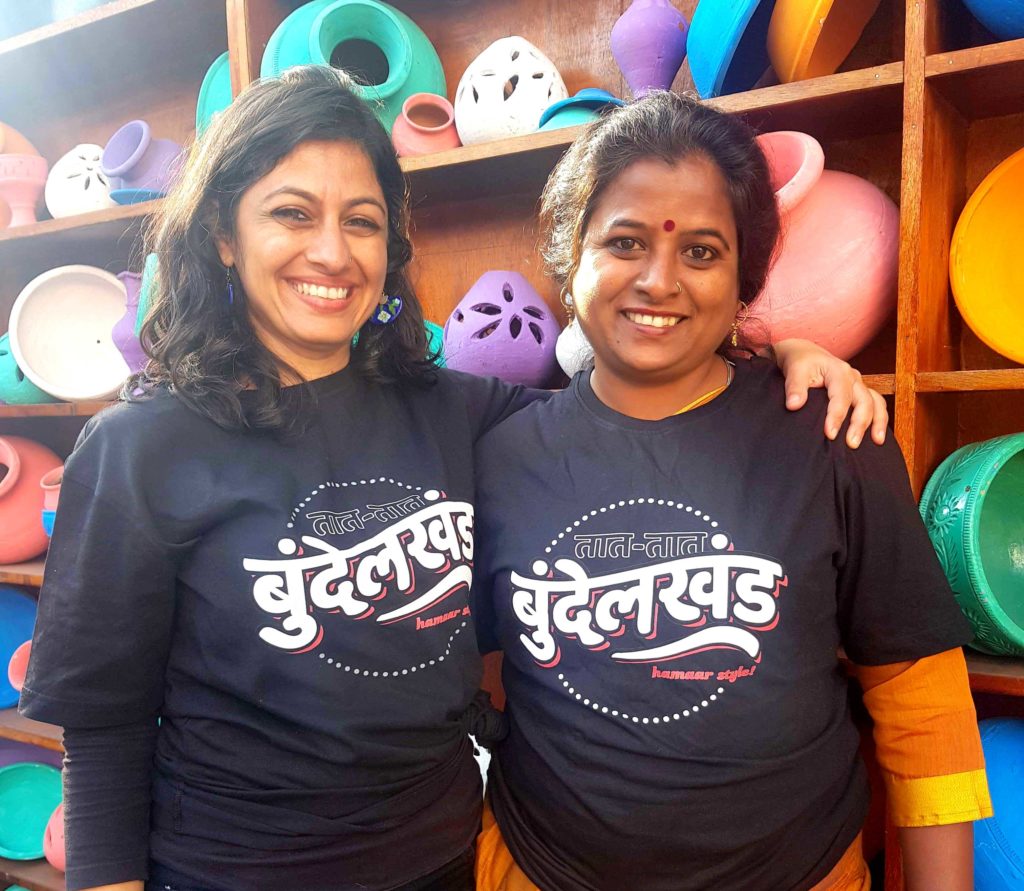 Continuing our new series featuring conversations between Disha Mullick and Kavita Bundelkhandi, Khabar Lahariya's co-founders, in times of lockdown.
Aiming to focus on the myriad meanings of keeping safe and sane, Delhi-U.P., while reporting in the north Indian hinterlands during the ongoing global health crisis, these dispatches are illustrative of the unique diverse identity of Khabar Lahariya, and the bonds we forge as women at work.
Dispatch Three
D: What did you cook this morning?
K: Nimbu pani! And some daal and rice has been made I think. M has refused to cook anymore, he said he's spent his whole life cooking and now the kids are old enough to do it themselves. 
D: I was thinking of you and Bundelkhand so much yesterday. So much it made my stomach ache. Then I made brinjal and raw mango chutney-that-tastes-like-Bundelkhand. Y said his plate looked like a bundeli thali and that I really must be missing Banda! Have you not told M that all over the world, the home cooks are coming into their own and trying out all kinds of recipes! This is his time to shine.
K: Ha! He's not into other people's recipes, he only cooks his own. And now he's off to work.
D: When no one else is working, he's off to work?
K: [scoff-coated-chuckle] The electricity department is working. They are fixing urgent electricity problems, apparently. And sitting around the rest of the day.
D: How are the kids? I haven't got a Tiktok video in ages. They should be influencers by now.
K: Well they don't have their own phone, and I'm terrified that they'll ruin mine and then what will I do? I'm writing columns and doing podcasts and approving stories from early in the morning till after midnight. Life will stop if my phone does. A told me her hair has become noticeably silkier and it's probably because of the improved air quality. 
D: So you can feel the change in the air there too? There aren't as many cars or any factories in Bundelkhand though…
K: We don't have enough cars? What are you saying! Banda is one big traffic jam. We can't hear ourselves think over the honking normally. The sand and stone mining industry has ground to a halt. No trucks carrying sand all through the night; no stone crushing machines through the day. The evenings are breezy, and the morning air is just delicious. Although I wake up feeling like I haven't slept at all.
D: You've never been a morning person, Kavita. 
K: But work seems like it never ends. I can only do my writing when everyone else sleeps at 11 or 12. Last night you wanted that information about influencers for your proposal so I had a call with Harshita, and I looked at the clock and it was after midnight!
D: What's keeping you going! We're suffering with the lack of alcohol supplies here in Delhi…
K: Well. Gutka has skyrocketed from 2 rupees a pouch to 10 rupees. You can still get supari with a bit of tobacco for 10 rupees for 4 pouches, so women are managing to source that, and then sit together and share. But liquor sales are thriving. There's much available. It all depends on the cops really, what they want to allow and how much money there is to be made. In Baberu, 40 kms away, everything is open, all the shops and everything. It's a bit far from attention, so lockdown totally depends on how the local cops are feeling.
D: So no talk of lockdown easing over there? Here there's a lot of talk about when and how much… And I'd think in more rural areas it will open up a lot. 
K: No there hasn't been much. But there are people out and about, it's really going to be according to the mood and the corruption in the administration I think. What happened in the meeting with the Chief Ministers yesterday? I've stopped watching the news completely – it just depresses the hell out of me. Hindu-Muslim and Jamaat-Jamaat-Jamaat. It's sad, even in a place like Banda, where we have such a deep history of living together and no communalism. They've managed to poison people here too. I can't watch it happen.
D: So much for all the fact-checked news out, huh! No one's reading that? This is why it would be good for us to do research on fake news and polarisation, see what all our friends in Banda are producing and sharing and what really gets believed. I wonder how much locally produced communal content there is. 
K: You know what I've been wondering. What can we learn from being in lockdown? The situation is so dire in some ways – the migrants we interviewed who were so furious about being turned out of their jobs and cities just a few weeks ago, are now saying, when can they go back? It doesn't matter how they are treated outside, there's nothing for them here. And then I also feel like it has been such a good opportunity for reporting, we have a captive audience for things that we never did before. Look at how well the stories on daily wagers, or even the women focused ones are doing. NREGA work has picked up, my father and brother have also started to go. We aren't able to meet, and that's not the best, but we've figured out ways to work together, to make the best of the resources we have. We're better off than many. 
Now I have to hang up! I'm off to interview some women frontline health workers at the Medical College.
D: Take care and send me a Tiktok video from the field. I miss them.   
For more on-ground reporting on how the pandemic is panning out in the north Indian hinterland, subscribe to COVID 19, The Last Mile, Khabar Lahariya's weekly special newsletter. 
Also read:
Dispatch One
Dispatch Two