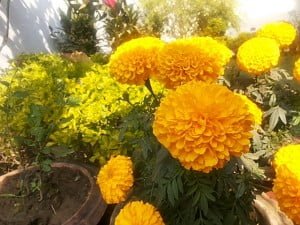 Karhara kalan village, Kabrai block, Mahoba district, Uttar Pradesh. Manohar Singh Rajput planted 10 bighas of marigolds this year, but lost the entire crop due to unseasonal rain between the 27 of February and 1st March. His family is suffering the consequences of this, with no income coming in.
Manohar said that he has been growing marigolds for the past 10 years, for which he buys and plants saplings each year. In a year, he spend about 90,000 rupees on this. When the crop is ready, he sells the marigolds for 40 rupees a kilo in cities like Banda, Jhansi and Kanpur. This is how he supports his family. 'This year, I spent the money in planting the crop, but haven't been able to recover even a rupee from it. The fields which make people smile each year when the crop is in bloom, have made me weep this year. Other farmers, who grow channa, peas and masoor daal in their fields, get compensation from the government. But I don't know how I will recover from the losses of my crop.'
The pradhan of the village, Mulandra, said he has requested the Lekhpal to do a survey to assess the damages to the crops. The Lekhpal told us that he has done the survey and sent the report to the administration. This details the compensation to be given to farmers growing channa, peas and masoor dal. Manohar Singh will also be given a compensation for his losses.
Click here to read original story