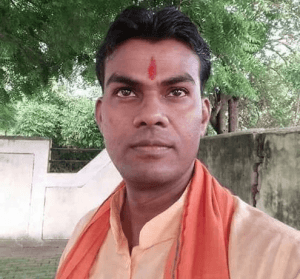 "You think Mohammedans can't join the Yuva Vahini, but they can, and they do."
In April 2017, I met some of the HYV's new recruits first-hand in Tindwari, a town about 15km from Banda. Tindwari is where the Ken river merges with the Yamuna, and a site of legal and illegal sand mining. Contracts for sand mining in the river basin are extracted through political favours, and many politicians are themselves involved in the business.
While HYV members I had met in the past tended to be young, fervent, and somewhat directionless until they found the HYV, the three new recruits—small business owners of medical shops, all in their early 30s or older—were different. They were full of optimism about the new government, and their new status as members of a well-known outfit.
One of these recruits, Brijesh Sharma, was a mild, earnest man in his early 30s. He described himself as a part of the country's "educated unemployed" class. After graduating from college, he was unemployed for several years before working in a call center near Delhi. Eventually he got a Diploma in Pharmacy and returned to open his store. His younger brother, Mahendra, who practised medicine in Banda for a while, had "brought the Yuva Vahini to Tindwari," he said, and was the current "district mahamantri".
According to Sharma, the organisation had been in Tindwari for three years, but had only become more organised since March, when a new, "active" host of members was inducted, soon after the Legislative Assembly polling. When I met him in April, Sharma wasn't even very sure what the Hindu Yuva Vahini was. There to advise him and the others was Janardhan Prasad Shastri, a 70-year-old "senior advisor"—a common post in the HYV, filled with elderly men tasked with educating new entrants about Hinduism, and the "accurate" narrative of history and geography. I listened while Shastri delivered an impassioned monologue, with religion and communal sentiment at its heart, and a timeline that stretched from the Vedas, past the birth of "local boy" Rama, through the Mughal era, to the present day.
y December, when I met Sharma shortly after the civil polls, he had become well entrenched into the philosophy and hierarchy of the Hindu Yuva Vahini. Tindwari's 64-member unit had considerably matured, and any "inactive" or "unproductive" elements had been weeded out, Sharma said, by the tehsil and district level leadership—many of whom were members of his extended family.
Some of this might have been in reaction to Adityanath's directive to curtail the group's vigilante behaviour. Sharma told me only that "We removed those who only wanted the membership as a status symbol, and retained the people who would work."
Of the remaining members, around 40 of them were unemployed men between the ages of 20-25, Sharma said. "These are the people who go from village to village, who do a lot of the work." Sharma felt that since the BJP had come to power in the state, the HYV had become more active and useful, working closely with party workers to protect citizens from the everyday corruption andgoondai in an area with a strong sand mafia and sometimes tyrannical leaders.
"They used to harass people everyday for little things, and now they don't. They aren't even visible," Sharma said. "For years, we wouldn't know who to ask for help. They would come and interrupt small businesses like ours, collect 'goonda tax'." He and the others saw the HYV as a platform to raise these concerns, and to collectively protect them from extortion. "People listen to us, in a way the police and administration never used to before," said Sharma. "We used to get chased away."
Sharma enumerated the achievements of the past few months. That summer, the BJP had pushed back against the local sand mafia. The HYV had addressed the correction of wrongfully issued electricity bills, a major issue. Illegally grabbed land had been returned to its owners.
"Everyone listens to us. Earlier district magistrates would brush us off, make excuses," said Sharma. "This one sits down and listens to us. If any problem arises, or an official is harassing you, we intervene; we get the work done."
On the community level, the HYV had crowdfunded money for weddings of local families in need. "We managed to put together Rs. 21,000," Sharma said. "The families said we feel a sense of relief because of the HYV. That someone is here to empathise with our problems."
As if to bolster Sharma's claims, numerous well-wishers dropped in to the shop as we chatted. One of them was a cow he had befriended during the course of the year, who comes by for a meal everyday. "If my shutter is down some day, she gets really upset with me when we meet next," he said, slightly embarrassed.
"It's the ideology of this organisation that draws me to it," he went on. "It doesn't discriminate on grounds of caste; there is no oonch-neech, everyone is equal, from any religion."
"Look at our CM," Sharma continued, "he used to be seen as a kattar Hindu, and maybe he was. Now he's been given a responsibility, he's taking everyone's needs along, the whole of society. In fact, its Muslims whose problems Yogi ji addresses most frequently."
Sharma earnestly seemed to believe in a Hindu Yuva Vahini sans the religious hardline, and I couldn't help but express my skepticism. "This is just people misleading you," Sharma informed me. "You think Mohammedans can't join the Yuva Vahini, but they can, and they do. Just look at our own Israel Khan from Tindwari. He had an electricity bill of Rs. 75,000 when it should have be Rs. 1,500. We got this sorted. We told him to join us, there's no problem."
We couldn't find Khan to corroborate the story, but apparently he never took up the invitation.
Reporting by Meera Devi & Kavita Devi.
Writing by Disha Mullick & Pooja Pande.
This is Part IV of the Humans of Hindu Yuva Vahini series, which originally appeared on VICE India.