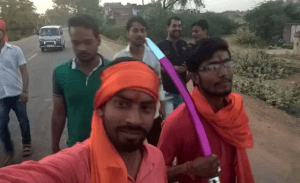 "Yogi ji gave me a sapling. I've nurtured it and watched it grow across the district."
I met Satyam Tiwari in Badausa while on the trail of the young men— part-journalists, part-fixers—who run local WhatsApp groups. Tiwari's "Patrakaar Bandhu Badausa" WhatsApp group, meant for communication between local Hindu Yuva Vahini members, had eight people in it when we met in June 2017; this number went up to 25 over the six months we remained in touch. His slight frame and brash self-confidence reminded me of many young men in my own family, drifting in and out of my home. Patronising, dogmatic, and loud, but not very original.
As I slowly learned more about his past, however, I began to understand the origins of his angst. "My father didn't like me much," he said, "My younger brother was his favourite. They used to sit and watch cricket matches together on TV." One night, shortly after taking his board exams, Tiwari argued with his father, who threw him out. Tiwari felt he had no choice but to make his own way in the world and ran away. To this day, he doesn't know if he ever passed his exams.
"I went to Mumbai, then Hyderabad," he said. "I used to carry cement sacks for Rs. 10 a day. I managed like this for a few months." He then went to Gujarat, where he worked polishing diamonds, and in a garment factory. Eventually, he went to Jhansi, where he worked for a relative who dealt in manure, for Rs. 1,000 a month.
"Then, I went to work in Allahabad at a famous temple on the banks of the Yamuna," Tiwari told me. "I studied, learned to be a priest and was preparing to earn at least a lakh a month, when my father died."
Tiwari's father, a farmer, allegedly committed suicide in 2013, under pressure from the debt he had taken on to buy a tractor. The lost son returned home. "I didn't want my mother or brother or sister to feel the absence of a father," he said. He smashed the TV his brother and father used to watch—it was "a waste of time."
That was the year Tiwari first became interested in politics. He attended a laptop distribution event to meet then-Chief Minister Akhilesh Yadav, the Samajwadi Party president. "I said, people don't have food in their homes, and you've tied an elephant to them," Tiwari told me. "I got slapped about by the cops too. And that's when I started to see myself as a politician."
A Rashtriya Swayamsevak Sangh pracharak singled Tiwari out, encouraging him to channel his energies into community work. "They said, 'you want to make a name for yourself.'" Tiwari told me. "And I did, I wanted people to know me by my name, not my father's."
The RSS pracharak convinced Tiwari to put money down for a communal handpump, he told me in an interview in December 2017. "I collected half the amount from people, and waited for him to put the other half down," Tiwari said. He waited, "four months, eight months, a year and a half." The pracharak had vanished, and Tiwari was left red-faced in front of his neighbours.
A few months later, in 2014, as Tiwari was still seething, Rajesh Giri, president of the HYV's Banda chapter, arrived and asked about the young man from Badausa. The Hindu Yuva Vahini was making inroads into Banda district for the first time. "I knew nothing about the HYV," Tiwari said. "I wasn't so keen to join another organisation, but he flattered me, alluded to my reputation, and said he thought I could establish the Yuva Vahini here." Tiwari relented and was immediately given the post of tehsil president for Atarra tehsil of the Badausa HYV unit.
"People join the party to earn money and a position," Tiwari said. "I have a different outlook. Yogi ji gave me a sapling. I've nurtured it, and watched it grow across the district." He claimed that under his watch, the organisation had grown from two people to over 5,000 in Chitrakoot and Banda districts.
The organisation gave his confidence wings. "You can put it down in writing: if there was no Satyam Tiwari, there would be no sangathan in this district," he boasted. "I never spoke with arrogance before, but now there is no one who talks like I do, works like I do, or spends money like I do." I asked him if he was up for a promotion anytime soon. "It's in our constitution that a person cannot hold a post for more than three years, and I've held this for four," he said. He claimed he'd been offered a crucial post—of district coordinator—but would take nothing lower than district president.
Beyond Tiwari's taste for leadership, the Yuva Vahini appealed to Tiwari's sense of importance in the community. "Your attentions are keeping me home today," he said. "Today is Tehsil Diwas and people expect me, which is why there's no line of people to see me here right now. If I sat down at the bus stand, I'd be receiving countless calls."
On cue, Tiwari's phone rang. One of his neighbours was building a house, and Tiwari was organising some material and a tractor to transport it from the HYV district secretary, who is a sand contractor. "Send one lot first, and the other after some time," he ordered.
Tiwari characterised his work as mostly promoting awareness about government schemes from village-to-village, and helping people access them. The Hindu Yuva Vahini provides assistance with legal matters and documentation to people who otherwise might get mired in the bureaucratic obstacle course to access government subsidies and schemes.
I wanted to see Tiwari's work in action, and managed to convince him to add me to his exclusive WhatsApp group. He promised he would take me along on social work, but whenever I tried to fix a time, he would have some other place to be, or wouldn't answer his phone. He became another struck-out name in my reporter's diary.
Around Christmas, Badausa's church—one of a few in a 10km radius—was gearing up for a quiet celebration. A colleague and I dropped in to see Tiwari at his home, a small, white-washed hut just off the main road. The only thing that distinguished it from any other house in the mohalla was a decrepit Maruti and a tractor parked outside. It was early morning and Tiwari's mother, a health worker, was just leaving for work. His brother and assistant, Shivam, was headed off to photocopy some applications for Tiwari to file at the block headquarters that day.
Tiwari emerged, freshly powdered and oiled, dressed in a saffron shirt, white trousers and sneakers that reflected the harsh morning sun. He seemed far more confident than he had when I last met him, still I felt none of the fear I had during interviews with some of the other young men I'd done over the year. Perhaps because I had watched him struggle, over the past few months, to get his words together into a cohesive identity.
"Ask me anything, I never say no to my sister," he began, and the charm never wore out. Tiwari told me he now made a living doing odd jobs like driving—mazdoori, he called it—alongside his netagiri, or politicking. He had donated his farmland to the Hindu Yuva Vahini to run a gaushala. As we spoke, people passing by stopped and greeted him as "Yogi ji".
"People know me because of the Hindu Yuva Vahini," Tiwari said, "but I've also made a name for myself." He claimed to have offers from other groups, including the Vishwa Hindu Parishad, and even the Samajwadi Party, whose policies he had criticised. He remains loyal to the HYV though; when Shivam began to express an admiration for Akhilesh Yadav's youth development schemes, Tiwari seemed anxious to send him off on an errand.
"'Youth are at the heart of everything these days," Tiwari said, "riots, organising local programmes, the future of the nation. But what's being done for them? They're wandering around with double MAs and no prospects."
He expanded on his theme. "Every young boy in this nation is my brother, and every young girl my sister. I knew I wouldn't be able to do anything for them by myself, so I took the support of the HYV. Anyone can start an organisation—it's the good work you do through it that matters."
As examples of this good work, Tiwari showed us files he had prepared for the Tehsil Diwas. They include signed petitions by residents of the surrounding villages, mostly requesting work under the Mahatma Gandhi National Rural Employment Guarantee Act (MNREGA), or to have wages released. I wondered if Tiwari's reluctance to let me accompany him into the field was because—his flashy neta personality notwithstanding—much of his work was actually more clerical than ostentatiously heroic. He handles the long-winded paperwork that enables citizens to access their entitlements to employment, wages, land and so on. He had rounded up a few young men of the area, his brother for instance, to help with this and other initiatives.
Tiwari also occasionally appears on the petitioners' behalf to the tehsil level authorities, or sends a delegation from Badausa, or the nearby town of Attarra to do the same. "I don't discriminate by ideology when I help people," Tiwari said. "It's everyone. If the person has the quality of humanity, that is. The HYV is on the side of truth, whichever community that may be."
However, I had heard from a colleague and social activist who lives in Badausa that Tiwari had become uninhibited about expressing his true feelings about the local Muslim community. He had recently stormed into a school—privately run by a Muslim trust, but government-aided—to object against the lack of photographs of leaders and martyrs there. He complained that the students were not singing the national anthem or Vande Mataram, and that there were excerpts from the Koran on display. He asked whether the school was trying "to inculcate a Pakistani intellect."
When I questioned him about the incident, Tiwari claimed he had a notice from the sub-divisional magistrate authorising him to check up on the school. "A few of us were just asking valid questions," he said, claiming that the school authorities and their supporters brought in the crowd. "Who was behaving threateningly?" he asked.
Badausa is considered one of Banda's most diverse towns, but Tiwari's hustling was creating a potentially divisive situation. "I know people are watching me now, in that neighbourhood," he said, referring to the Muslim locality—"like jackals eyeing their prey."
My colleague and I pointed out that his list of petitioners didn't seem to include any non-Hindus. We also noted that in our reporting, we had only met "general" caste Hindus involved in the Hindu Yuva Vahini—no Muslims or Dalits. We listened as Tiwari became more animated, more angry, and more self-contradictory.
"It's called the Hindu Yuva Vahini for a reason," he said. "I don't say any religion is bad, but people are bad, people's characters can be bad. I believe in humanity." He admitted that "the HYV has two objectives: cow protection and the protection of religion. I've taken these and adapted them in my work. I became more hardline in terms of my religion when I became a member of the HYV. I started feeling more open about my views."
He started explaining these views in greater detail. Badausa was "becoming a mini-Pakistan," he said. "If any Muslim had fear in his heart here it was only at the mention of Satyam Tiwari. But if I have a bad reputation, it's their fault."
He began a litany of complaints. At a meeting before the previous year's Navratras, senior Muslim leaders had asked that the volume of festivities be kept low. "So I said, your Allah-walla [the azaan] shouldn't reach my ears thrice a day then. Is Allah deaf? Remove your loudspeakers, and I will from my temples too. I'll say salaam, when you say Jai Shri Ram."
Tiwari complained about "noisy processions" at Muharram and meat-eating. Inevitably, he came to women. "Their fundamental value is to infiltrate our religion, our homes, our daughters and sisters," he said. "All women are prey. Go to the college and you'll see Muslim boys hanging around on bikes and harassing girls. It's not that all the fish in the pond are poisonous, but it takes only one fish to poison the pond."
He continued in this vein for awhile. Despite the relative peace between communities in Badausa, Tiwari warned that "now, anything can happen. Things can't work like this. If they harm one of us, I am prepared to kill 10 of them." The transformation I had witnessed was chilling.
Reporting by Meera Devi & Kavita Devi.
Writing by Disha Mullick & Pooja Pande.
This is Part V of the Humans of Hindu Yuva Vahini series, which originally appeared on VICE India.