Up-close with Shiv Devi, a seasoned Khabar Lahariya reporter, and her fascinating, inspiring journey from a life away from literacy to a journalist, proper.
The woman glued to her mobile screen, strolling down the Nawab Tank boulevard like she owned the place, was a tad different to the one we met almost eight years ago.
That was in 2011, in a swarm of women, dressed to the hilt, gossiping uncontrollably, at a reunion, after 20 long years.
It wasn't a college reunion. It wasn't really even a school reunion. It was the reunion of a six-month long intensive residential course for Dalit and Adivasi women, which changed all of their lives, a little. And some of their lives a lot. Shivdevi, as she chuckles back to the time when she would be too nervous to write in front of the official she was questioning, or too scared to handle a mobile phone, will warrant that it changed her life for life.
Although, when you sit with Shivdevi and chat about memories good and bad, and journeys she has been on, you can't help but think that literacy and history and geography aside, there's something about this woman that, if she wants something enough, she's going to get it, no matter how hard. She'd only just got married when the fights with her in-laws began over dowry, and when, one day, she told them that she was off to enroll for a six-month long course, they told her that there was no need for her to return. Now Shivdevi was always clear what you sign up for when you sign up for a violent and unloving marriage. She definitely hadn't signed up to be thrown out and dispossessed of her rights in the marital home. Nonetheless, she had to do this course, she knew it in her gut. So, with the 'going to become the district magistrate, are you!' falling on deaf ears, she left her 6-month-old daughter at her parents' home, and off to study she went.
Cut back to the Shivdevi against the idyllic vista of Nawab Tank behind her, now a feared and respected reporter in Tindwari block of Banda, a mother-in-law, the independent broker of a compromise between a marital family who has tried to kill her, abuse her, dispossess her – just so that the costs of raising three children can be shared. Oh, and the owner of her own bigha of land and a scootie. No small journey, and no ordinary woman, this.
Life was hard for Shivdevi in the years after she did her course at the Mahila Shikshan Kendra in Chitrakoot. But the magic of words, and the fact that she knew how her body worked, and why earthquakes and volcanoes happened were the source of a peculiar resistance. In the rare instances she met a friend from the old days, she insisted on needing to get out, and work, and stand on her own feet. She was a restless soul, the restlessness that it takes to make a good journalist. So it was serendipitous when her friend said there was a Bundeli newspaper being run by a bunch of feisty women, in her own district. It was like being called home, finally.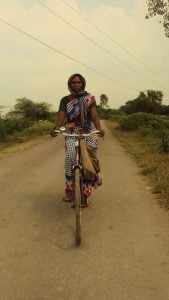 When you're as gritty as Shivdevi is, then small hurdles like not having the best writing skills or the best grip on politics are pebbles in your way. For years, she hid her pad from taunts from people she went to interview, who scoffed at her speed and her own particular shorthand. (It was harder to obfuscate when she was face to face with her editors at the end of the week.) More challenging was election season, her first one the 2014 Lok Sabha elections, when she was well-known as a Dalit reporter prowling upper caste mohallas, and distributing a newspaper with a story on Dalit voters' hopes. A group of Thakur men circled her, took her copies of the newspaper away, wouldn't let her leave the village.  Her camera was snatched, she was abused and accused of being a BSP supporter. She finally made it out, and to the police post, where her complaint was scoffed out of the station by the constable on duty.
That and close to a decade of reporting the big stories in a small and power-laden region, where the sand mafia, the tehsil administration, and the MLAs are all, let's just say, close – has made Shivdevi fairly fearless. Two years ago, in a barsati in Banda, we were shooting the breeze and dreaming of our own two-wheelers. Cut to the present, and 6 months after mastering video-first reporting (her breathless Houdini style escape from the tyranny of words) on her newly acquired smart phone – and Shivdevi was the first in the Khabar Lahariya team to put a down payment on her brand new scootie.
If a poster woman ever was needed, for the use of the pen (and the phone) in a harsh world of feudal patriarchy, this is she.