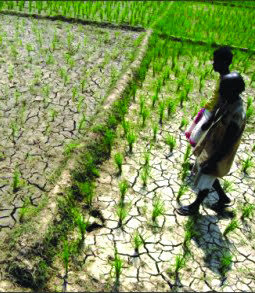 Varanasi District; Chiraigaon, Cholapur Block; Shankarpur, Chandpur, Dharsauna, Jagdishpur village.
150 bigha (a bigha is a little over 2500 sq. meters) of paddy cultivation has wilted in the absence of rain in Shankarpur and Chandpur villages. The fields are terribly dry. The crop cannot be planted without water.
Rama, Nagina, Kaanti, Shanti and Champa, who work on the fields here, told us, 'Our paddy farming is dependent on the rain. Those who have access to water have been able to plant their crops. But those of us who can only wait for the rain, our crops wilt.'
The situation is similar in Dharsauna and Jagdishpur villages. Manju, Soni, Aakash, Phaujdar, who live here, said, 'for some 10, and others, 15 bigha of cultivation has dried up. Paddy needs a lot of water. If there is electricity, people irrigate using pumping sets, which costs 50 rupees an hour. Who has this kind of money that they would be able to do this kind of expensive farming? It seems like this season the yield from the paddy crop will be very low.'
Ram Achal Singh, Assistant Engineer of the Irrigation Department said that tubewells exist for purposes of irrigation. 'If the tube wells are faulty, it is our responsibility to fix them. If there are problems related to electricity supply, that is the responsibility of the Department of Power. Other than this, there are no other facilities for irrigation.'
The Registrar of Banaras Hindu University (BHU) G.S. Yadav has been observing ground water levels in Varanasi for many years. He says that conservation is the way to make most use of rainwater. Some methods of water conservation are:
1. Use of sprinklers instead of pumping sets. This uses 1/100th the water and also irrigates more area with less water. Half of the water that fills the fields with the pumping sets gets lost through evaporation.
2. Storage of water in the fields by constructing bunds. The water should not be allowed to run off.
3. When rain water collects on the roof, it should be directed into the ground through pipes. This is called rainwater harvesting.