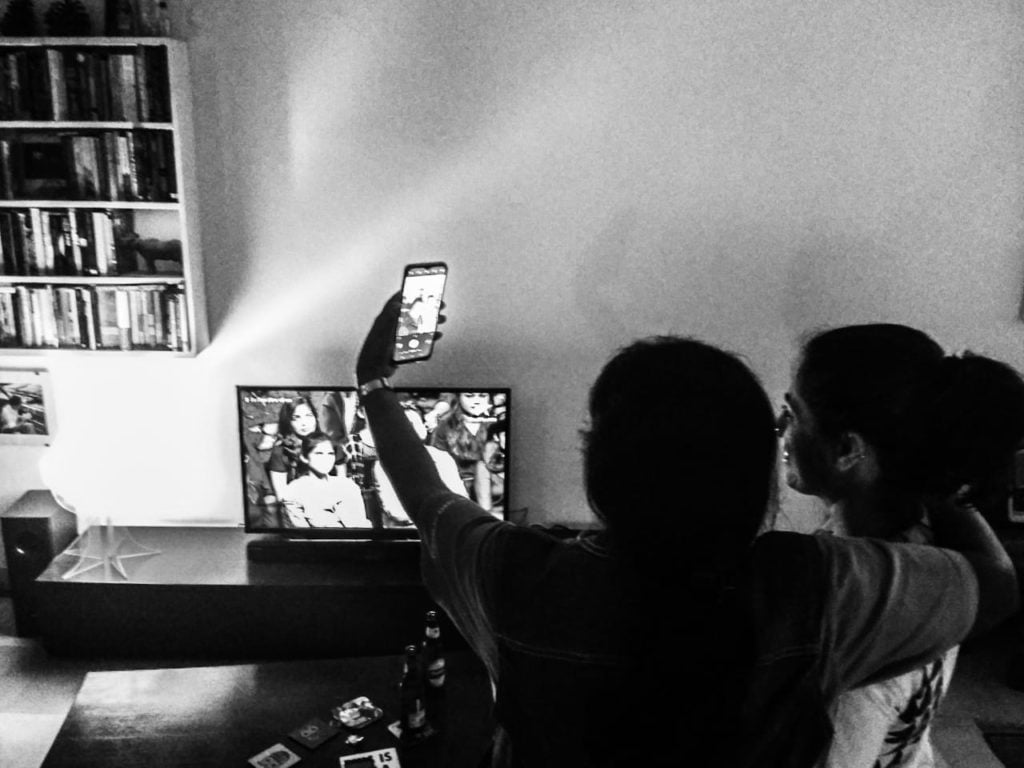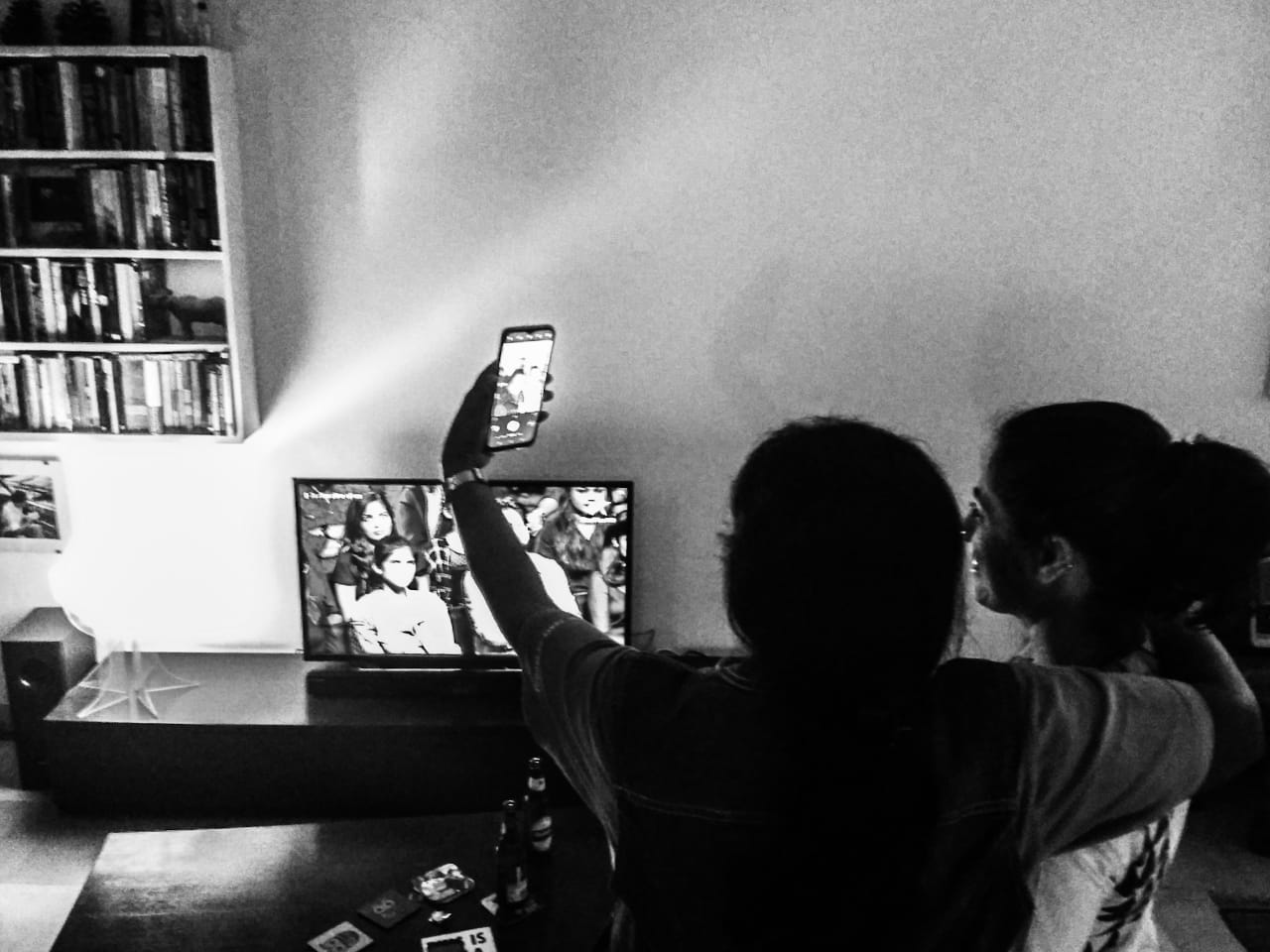 Continuing our new series featuring conversations between Disha Mullick and Kavita Bundelkhandi, Khabar Lahariya's co-founders, in times of lockdown.
Aiming to focus on the myriad meanings of keeping safe and sane, Delhi-U.P., while reporting in the north Indian hinterlands during the ongoing global health crisis, these dispatches are illustrative of the unique diverse identity of Khabar Lahariya, and the bonds we forge as women at work.
Dispatch VI
K: How was your week?
D: You know, I can't really remember much. It's blank. So much seems to have happened in lockdown, people close to us have died, people have been arrested, and then there are days that I just can't remember. What did you do? Did you do any interesting stories?
K: No, no reporting last week. Meetings and dealing with reporters. Saturday, for instance, we went from one call into another call (where there was much whining and complaining about how long the call was and how it was lunchtime), into a third Zoom session about our collective well-being. I hung up the phone and, as if they were all in on some cosmic joke about my wellbeing and professional boundaries, the producers sent me 5 stories to edit and approve at once, with no warning. I gave them a piece of my mind. They only have any concern about their own well-being and boundaries. Not so much anyone else's. 
D: I'm choking. It sounds like you're being successful at building a new line of self aware editors!
K: I've told the senior correspondents, these are the things the reporters are doing that I don't like. They cover big, current stories and then they sit on them and don't file them for days. They wait till they have producers chasing them till they shoot their shows, when they know schedules only too well. They send hundreds of 3-second takes which take the producers hours to sift through. They continue to broadcast live, without getting the right approval. And Anita will only do Facebook Lives at a tilt. 
D: I've noticed. Maybe it's something wrong with her phone? She can't be getting it wrong every time? Or maybe that's the way she sees the world, Kavita. I've noticed that in a lot of our reporters' stories. The tilt.
K: There's nothing wrong with her phone. Some people just have an issue with feedback.
D: Talking about phones. A couple of the reporters' phones aren't working, right? What do we do? Are repair shops open? Do we buy new ones? How will you reach them to the reporters?
K: I'll get a pass, I think we should just organise new ones where required. I do want you to know that some of the malfunction is because of people's carelessness. Just the other day I was talking to Sahodra and she was complaining about her phone, and the bike she was riding pillion with her nephew collided with a buffalo…
D: That's when she dropped her phone?
K: No, she jumped off just in time, but her nephew is quite a hero and he thought he could swerve to avoid the buffalo… and he got pretty badly injured.
D: Doesn't really explain why Sahodra's phone isn't working… Anyway. It's shot up to being 45 degrees this week, after all our enjoyment of the endless lockdown spring, and we know what happens to all the phones. So we should be prepared.
K: Yes, I suppose. All kinds of post lockdown things going down! Did you see the story about the locusts destroying all the crops in MP? 
D: Yes, just when people are getting back to their villages and fields. Which crops?
K: Moong, corn, urad. Some new crops also in this area, since people were around to sow this time. We don't usually sow corn here. Anyway, it's all gone. 
D: What news on the lockdown relaxing, you see things getting back to normal now? Do you think our relief work and coordination should wind down and we just focus on reporting?
K: No, there are many daily wage workers who are not going to be back to work for a while, so we should continue and be more focussed. Maybe work with other organisations to do distribution now. But I have to say, my heart was going to burst when I went out this weekend. All the shops are open, people are on the streets. For the first time in ages I saw farmers in the mandis. 
D: Masks and social distancing?
K: Not at all. But I can't help but feel relieved to see people and see some kind of normalcy returning…
D: You've changed, from being the anal reporter shouting at maskless wholesellers in the mandi in the early lockdown days!
K: Well, I guess people have had enough. I have! It's been such a strange Eid. The market would be so shiny and so full at this time, in Banda. New styles of bangles and hair clips and jhumkas. This year, no one has shopped, the market looks very sadly not festive. The closest we've got to visiting each other is to send drooling emojis on Whatsapp at Nazni and Umra's photos. And people in the team are so reluctant to visit each other, it really makes me sad. And I'm desperately looking forward to some non-Coronavirus stories.
D: I have one. I talked to one reporter, I'm not going to tell you who, and she said she'd been having chronic stomach aches… She did all her tests, they were all negative or non conclusive. Turns out she never needed to go to the doctor. Her neighbours said this happens often when a young woman leaves the house too soon after marriage, she's liable to be possessed. And so it happened…  
Also read:
Dispatch One
Dispatch Two
Dispatch Three
Dispatch Four
Dispatch Five