This is the second video of our six-part research-oriented project, where Khabar Lahariya has partnered with the Future of Finance Initiative at Dvara Research for a special story for this year's National  Women Farmer's Day. The series seeks to understand how individuals in rural households are managing their financial lives at a time of great uncertainty.
In this second video of a six-part series, we follow women farmers in the villages of Uttar Pradesh to understand the barriers they face in accessing finance despite having the same occupation as their male counterparts. This video reports that women farmers are responsible for 70% of the workload on given farmland, but only 12% of these women legally own this land – fully or partially. Government relief schemes announced for women farmers also have limited effect and reach in improving their access to finance.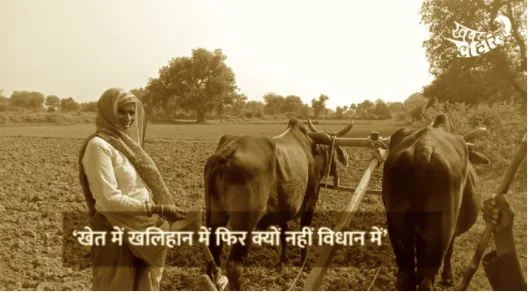 15 October of every year is celebrated as Women Farmers' Day or Rashtriya Mahila Kisan Diwas across the nation to acknowledge and celebrate the contribution of the women workforce in Indian agriculture. However, is this celebration enough? Does this ensure that women farmers have equal rights to the land they work on? Does this provide them the same financial stability and freedom in accessing finance as male farmers? Does this enhance their status as a decisionmaker both inside and outside their households? Some answers and many questions are raised in this second video of the series.
Read-watch the first episode of the series on the Tribal Communities of Manikpur.