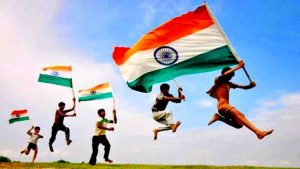 This Independence Day, we went vox-popping on the streets of Bundelkhand, armed with a seemingly simple question, "What does freedom mean to you?
The responses were myriad and many-hued.
Manju of Banda told us, "I'm a labourer. Working is all I know. Pet chalao, ladka bachcha chalao, yahi azadi hai (Work for your meals, bring up your kids, that's freedom. What else?)".
As we chewed on Manju's sarcasm, Ranjana's idealism lifted us up. A young student of Faizabad, Ranjana affirmed that it's only when women feel free to walk the streets at night in this country, will she celebrate an Independence Day. She questions equal citizenship rights, "If I have to fear my fellow citizens, what does freedom even mean?" Also from Faizabad, Sher Bahadur had no response, and chose to semi-sing us a tune that reminds him – and millions like him – of Gandhi.
While Akanksha of Banda repeats us the history lesson from school, "Apna desh azad hua tha na aaj ke din", Santosh from Chitrakoot is less matter-of-fact when she says, "When we are free to do what we please. That's true freedom."
Munna Ahirwar, a Dalit labourer from Chhatarpur, told us that it's tomorrow – azadi. He meant the date of Independence Day.  And Genda Singh from Banda, also on mazdoori, shred with us a secret: He believes that it's the nation that is free, not him.
Go figure.
And Happy Independence Day!
– Pooja Pande