Or going beyond The List, in Banda, with super cop Shalini Singh.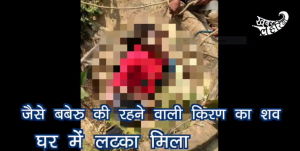 Last week, as the world erupted in a barrage of high profile allegations of sexual harassment, across academia, Hollywood, the development sector, breaking the silences around the pervasive nature of sexual assault and violence against women, we found ourselves in a parallel universe.
After his morning meal on the 26th of October 2017, the teenage Lovekush fell asleep. When he woke up a few hours later, early in the afternoon, he saw his mother hanging from the roof of their house. Kiran was 45, and had been married 25 years.
A few days later, in Nari village of Tindwari block, the body of an unidentified woman was found in a well. Residents of the village said she was not from the area. The body was sent for a postmortem, but it was clear that she had been sexually assaulted and violently murdered, from the nature of the wounds that were visible. The body seemed to have been in the well two days before it was discovered.
33-year old Shalini Singh – sturdy, city-bred, driven – took charge as Superintendent of Police in Banda in July this year. She's an IPS officer of the batch of 2011, a B.Ed, and has a post graduate (M.Phil) degree in Political Science. Singh makes it clear that her identity as a woman in a high post in the police department doesn't mean that she has a greater responsibility to confront the plague of violence against women, especially in this new posting in a region which has a chilling record of crimes against women: 'this should be the duty of aam aadmi'. But she does have a keen understanding of the nature of violence against women, the way in which this violence evolves with time, the access to technology and mobility. 'It used to be just physical, visible assault that was treated as violence or harassment. Now, your phone number can be leaked, you can start getting messages and calls from anyone; your Facebook profile can be checked and followed.'
For Kiran, the distance to any kind of justice, whether from the local police, or a public social media trial, seems ludicrous. Her father, Munna, says he was aware of stress and altercation over years of Kiran's marriage, around the issue of separating from the rest of the family. There were episodes of violence, and even threats to kill Kiran. Somehow, in the days after her death, this reality is relegated into the shadows. Her son Lovekush remembers no fights in the home, 'atleast, not this kind of fight' – whatever that means. Munna says with no inch of doubt, or guilt, that he doesn't want to press charges on Kiran's in-laws, or anyone. All he wants is the dowry he paid, returned, along with the lakh he gave Kiran to build a separate house for her family, which was never built. 'That's punishment enough for us,' he says, looking around, and the rest of her family nods in unison.
Shalini Singh says she knows of no case where the police have been involved in covering up or facilitating a 'compromise' over a case of a woman's death. 'It hasn't happened on my watch. If an FIR is filed, the case can only proceed with the evidence presented by witnesses. The case cannot suddenly be changed by someone saying that this was not a dowry death, or this did not happen within seven years of marriage. Once the chargesheet is filed, the investigation will begin, and proceed on the basis of evidence from multiple parties.' Well-intentioned as she may be, this only seems to touch the surface of the matter, where cases are morphed both before and when they reach the police station, and witnesses are easily persuaded to change their testimonies. Or simply, like in the case of Kiran, the family sees a post-death monetary transaction as much more pragmatic than a soul- and financially-sapping decade-long, and likely futile legal battle.
We spoke to Singh in the context of heightened talk of addressing harassment and violence against women: the noise around lists and social media naming and shaming buzzing in our minds; the ineffective 'helplines' like 1090 promoted by the state government; the vigilante-style 'Anti Romeo squads'. With all the talk, what changes on the ground? Can talk or righteous vigilante justice of any kind make objective investigation and legal action into the death of Kiran imperative, or the silence and complicity unacceptable? For the fact of the unidentified body of a woman in a well to take over the news, in the way that the impending municipal elections about to happen in Uttar Pradesh have, or the unsubstantiated claims of a cow being raped?
In the face of ever-increasing reports of crimes against women within her jurisdiction – cyber or physical, domestic, and violence at the workplace – Singh maintains they can all be dealt with greater awareness amongst women, about the laws available to them and their rights to access these and seek legal recourse. She says that getting this message to each home and each mohalla, through administrative messaging or NGOs that work with women, is of the essence in changing this culture of silence, victim-shaming and shocking complicity in crime. 'Violence only happens till you keep tolerating it, suffering it. Until you are clear that what is happening with you is wrong, and you want to come out and speak about it, no action can happen. The silence around violence against women needs to be broken. Women need to be able to be aware and confident enough to say this is wrong, whether it happens in the home or outside, and I know what happened is because of no fault of mine.'
A viewpoint that, bulwarked by responsive policing, seems to be what may finally tear through the fibre of violence that binds us tight.