I was cooking inside the house. First the ground beneath me shook, then the entire house. Everyone ran outside, holding each other tight. We spent the rest of the day and night like this. The next day too, we only went back inside for a few moments to get some essentials, and then ran back outside. The fear of being crushed to death in our own homes had us in thrall. Till the 28th of April, we stayed like this, on plastic sheets, weathering the tremors and then rain and storm too. Neither I nor anyone in my family had seen or felt anything like this before. My relatives' home, where 20 of us had gathered for a wedding, is full of cracks, and the neighbours' two-story house has collapsed, as have many in the village. There was wide-spread panic, with people fainting in shock: one man even drove his bike into a well, and drowned. The administration or government had not reached this village three days after such a massive calamity had occurred. (KL reporter, Murtiya village, Sarlahi district, Nepal)
The earthquake that shook Nepal on 25 April, has reportedly killed over 7,000, injured 15,000 and rendered missing and displaced many many more. India's bordering states have had their own stories of tragedy, some of which have not made it to the 24-hour media coverage. Khabar Lahariya reports over the week when the impact of this quake made itself known steadily and painfully, on some of these stories from the hinterland.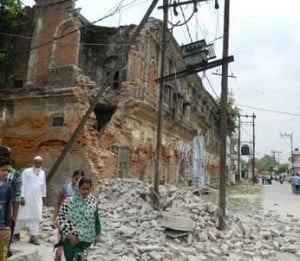 Faizabad district. Hundreds of people left their houses and collected in open spaces as the tremors were felt here. Rakesh Yadav of Bara village in Tarun block was driving his tractor back home, loaded with sugarcane. Suddenly, the tractor began to sway with the tremors and narrowly escaped keeling over. 'The cement walls of my home now have cracks,' he says. Devi Baks, Devideen and Ramchander of Parsavanmohalla said their thatched houses had collapsed. "Fortunately everyone was out at work when it happened, so no one was hurt.'
Ayodhya's famous Kamaksh temple bore the brunt of the tremors. 'We stepped out of the premises as soon as we felt the earthquake so there was no loss of life, but the temple has lost it's roof,' bemoaned the head priest here, Devendra Das. In Amaniganj in Ayodhya, crowds fled in panic as the wall of Suresh's sweet shop fell. 'Ayodhya has many ancient and dilapidated buildings, which are under survey. We're making sure to move residents of these buildings out now and relocate them,' said the Resident Magistrate of Ayodhya, Ashish Misra on the action being taken by the administration.
In Lucknow, what is believed to be north India's first church, Hazratganj's Christ Church, suffered badly due to the earthquake. One of its four spires fell, and the others are cracked. Christ Church is known to be built in memorial of the British soldiers who died in the revolt of 1857. 'My bed started shaking and I ran out, where there was much commotion. I saw the entire Church building shake before my eyes. Now I can't even sleep inside my house from fear,' says Anuj Kumar, who has worked at the church for 12 years now.
In Riga block of Sitamarhi district in Bihar, 68-year-old Radha Devi was crushed under the debris of her own house, as it fell with the tremors on 25th April. 'She went to sleep after eating her meal that day. When the earthquake came, our entire house collapsed, and my mother died under the rubble. We found her body when we cleared out the debris,' says her son Suresh Thakur. The clerk at the police station in Riga said that they are waiting for a medical report on the matter to continue investigation of the case.