Journalists and newsrooms in Belarus, India, Peru, and the U.S. receive annual honor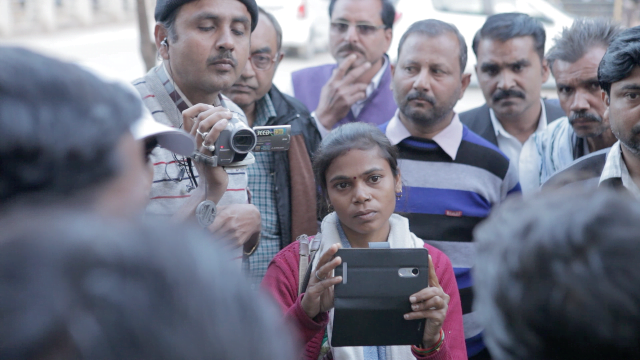 [June 10, 2021 – WASHINGTON, D.C.] – The International Women's Media Foundation (IWMF) today announced the recipients of its 31st annual Courage in Journalism Awards. This year's winners – all reporting from their own communities – include the Dalit, Muslim and tribal all-women reporting and editing staff of Indian news outlet Khabar Lahariya; Paola Ugaz, a Peruvian print and broadcast journalist; freelance U.S. photojournalist Vanessa Charlot; and, imprisoned Belarusian journalists Katsiaryna Andreyeva (Bakhvalava) and Darya Chultsova. 
The announcement of the 2021 Courage Awards comes at a time when surges of nationalism, social unrest, gendered attacks, and the oppression of a free press remain at alarming highs worldwide. In its 31st year, the awards seek to honor bravery in all its forms, and the diverse journalists who use uncommon strength to tell stories that change the global discourse. 
"This year's Courage Award winners persist despite incredible odds, including censorship and intimidation both online and offline," said the IWMF's Executive Director Elisa Lees Muñoz. "It is an honor to recognize Darya, Katsiaryna, Paola, Vanessa, and the team at Khabar Lahariya for their devotion and determination to keep us informed. For these women, and countless others, participation in public discourse is dangerous and traumatic – we salute them and congratulate their courage."
For Katsiaryna Andreyeva (Bakhvalava) and Darya Chultsova, reporting in Belarus cost them their freedom. Both journalists were arrested and imprisoned in November 2020 for covering public protests of political repression; they remain jailed facing a two-year sentence. Paola Ugaz – a correspondent for Spanish newspaper ABC – has spent her career investigating injustice. Ugaz's coverage of abuse within the Catholic church has inspired years of unrelenting legal and physical threats.
Independent, hyper-local news outlet Khabar Lahariya is a feminist voice in in Uttar Predesh and Madhya Pradesh. The publication disrupts and interrogates the status quo, where newsmakers have long been male, upper-caste, and politically connected. Vanessa Charlot, a freelance U.S. photojournalist, documented the Black Lives Matter (BLM) movement following George Floyd's murder, during the onset of COVID-19. Under an oppressive gaze, Charlot holds power to account while enduring trauma inflicted upon her own community.
"In receiving this award, Darya represents every woman journalist in Belarus and worldwide who suffers behind bars, despite the risks," said Chultsova's mother, Natalya Terebilenko. "I consider it my duty to publish," commented Ugaz, who continued, "this recognition will help other women journalists in the world to feel that they are not alone." Charlot noted, "This honor is validation of the work I'm blessed to do and the people whose voices help shape the stories we tell."
Khabar Lahariya shared, "As rural Dalit women, we are mindful of being pathbreakers while also navigating the challenges that have intensified. We are thrilled and humbled by the recognition, and hope it promotes the global recognition of work that can only be done by women who've been pushed against a wall for too long."
About the International Women's Media Foundation
Founded in 1989, the International Women's Media Foundation (IWMF) is the only global non-profit organization that offers emergency support, safety training, grants, skills building and reporting opportunities specifically for female journalists. We are making more women-produced reporting possible and work tirelessly to ensure a greater diversity of voices represented in the news industry worldwide. 
Follow the IWMF on Twitter at @IWMF, on Facebook at @IWMFPage and Instagram on @TheIWMF.
For the full press release visit the IWMF website or write to srishti@chambalmedia.com
To read this Press Release in hindi tap (here)