Privilege is a curse.
A visit Maleficent paid you while you were in your cradle, unaware, on the verge of growing up, ready to blossom into a privileged human being, the curse unleashed within you forever, and with you forever.
You do not question it because you don't even know it's there. You do not see it, and you carry your accursed soul to your grave.
But you do not do so quietly, no.
In your privileged lifetime, you cause grievous pain to many, sometimes unknowingly.
And terrible terrible violence, almost always knowingly.
This played out in a recent story we covered in the district of Banda, in a village called Mahui, where a trigger-happy Thakur shot down a Dalit man. No real issues, except it was over dental care. No, we're not making that up.
It was the morning of Christmas that turned out to be the opposite of merry for Lallu Prasad, a man belonging to the lower caste who happened to break part of the branch of a neem tree that was growing outside Vishwaram Singh's house, or Thakur Vishwaram Singh as he's called, or just plain Thakur, as they all call him. Lallu's reason for doing so was to fix a toothbrush out of it, a datoon.
But. See. The. Tree. Belongs. To. Vishwaram.
He got extremely worked up about the whole issue, onlookers say, accusing Lallu of stealing and trespassing and his rage passed on to his sons, Ram Lakhan and Shiv Vilas. It took only a few more seconds for Lallu to be at the receiving end of a severe thrashing by the brothers, the former trying his best to fight back. Lallu's family, who'd been told about what was transpiring, ran to the spot just in time to see Thakur Vishwaram Singh pick up his rifle. He shot four times at Lallu and two of those bullets hit him in the waist. Members from Lallu's family dialled 100 immediately, but Ram, Shiv and the father had all fled by then. Lallu succumbed to his gunshot wounds en route to the hospital.
When we spoke with Lallu's brother, Ram Kishore, his face tear-stained, he told us about how he thought he could help his brother, and how he failed to do so.
There's a reason why guns are so handy in these parts, and why going to a wedding is nothing short of derrindo where every man is a dabang aadmi to outdo the next, with his guns and his booze. (Especially if you happen to be a dancer at one of them, but we digress).
What's more, the Thakur's family is now also threatening Lallu's family; we hear the fear in his sister-in-law's voice, who is demanding police protection at this point.
What's more, even the village pradhan, Sumitra, is facing threats. "I need to protect my people, but look at the situation here. I'm being threatened too!"
When we visited Mahui two weeks later for our follow-up, we learnt that the accused are all on the run – "faraar". And since then, the episode itself has become the stuff of folklore. "It was a land issue", someone tells us,"These Thakurs won't even let anyone bury dead bodies there. No respect for the dead." Someone else speaks of it as a water issue,"They shoo you off saying you need to get your water at the community handpump." Lallu's father Dvarka Ram, brushes these excuses away and reiterates that the Thakurs always knew they could get away with murder, literally. Which, it seems, they did.
Meanwhile, we couldn't get Lallu's wife out of our minds. Her name is Ramkali and she's petrified of everything. The threats. The thought of having to step out on her own to get things done. Her three kids. Even as she weeps about the 12 years of her marriage that ended so abruptly and brutally.
But there's another story in this report that unfolded not on the streets, but in our newsroom, long after Lallu was dead.
Like all newsrooms, it played out on our screens, on social media – a space, as we've all begun to realize not so slowly but definitely surely, as brutal as any real-time violence.
Oh, the power you have, at your mere fingertips, in typing one Facebook comment.
So, what happened was that we posted our report and titled it 'Banda zile ke Mahui ganv mei Thakur ne Dalit Lallu Ram ko goliyon se bhun diya aur parivaar ko di dhamkiyan'. A Thakur shot down a Dalit.
Overnight, we were trolled by zealous men (and a woman, too). 'Why mention the caste?', they demanded of us, not framing it that politely, of course. A couple of minutes later and much chatter amongst them, we had been threatened with legal action and all those insults that centre around cunts, for some reason. There had even been an exchange of numbers among some of them, we noticed, feeling too crazed to be amused by this social gesture. (We did laugh later though – "Do you think they hooked up?", we asked each other).One man got a bit too enthused – the dabang-est guy of the lot– and he started putting us in our place, predictably. It would have been a yawn-fest if we hadn't decided to engage.Which we did. 'We mentioned the caste of both the victim and the accused in this report', we said, 'because it's connected to the story.'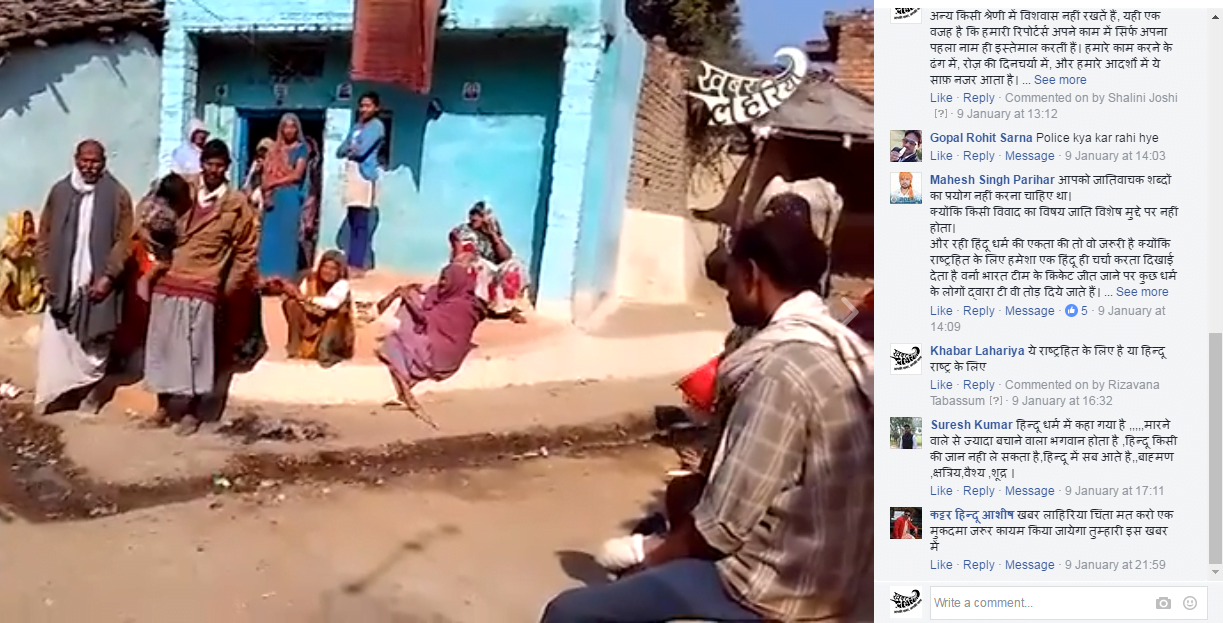 This led to a rant on how Hindus should be unified in these troubled times, because they might be called to defend… something.
We wanted to say more, so much more.
As Khabar Lahariya reporters, many Dalit, many Muslim, all women – we know how this works. Or doesn't work, actually. It's also why the reporters insist on not using their last names when they're on the field.
We wanted to say all this and so much more. But we didn't. Beyond a point, what's the point? We all have deadlines to chase, after all.
But we do choose not to forget all those times we were asked for your 'surname' growing up in India.
Us and Them is our favourite game.
Tough to explain it to that guy on Facebook who goes by the name of कट्टर हिन्दू आशीश but let's not make any mistake here. Maleficent always strikes in the cradle, and the Thakur shot down the Dalit.