Amidst local M.P.'s high voltage political drama, we visit his adopted village
Bhairon Prasad Mishra, the Banda-Chitrakoot MP, recently sat in protest outside the headquarters of his party, the BJP, in Delhi after it was revealed in the Uttar Pradesh candidate list that his name had been dropped. Sitting, quite literally, on the ground outside the office on a hunger strike, Mishra demanded to meet with the state and national party leaders and have them explain their reasoning to him, in person.
A feature/fixture of the Bundelkhand political scene since 1991 and a longtime BJP supporter, Mishra was elected MP in 2014 for the first time with 3, 42, 066 votes. Since then, he has had a 100% attendance record in parliament with significantly higher than average participation – he has been a part of 2,095 debates while the national average for the same is 67.1. However, the BJP has gone ahead and chosen another local neta to contest from the Banda-Chitrakoot seat in the ongoing 2019 general elections. His name is R.K. Patel, and he is referred to locally as the 'ludakta bhaata', or 'dalbadlu' – the quintessential party-hopping politician, he represented Banda-Chitrakoot in 2009 as the Samajwadi Party candidate. Before his transition to BJP, he was a Bahujan Samaj Party member – an avatar that witnessed a popular fierce local critic of both the BJP and Prime Minister Modi. Today, as the BJP hopeful for the upcoming Lok Sabha elections, he cries tears of empathy for the poor who have benefitted from the Ayushmann Bharat yojana, at the drop of a hat. And therein hangs another saga.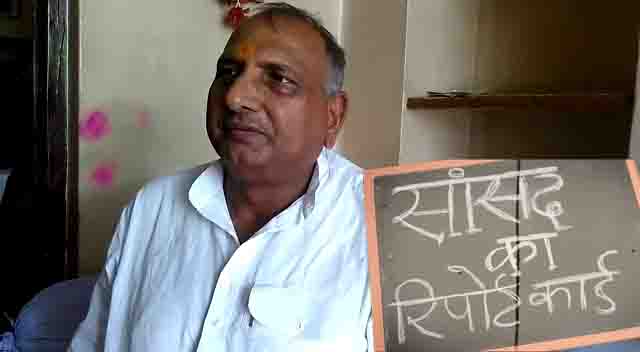 Mishra, meanwhile, insists that deep caste-based votebank politics have been at play. The Banda-Chitrakoot seat is traditionally an upper-caste seat, he holds, but some are speculating that the decision to let R.K. Patel contest from this seat is an attempt to appeal to the OBC voters – particularly in light of the rivalry. The BSP-SP alliance candidate is ex-BJP Pragyaraj MP and local businessman Shyama Charan Gupta while the Congress candidate is another Patel, an ex-SP ex-MP Bal Kumar Patel, also the brother of a notorious vigilante who has Elvis-like legends around him.
As an upper-caste man, Mishra's feathers have been ruffled; as long-standing rivals, Mishra considers Patel's nomination, not just a party betrayal, but also a denial of what he considers his seat to win. He is also certain that without him, BJP stands no chance to win the Banda seat again.
But on the ground, away from political waltzes and netagiri, the views of the residents of the Banda-Chitrakoot district calls into question Mishra's claims and faith in his performance as a representative of the janta. His parliamentary performance notwithstanding, we conducted interviews with various citizens in Banda to rate MP Mishra's performance out of 10 as part of our 'Sansad ka Report Card' special series.
"Our MP has done no work. I wouldn't even give him a 1," starts a local Jaykaran, "If he never did anything, why would I give him any marks? I refuse." Nathu Hussain has a low opinion as well, as he grants him "not even a 1, a 0". Ramprakash, another Banda native, scoffs at the idea of grading his performance altogether, and offers us a non-sequitur, "You can only grade someone on the basis of their work." He then explains, "Ever since he won the seat, he hasn't come to this area. In four years, I've only heard about his impending visits, never seen them happen." Mustak Ahmed says simply, "Without work, what number can I give him?"
There are a few who speak more generously of MP Mishra, "He's put street lamps, that's the only development I can see in his term, nothing else," says Mehboob, before adding dubiously, "I'd give him 50%, which is 5." Meva Lal also speaks more positively of Mishra; with a smile that betrays nervousness, he says, "Out of 10, I can give him a 7 or an 8." But he offers neither reason nor explanation for that assessment.
Even as Mishra returns from Delhi, calmer, fed, his demands for an explanation from the party he has always been loyal to, have been unceasing. It seems like his constituents though are less than invested in his return.
This Khabar Lahariya article first appeared on The Wire.