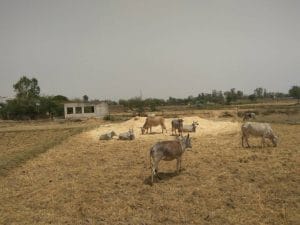 As part of our Yogi ka Ek Saal: Mangal ya Dangal special series, we check out the bovine situation and come out, not surprised, knowing who's really building the cow shelters!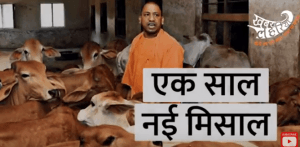 Vimla Devi, a farmer from Chitrakoot, shines a torch on her fields in the middle of the night, to see cows destroying her crop. 'How can I chase these away on my own?' She can't keep the tears from welling up.
In a Bundelkhand defined by drought and agricultural disaster, cows have very much been the meat of the matter through this first year of the Yogi Adityanath-led BJP government in the state. Protecting them through sickness and health, making their transport and sale highly regulated (by extra-administrative forces if nothing else), clearing the landscape and roads of abandoned bovines, creating (no less than 14) dairies producing lakhs of litres of milk.
Now with Yogi's 'Ek saal naya misaal' celebrations echoing through the state, we take a look at how cows are actually faring in the heartland of cow protection. Is the cow anything but a saffron-charged political tool for the ruling party? Is there any point of 'protection' when life as a hungry and thirsty cow in Bundelkhand is a fate worse than death? Does the considerable budgetary allocation – from 40 in 2017, to 98 crores in the current fiscal – trickle down to panchayats battling scores of 'besahara pashu' in search of shelter?
Accordingly to records held by district veterinarians in Chitrakoot, this one district has between 50,000-55,000 abandoned/stray cows at present. One farmer, Bansidhar Pathak, says he reckons 60% of the farming population has migrated, and a chief reason for this is stray cattle attacking their meagre yields.
RK Patel, a popular party-hopping politician in Chitrakoot, currently the BJP MLA from Mau-Manikpur constituency, claims he has seen the practice of farmers leaving their cattle loose every year during the dry months, when it becomes difficult to feed them ('annapratha'), from when he was a child. 'If we assume the government will be able to solve the problem of annapratha by making shelters, then we're wrong. Farmers have to become more aware. The problem is farmers, and the solution is farmers.'
What of all those election promises and mandates, then? Ram Singh Patel, the district president of the Bharatiya Kisan Union says scathingly, that the government is good for announcements and not much more. And Kallu, a farmer from Mahoba, one of the many who pitch their flimsy plastic tents in their fields through the debilitating winter months, to protect them from hungry cattle, declares that the government should either provide food for these cows, or facilitate their sale and butchery.
Promises and plans made by the state for support and subsidies to farmers who shelter cows haven't been followed up with any actual cash flow: according to the district veterinarian, Devendra Singh, the 60-65 cow shelters in the district are all privately run. Individuals, and groups – such as Yogi's own Hindu YuvaVahini – have volunteered their land and services to the district administration, but most often, their offers have not been supported by funds or administrative action.
Meanwhile, cows still wander the Bundelkhandi fields, and plastic cow-shaped piggy banks beckon from shop windows in Karwi town to solicit public contributions.
This story is Part II of an ongoing Three-Part special Mangal Ya Dangal series, for which we're partnering with Firstpost.