"Yes, I have tried to understand why this is done but never went far with that. These dolls are just like us and fashioned after our image. So it is insulting that they should be beaten up. There must have been some reason behind this" says Neetu Sinha, a young teenage girl from Barawara village in Chitrakoot.
She is referring to an age-old tradition of beating up of cloth dolls, by the boys of the village on the 'auspicious' day of Naag Panchami that falls in the month of Sawan, which is also the most auspicious month in the Hindu calendar. Gudiya Kootna, translated literally as the pounding of dolls is the local name for this disturbing tradition practiced widely in parts of Bundelkhand and Uttar Pradesh. Cloth dolls are prepared by girls of the village to be taken to the village square or the ponds, where the boys, armed with sticks or lathis are ready to pound them up with glee as the girls watch on. Neetu tells us how soil is collected from the site of this ritualistic massacre to be taken back for planting jowar and wheat seedlings. Her smile belies a hint of embarrassment as she explains each step.
But the fact that the majority of youngsters and elders that the Khabar Lahariya reporters spoke to in the village, do not find the practice problematic enough to be discontinued or given a second thought to, speaks for the easy acceptance for gender violence in a state that has the highest percentage of crimes against women. "People say that they are only beating up dolls and not real girls. But we disagree – by beating up the dolls, they are encouraging real and everyday violence against women, and other practices such as Sati, a negative perception around the birth of girl babies and many more beliefs and practices still prevalent in these parts," says Puspalatha, a local activist.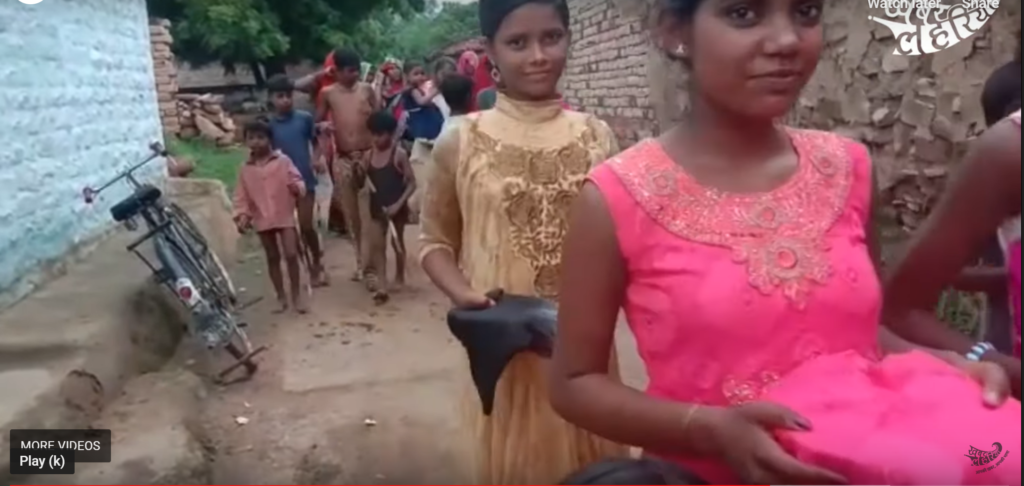 As with any such regressive tradition practiced in the name of culture in India, there are many folklores explaining its origins.Ram Bilesh, the  Pradhan of Barawara, offers one such context, dating back to the time of the Mahabharat "Raja Parikshit and Raja Amrit were great friends. One day, Raja Amrit told the latter that his daughter is having an affair with someone from a different caste/enemy kingdom. When Parikshit went to ask his daughter about the same, she countered it saying that Raja Amrit had tried to misbehave with her earlier. But later he found out that this was not true and told his sons and all the young folks in the kingdom to come and beat up his daughter in public. She died as a result of this, on Naag Panchami day. Since that day, this tradition continues." It is difficult to not draw a connection of this absurd tale relating a woman's 'deviations' to family and community honor with the fact that cruelty by husband/relatives is the most reported crime against women according to the latest data.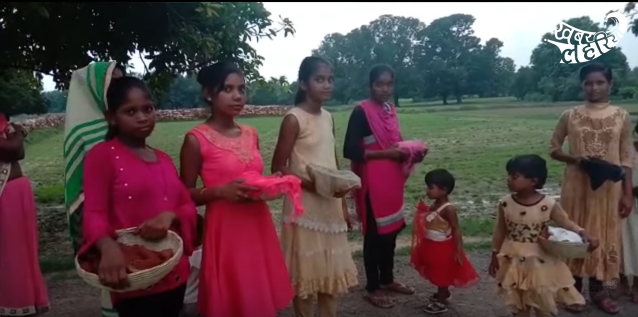 There are many more tales explaining the practice as if to establish its significance through the ages. Misogyny and condemnation of women who cross their mark through prohibited relationships, 'spilling secrets', or any other 'unacceptable' female qualities is the common thread. This very condemnation is celebrated. The arrival of rains and the many days of religious significance falling in the month of Sawan means that a general mood of festivity forms the setting for the Gudiya Kootna practice. Even local media features on this practice list it as one of the many traditions practiced on the occasion of Naag Panchami, albeit less important than others like the worship and special offerings to snakes on this day. It is also this celebratory mood that Harishchand, a young teenage boy of Barawara cites, to explain the happiness in beating up the dolls," We go with our lathis, and accompany the girls who come with the dressed-up dolls and then beat them up. I don't know the reason for it, but it's in our tradition. As it has always been practiced, we too are practicing it. We are happy because this is our festival, and our friends, both old and young take part in it."
The effects of such a practice on young children and their understanding of gender equations are not lost though, on the social workers working for the Mahila Samakhya Program, a central government mission for the education and empowerment of women. Pushpalatha, who is associated with the program said, "The tradition perpetuates the stereotype showing men as strong and women as weak. Girls begin to subconsciously accept being recipients of violence. There is no doubt that this is a tradition contrived by society to propagate the idea of the weakness of girls." Maya, another Mahila Samkhya worker shares how they could only begin talking against these practices in very recent years, with the increasing education levels and awareness in the region. Their work is still far from complete.
Meanwhile, as another Naag Panchami day passed by, preparations are on for another festival reinstating patriarchal pride –  Raksha Bandhan, the day boys renew bonds of 'protection' or 'care', to their sisters. It is also the day that culminates in the holy month of Sawan. This year, it will be celebrated on August 15th, the country's 72nd year of independence.
Reporting by Geeta Devi and Nazni Rizvi, Written by Nikita Joseph
This Khabar Lahariya article first appeared in The NewsMinute