The many hues and shades of a not-so-crackling festive buzz in Bundelkhand this year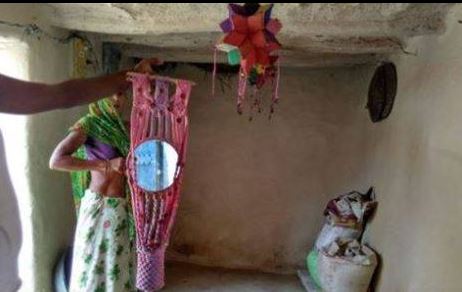 "We never had anything, what did we have? Nowadays women have naths, baalis, jhumkas, paayals, bichchuas, and what is that they've started wearing here?", she circles her upper arm with her thumb and forefinger. "Baaju-band", someone prompts her, alongwith the reporter Meera Devi. "Yes, baaju-band!" She is miffed, but only on the surface. "The things they wear now!", say the old women, in unison.
The changing jewelry fashions of Bundelkhand is Meera's one-line brief for the story she wants to do, in response to the zeitgeist she's been breathing in for the last month or so, ever since Diwali fever got heads spinning. And the saffron brigade seemingly loosened its grip over all-things-festive in their management plans – considering the frenzied, zealous hyperactivity we've been witness to through the Navratras. We're guessing all the action's shifted to Ayodhya and a display of pyrotechnics and pushpak vimaans and what-nots, but let's not dampen the mood.
After all, potaai's on in full swing and Akela's in business!
Meet Rajesh a.k.a. Akela, painter who comes with the world-famous-in-Mau tag, going by the sheer truth of numbers. A month or so as the countdown to Diwali starts, it seems all of Mau kasbah in Chitrakoot lines up at Akela's shop to get their respective homes, shops, dressed up to the nines for the big day. He's apparently that good, and his confidence speaks for itself when he says, poker-faced, "The way I work, you can't even tell if there ever were cracks in the wall." We shadow him as he goes about the miracle work we've heard so much of, atop ladders, armed with brushes and cans of paint, and he lets us in on his real passion. Akela, you see, is also a self-employed stuntman. The spark in his eyes is evidence of his passion, as he describes to us, in great detail, his love of judo-karate and heart-stopping action moves his friends have been witness to. Once he stood atop a high wall, prepping to jump in a manner he'd been envisioning for a few weeks, with a pleading friend looking up, trying to get Rajesh to change his mind. "'Haddi-pasli ek ho jayegi' (You'll smash your bones), he was saying", recalls Rajesh. But he's not a maverick for nothing, Akela. "I told him to relax, I knew what I was doing."
So, what's with the name, you ask? It goes back to a movie poster. An Amitabh Bachchan movie and a fascination for the poster stuck on the walls around where Rajesh and his gang were growing up. "I just felt drawn to it", he tells us, and the name stuck, before setting for yet another potaai job.
Not everyone's feeling the festive buzz though, and there's a new three-letter word to blame, it seems. "GST, GST, GST. What is this GST? Aaj tak samajh hi nahi aaya. (Nobody's got the hang of it)." A frustrated Gopal Prasad Gupta, who runs a general store in Banda, spells it out for a chunk of the population who've been complaining of a "kamar-tod mehengaai (back-breaking price-rise)" the likes of which they haven't ever experienced. "Now the worker population has been unemployed for so long, what with demonetization and then the baalu samasya (the pause on the sand business, a huge income-source for local mule owners), how will they spend on Diwali?", says Bhishm Yadav, shopkeeper, pointing to his own pockets, as if to illustrate the point. It's an echo we follow around that marks our reportage, we hear it again and again. "Raunak nahi hai na (There's no buzz)", says Ashok, fruit seller. "Mann mein utsaah nahi (We're not feeling the enthusiasm)", says a visibly forlorn Gopal Prasad Gupta. "Sannatta to dekh hi rahe ho aap bhi (Can you see how quiet the market is?)", whispers bangle seller Meena. Even as local advocate Kumar Yadav has the last word, "You know how on Dhanteras, people used to buy utensils for the house, or jewelry for their wives. Now, they're going to buy a spoon." He laughs at his own joke.
Although Banda local Kusum Kali would disagree, who explains to us how jhaalars are no longer trending, and everyone prefers jhumkis. She's seen a lot of the young women go for them. Shiv Devi, another Banda local, speaks of the phasing out of the bichchua, "Ab toh mahatva nahi hai uska (It's no longer considered an important item)". And local sunhaar Om Narayan is obsessed with "net ka fashion", only because that's what his clients are obsessed with. (Net, meaning, the internet.)
But the more things change, the more they remain the same. The same-same-but-different vibe runs through Bundelkhand this Diwali too. Even though we had to scout and hunt for the moonlight kabaddi that women play in these parts on Kartik nights, we did find a bunch in Agarhunda village in Chitrakoot, who all confided in reporter Sahodra Devi, of the deep emotional resonance the game has for them. A dying ritual it might be, but it still embodies a liberation of mind, body, soul, in ways only a sport can – the sweat, the team spirit, the high of a win, the learning that comes wrapped up with loss. "We used to play it more often in our maayka" says Sunita, while Koyali speaks of the initiative she's been taking to revive the game, "Ghar-ghar jaakar ikattha kar rahi hoon (I'm going from door-to-door to call the women)". We watch a sari-hitched-to-waist Koyali, hours later, as the sun sets and the women gather, the day's work done and dusted, forming teams, a pleasant cheery breeze mingling with the laughter. The chant starts, it's infectious – it takes everyone back to their childhoods. Kabbadi. Kabaddi. Kabbaddi.
There are other rituals and cultural practices that mark the festive season for Bundelkhand. Chitrakoot's Diwali rage rages through in the signature dance form – the spirit of the traditional Dewari dance hasn't paled over the years. And nothing quite says Bundeli Diwali fervour like donkeys! The famed gadha mela (donkey fair) of Chitrakoot witnessed the hustle and bustle of brokered deals the same as every year. As Digital Head Kavita puts it, "All year-round, you crack jokes on donkeys and then this one time of the year, you dress them up in all their finery, paint them in attractive hues, and make a huge display of them!"
Now, that's what we call a Bundelkhand Diwali!