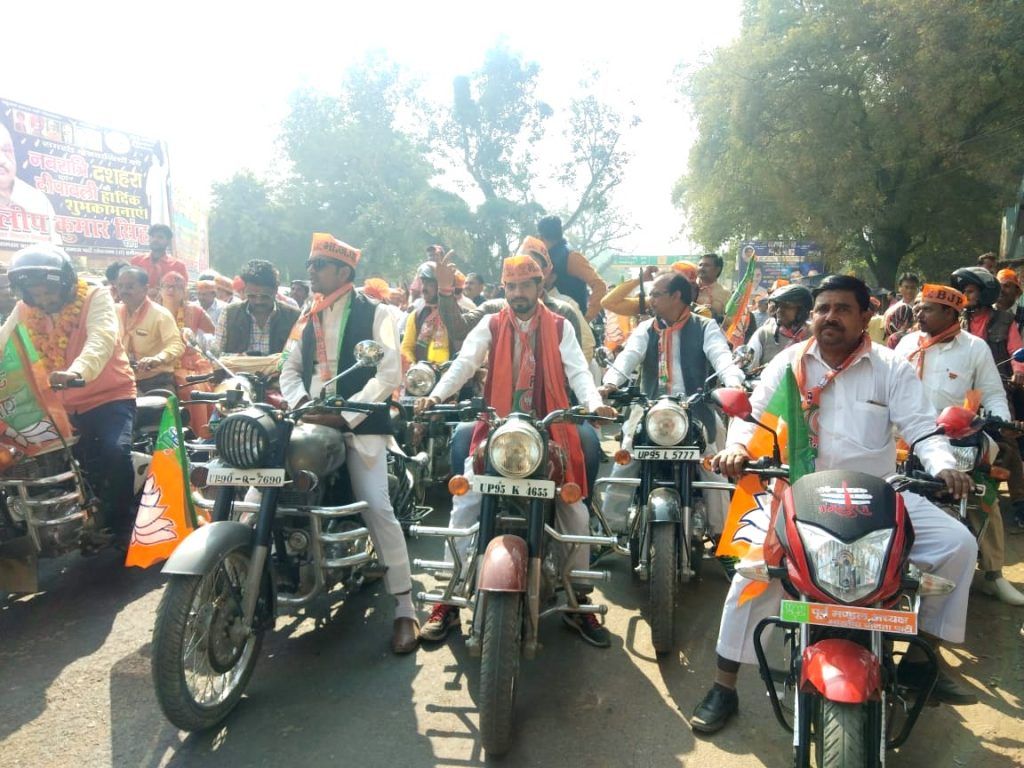 With an eye on the 2019 elections, the ruling party has been adapting several strategies to emphasize and amplify power and popular appeal on the ground. Known for innovation trend-setting techniques – think Modi wave, 2014, and social media & IT cells – campaigns and rallies have been turned around on their head too, in a bid to stake claim.
The BJP Bike Rally, allegedly the brainchild of Uttar Pradesh Chief Minister and a Prime Minister favourite, flagged off by Yogi Adityanath himself, has been one such strategy. On 17th November, local Mahoba witnessed this hulchul too, when a biking cavalcade passed through.
"This a bike rally to spread the word of 'lotus'", said Kunwar Pushpendra Sinha Chandel, local BJP MP whom we can always never access during our regular beat otherwise, but who had made a huge effort to be seen and heard during this rally. Riding pillion himself, clad in neta whites and speaking over a roaring crowd of riders, he said, "Ten party workers from every locality in Uttar Pradesh will drive down on motorcycles to meet at the Lok Sabha centre. After that, we will all assemble together as a group to travel around the state."
The rally saw participation across the levels of power, from MPs and MLAs to district collectors and party workers, with a huge show of youth too – i.e. young men. The energy and drive ensured chaos on the streets, however, since the rally participants had clearly placed any and all traffic rules right at the bottom of their jan sampark agenda. As senior KL reporter Sunita Prajapati, reporting from the Ramleela Maidan where the rally had congregated, put it, "Many rally participants were seen triple-sharing and riding without helmets, among other flouting of traffic rules."
Road accidents are a sizeable cause of accidental deaths in this country; data shows that at least 98 two-wheeler riders without helmets died every single day in 2017; while even more were grievously injured. Uttar Pradesh, not surprisingly, accounted for 5111 of the 36,000 fatalities that occurred as a result of helmet-less riding.
And as severe as the thought of powerful party members flouting rules meant for all might be, the rally did more than just disrupt traffic. Shyamkali, another KL reporter on her Kulpahad beat in Mahoba, reported that several of the bikers had been causing dissonance at petrol pumps. "The BJP workers have made this like their adda. They hang out here and are barring the locals from getting petrol", she said, standing just outside the petrol pump that had been coloured saffron it seemed with tons of BJP workers scattered across. "The villagers are saying they don't know where this rally is coming from or going, but that right now they are unable to buy any petrol," she said, "All the gas is being used by the BJP members." Jagdev Vishvakarma from Simoli village said, "They asked me whether I was going for the rally or not; I said no. And so they have refused to provide us with petrol." Exasperated, he added, "Some of the people just said that they are going to the rally, so they can get their petrol. They've been discarding the flags being distributed by the rally members on the road alongside." Vishvakarma confirmed this fact for us with a resounding "Yes absolutely".
However, the General Secretary of the BJP Farmer's Wing, Kamlesh, present at the Kulpahad petrol pump at the time, was quick to deny, "This is not true. Everyone is getting both petrol and diesel." Decked out in signature BJP paraphernalia himself, he took a moment to finish chewing the gutka before replying to Shyamkali, who cross-questioned him, "There is no such withholding of petrol. In fact, we're giving them priority. It is only after their petrol is filled that we take our share."
This Khabar Lahariya article first appeared on Firstpost.