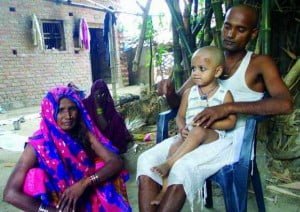 Banda district. There have been a spate of delivery deaths here. On 3rd October Genda Devi died after child-birth in the Community Health Centre (CHC) in Atarra town. What is the reason behind this? The lack of electricity, doctors and Auxiliary Nurse Midwives (ANMs), as in the case of Genda Devi? Or is there a deeper problem in the healthcare system in Banda district, resulting in frequent deaths? "The health department deals with births and deaths all the time", according to Captain Dr. R.K. Singh, the Chief Medical Officer of Banda district. While this reflects the apathy of the senior-most district-level health official, the all-time excuse of the official continues to be – "We will investigate the matter and take action if required."
Genda's husband Chandrapal describes the lack of infrastructure in the CHC. "On the night of second October, Genda was in labour; we requested the reluctant doctor and the ANM to come to the CHC. The first time they left after giving Genda a medicine. The second time we pleaded them to come and this is when the doctor delivered a dead baby by the light of candle. Genda was bleeding and in excruciating pain. By 5 am, she succumbed to the pain and passed away." At the CHC, Dr Sunil Kumar washes off all responsibility by saying that the generator has not been working and so we had to perform the delivery by candle light. The woman was bleeding a lot and we had referred her to the district hospital, but the family could not take her there as there was no ambulance available.
While the family waits for justice, the health system and infrastructure in Banda district refuses to take note of its terminally ill condition.
Read original story here