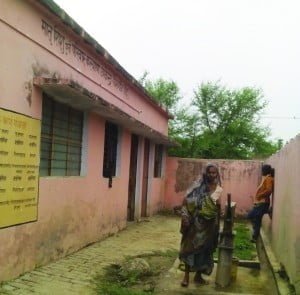 Banda. On 3 February when Vandana went into labour, she was preparing herself not just for the impending delivery but also for a bumpy ride to the District Hospital 25 kilometres away. Though, like many villages, Vandana's village Bilgaon also has a separate Mother and Child Care Centre, new mothers and pregnant women choose to take an uncomfortable trip to the District Hospital in Banda town.
'Whenever I needed medical consultation during my pregnancy, I found that the Centre in the village was shut. So I just decided to go to the District Hospital,' said Vandana. The village health worker (or Asha) Bhuri Devi admits that facilities at this Centre are far from ideal. 'The Centre was opened in 2007 and in so many years there hasn't been a single delivery here. I myself prefer taking the women to the District Hospital, ' she says.
If Asha worker Bhuri is to be believed, the A.N.M. is to blame for the mess. 'A few days ago, the A.N.M. Kusma Nigam called me and said that she would be here at the Centre for administering vaccines. I waited all day but she did not show up,' alleges Bhuri. While the primary responsibility to keep the Centre up and running indeed lies with the A.N.M., she was missing. When this reporter visited the Centre a big lock was hanging at the door to the A.N.M.'s office. The rest of the building also did not give the slightest impression of being used as a medical facility. Through a broken window one could see a broken bed lying in one of the rooms. There were 2 washrooms both of which were dirty with garbage strewn all over. There was a handpump on the premises which was being used by people living in that area. According to those living around here, on no occasion has any official from the Health Department come for an inspection.
When the A.N.M. Kusma Nigam was finally contacted over the phone, she said that she opens the Centre every Wednesday and Saturday. She also said that she couldn't do anything if people decided to go to the District Hospital. When the Chief Medical Officer (C.M.O.) Captain Dr. R.K. Singh was asked about this issue, he said that an enquiry will be set up to look into the matter. Even though he has been the C.M.O. since 2012, he did not have any information about this Centre.
Click here to read original story