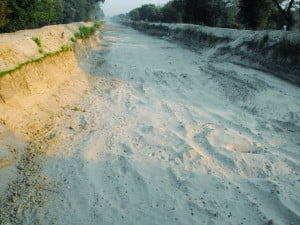 Ambedkar Nagar. 'We are just watching out crops die. Many of us depend on earnings from the sale of peppermint oil to buy the seeds for the paddy crop. But this time, we're caught in a vicious cycle,' said Jokhuram, also a resident of Aatampur Bajdaha village.
Peppermint and urad farmers in Ambedkar Nagar and Faizabad districts are facing a new problem – a dried up Sharda Canal. No water has been released in the canal for the last 2 months and these crops are now beginning to die. With the rabi season coming to an end, farmers had sown peppermint and urad in their fields to tide them over till it's time for the kharif crop.
'It's been two months. There has been no water in the canal and many of us have not been able to irrigate the crop,' says a worried Ram Bahadur Patel. His village, Khoriya Bujhavan is one of the several villages where farmers depend on the canal for more than 50% of the irrigation. 'I have already suffered losses in the past month because of the unseasonal rain. The peppermint crop would have given us something for the next month or so but without irrigation from the canal, the situation is looking grim,' said Asharam who lives in Aatampur Bajdaha. 'We simply cannot afford to pay for private modes of irrigation at this time,' he added.
Most farmers in central Uttar Pradesh harvest the wheat crop towards the end of the rabi season and in the interim couple of months before they can sow paddy, they are able to sow and harvest either peppermint or urad. These are popular choices for this period and sell for a good price in the market with peppermint oil selling for as high as Rs. 10,000 for a litre but these crops rely on artificial irrigation. Small farmers depend on the Irrigation Department to make water available at subsidized rates through canals.
Farmers say that no water has been released in the canal for almost 2 months now. Arranging for irrigation privately is not an option for most of these farmers. 'With diesel prices touching Rs. 50 per litre and needing to pay separately for the pump at a rate of Rs. 35 per hour, the price of even one round of irrigation is too high. If the canal was functional, we would be getting water at Rs. 30 for a whole bigha of land,' explained Jokhuram.
Additional Engineer at the Irrigation Department in Ambedkar Nagar Alok Sinha said, 'The canal is being cleaned right now, that's why water has not been released. This is done annually and is a necessary step.' He refused to comment on the effect this was having on the farmers and said that the canal would be functional at some point in the last week of May.
Given that the complete cycle for the peppermint and urad crops is itself a little less than 2 months, the next 3 weeks will decide how heavy a price these farmers will end up paying.
Click here to read original Awadhi story