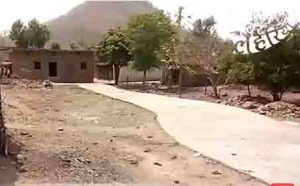 A dilapidated building in the middle of a heavily wooded forest may sound like the beginning of a horror movie, but for the residents of Faizabad's Ramdaspur village, this building is their first point of contact for basic healthcare. The already defunct primary health sub-centre is made even more inaccessible through its location.
In 2013, Ramdaspur Health Centre was created to provide medical facilities to villagers. However, as Omkar Singh notes, "There is no medicine, nor are there any doctors. We have to deal with this issue ourselves. Where should we complain about this, and to whom?"
India's rural public health system is a multi-tiered. Village sub-centres form the base of this pyramid, and are designed to cater to a population of 3000-5000 each (roughly five villages). Primary health centres (PHCs) come next, and act as referral units for six sub-centres. Above the PHCs are community health centres (CHCs) at the block level, followed by sub-district and district hospitals, while advanced research institutions and hospitals such as AIIMS form the pinnacle of this pyramid. Sub-centres, such as the one in Ramdaspur, are the first contact point between the community and the primary health care system. They employ one male and one female health worker, with the latter being an auxiliary nurse midwife (ANM). They are mainly responsible for tasks relating to maternal and child health, nutrition, immunisation, diarrhoea control and communicable diseases.
Although perfect on paper, the on-ground implementation of this system leaves much to be desired. "It's been about 3-4 years since this health centre has been constructed. But it has been non-functional for various reasons: there has been no staff, no doctor, no ANM who works here, or has even been seen here. This building is a farce, it has been constructed for show," says Arun Mishra, a disgruntled resident of Ramdaspur. According to the Village Health Survey of March 2017, almost 1,56,231 health centres exist in India. The Ramdaspur Health Centre is also included in this statistic. But, as far as the villagers are concerned, and our own eyewitness accounts, it may as well be non-existent.
Ramdev Prajapati, a resident of the village says, "There is a centre constructed, but no one wants to go there. The health centre is in an isolated area, so people don't feel safe going there at night, or even in the day."
Arun Mishra fumes, when he says, "The nearest health centre is about 6-8 kilometres away. In our area we've had issues where we have had to take pregnant woman to the other health centre for deliveries. Sometimes, the women gave birth on the way. And in certain cases, women have even died, after reaching the health centre late." National surveys indicate that less than half of rural households approach government medical institutions. Poor quality of healthcare, absence of nearby facilities and long waiting times contribute to the lack of trust in the system. Additionally, only 11% sub-centres, 13% PHCs and 16% CHCs meet the Indian Public Health Standards.
When we spoke to the Education Health Officer, in the Bikapur Block health department, Dev Prakash Verma, he seemed fairly laidback about the situation: "The ANM for that area is on standby, since we have just freshly recruited someone for the area. We have asked her to stay during the day. However, because of the dark and lack of proper electricity, we cannot ask her to stay at night. Once an electricity connection is established, then the ANM will stay there at night as well."
The necessity of restoring the cracked windows and desolate sub-centre to functioning status didn't seem to be of pressing concern to Verma. "The neighbouring areas have excellent facilities for childbirth. They have an ANM who is present 24×7, and they are open all day. There's running water, and electricity so all the deliveries from the neighbouring areas are conducted there. No, we have not received any complaints about the health centre yet. And if we receive any, we shall look into the matter."
This article first appeared on Firstpost