'Are you married? Why don't you make yourself up a little? You must be bathing, even putting on clothes everyday – so how much longer will it take to do a little make-up? I detest women who don't dress up a little, take care of the way they look,' says the Station Officer in the Chilla police station, Tindwari block, Banda district, Uttar Pradesh. He's talking to a reporter. She's come into the station to investigate a rape in the area. The line of questioning obviously led him to inquire about her personal beautification habits. It's a common detour.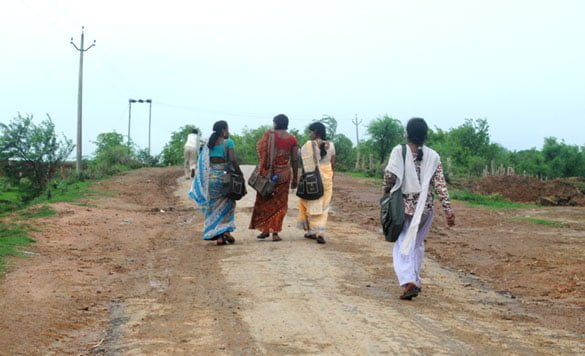 The world outside the home isn't right for women – we've all heard this line; especially those of us who are prowling around 'outside', in spaces and professions which are predominantly male. Here are some stories of women in rural Bundelkhand who negotiate this space, jostling men and the gendered reality of public life as they go about their work.
Women have a right to democratic spaces and positions – this has been the basis for positive discrimination and reservation in India. And women have come into public positions, for instance, in the lowest tiers of governance – the panchayat. But along with the constitutional reservation for those on the margins of the social order, and specifically that provision for women, came a new social position, with all the powers of the elected role: the 'pradhan pati' or husband of the elected panchayat leader. An elected leader of a panchayat in Ramnagar block of Chitrakoot district relates her own journey into 'power'. 'One night, all of sudden, I was told, "You need to come to ask for votes in the neighbouring village. You're standing for election this year, for the post of Pradhan." The next day I was off, hands folded, to ask people for their vote. I won, and became the Pradhan. Wellwishers congratulated my husband on my victory. He did all the work in the panchayat that was expected of the Pradhan. Others in the village would tell me, you take care of the home, your children – this is the work of women. One day, I summoned up the courage to say that I would accompany him. After many altercations and taunts, I started attending the panchayat meetings. But the officials and other panchayat members only address my husband. Other pradhan patis make fun of me – "the home, not these positions of power, gives women their beauty." They say to my husband, "Why do you bring your woman here? It's better for women to stay close to the ground, and not attempt to reach for the sky." I keep thinking, why don't officials question the right of the pradhan pati to be present at panchayat meetings?'
The journeys of women who travel for work are never easy. One woman, from Gadhva village in Mau block of Chitrakoot, who travels 15 kilometres everyday for her computer class, speaks about her everyday experiences, 'There are hardly any women in the buses I take. Some man's hand on my waist, or another's head falling on my shoulder is a regular occurrence. I don't quite understand it though, because I've never found my hand resting on a fellow traveller's waist, nor felt so tired that my head falls against his shoulder. One day, it crossed the limit. It was dark by the time I was returning home, and I got a ride back with a boy from my village, who had a motorcycle. The whole village erupted. People complained to my father that I would ruin the young girls and boys of the village. I often think, who gives the collective right to every person – from her family, to her neighbours, to any stranger she meets on the roads she travels – to watch over, or raise questions on a woman's life?'
'You roam around all day, in the burning sun – it's not right for women to be roaming around this way. I'll give you a job right here, with a pay of 10,000 rupees a month!' the Inspector at the police post in Baberu block of Banda commented with concern, and an accompanying sneer. When the reporter he was addressing said that in fact, she had come to get some information on a story, the same Inspector asked her to return later in the evening, alone, and 'all your questions will be answered…'. When the reporter objected to this, the only effect it had was to replace the sneer with big-bellied hoots of laughter. The reporter got the information she needed from another official present in the station, and left.
For women who come to the courts, expecting justice, the experience is even harder to stomach. Recently, Vanangana, a group working on violence against women and human rights, took up the case of a 13 or 14-year old girl who was gang raped in Bijnor district of Uttar Pradesh. The girl would repeatedly return from the court without presenting her testimony, traumatised each time by the crowd of (male) lawyers who confronted her. One member of the team working on the case said, 'The fourth time she made the trip to the court, we went with her, and the moment we entered we were faced by the four boys accused in the case, their 6 lawyers, as well as numerous other lawyers who apparently had nothing else to do. We presented the testimony, in whatever state we could. When we raised this issue with the Magistrate present, he had nothing to say. But this is the case with most cases of rape presented in court: when the survivor gives her testimony, all the lawyers and other officials present will assemble like it is a public performance.'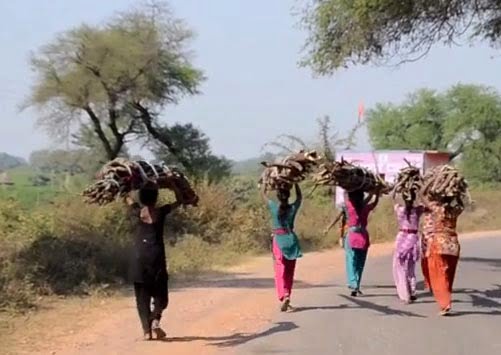 In the trains that run from the remote forested areas of Chitrakoot, towards Banda district, women with massive bundles of wood on their heads are a familiar sight. Long before dawn, these women collect wood from nearby forests and carry it to the markets of bustling Banda town to sell. A member of Vanangana, who has worked for decades with women in this area told us about travelling with these women a few years ago, 'I boarded the train from Chitrakoot station. There were many women carrying bundles of wood on their heads; one caught my eye, she seemed like she was 14 or 15 years old. A man was harassing her, for some time. When he was getting off the train, he pressed tightly against the girl's chest, and bit her cheek. This wasn't some isolated, lonely place – it was in a packed compartment of a local train. The girl was traumatised, but when we said we should go to the police, she responded, "Madam, this is an everyday thing for me. The police will say that we entrap men on purpose; our clothes draw men to us." The girl was dressed, as were all the women carrying wood, in a dhoti folded high, and her sari pallu tied around her waist. In incidents like this, the police often say that women invite unwanted attention. I've witnessed this myself many times.'
It becomes clearer then, why, in states like Uttar Pradesh, the participation of women in the workforce is so low. A report published by the International Labour Organisation in 2013, found that despite the Indian economy growing at a rapid pace, the participation of women in the workforce was in fact declining. The report cites a survey carried out in rural Uttar Pradesh according to which 28.9% women working in the agricultural sector and 52.2% women in the construction sector in rural India reportedly experienced harassment from male coworkers at the workplace. Based on data for 2010-13 from the National Commission for Women, Uttar Pradesh is most notorious with respect to sexual harassment of women at the workplace. While UP topped the list (number of complaints of sexual harassment registered with the NCW) in 2010 and 2012, it was second only to Delhi, and by a tiny margin in 2011 and 2013. In 3 years, a total of 118 complaints from UP alone were registered with the NCW while Delhi came in second with 98 complaints being registered for the same time period.
Sexual violence, verbal taunts, and the atmosphere of fear and dread that this creates, pervades public spaces of work or travel across geographies and contexts. Our stories from rural India reveal that these may deter, but even more often become 'just' a part – reviled, definitely, even resisted – of the experience of working outside the home for millions of women.