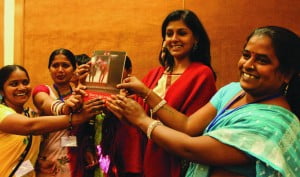 A few months ago, Khabar Lahariya conducted a survey in small towns and districts of 4 of the largest Hindi-speaking states in north India, trying to look for women journalists. Interviews were conducted with 20 women journalists working outside of big cities and meetings were held with editors from various newspapers and television news channels.
The survey revealed that few occasions and opportunities are afforded to women in journalism. The experiences and stories of women journalists who were interviewed and their struggles to make a mark in this profession, were released in the form of a report called 'Zile ki Hulchul: Conversations with Women reporters in small-town India'on February 27 2014. Also, the first ever Network of Rural Women Journalists was launched. Actor and director Nandita Das was the chief guest at the event.
Challenging the stereotype – Men vs Women
During the survey, we spoke to a number of women journalists and senior male journalists and editors. At the outset, men claimed that it was impossible that there were women working in journalism at the district level. Here are some quotes:
Male Editor: It is very difficult for women to be reporters at the district level. If I am personally present there, I can ensure their safety but that isn't possible.
Woman Reporter: It is much easier to work at the district level because you are not working directly under someone. In cities, it can be very difficult working in offices because women journalists are harassed a lot.
Male Editor with a TV channel: We have a reporter/stringer in every district of the state but not one of them is a woman. You only tell me, what will the poor girl do? How will she manage?Woman Reporter: I like covering stories related to crime. Journalism is not just about writing. One should have passion. Till there isn't some amount of risk, it's no fun.
Senior Male Journalist: How can women be journalists in small towns and districts? In those areas, one has to face powerful people directly. What can women do in such situations?
Woman Reporter: I became a reporter for the sole reason that this is the only way one can expose those who are in positions of power. Even though there isn't much money in this profession, one gets to make an identity for oneself.
Read the original story here https://khabarlahariya.org/?p=10568