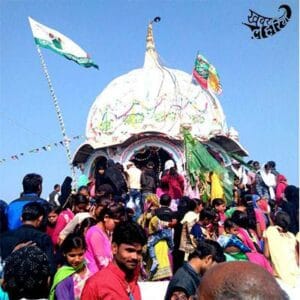 The annual Saipur mela in Chitrakoot is not just another fair, but a symbol of communal unity – a message of hope in troubled times
Sometimes you find the stories with heart in the heartland. At a time when the capital city is burning with news of communal tension, with the brutal murder of a 23-year-old – his fault being a relationship with a young woman belonging to a different religion – we clutched at a few straws of hope at the recently concluded Saipur mela in the district of Chitrakoot, in rural Bundelkhand.
The Saipur mela gets its name from the village where it is held – an annual affair that usually coincides with the festival of Makar Sankranti, when all of Bundelkhand is buzzing with mela fever – and the village itself gets its name from the legendary connections it has with one of the most well-known spiritual healers of the country, known to all as Sai Baba.
The origins of Sai Baba have been the subject of many conversations and arguments, even academic ones, and while some speak of a young boy brought up by a fakir in Pathri, others are convinced that he was the disciple of guru Venkusa of Selu. This unclear fact – several devoted disciples claim that Sai Baba himself had floated both theories while he was alive, so that members of both the Hindu dharm and Islam faith could claim him as theirs – forms the very basis of the Saipur mela, which is known for its celebrated alignment with both the Hindu and Muslim sects. People practising both faiths flock here from far-off villages spread around the district to attend the mela.


"It is believed that Sai Baba attained his moksha here", says Saipur local Udit Kumar, referring to the samadhi where a steady flow of visitors are paying their respects, "And the emperor of Panna, they say, had started this mela as an annual event, a day when disciples can come with their offerings." And they still do – khichdi being the most popular offering almost everyone has brought along. Ram Ratan, of Katrawal village, begs to differ though, "I have brought coconuts", he informs us, "I always do."
There are several like him, who visit every year – a tribute to Sai Baba that goes hand-in-hand with some excursion-related fun. Resham, who has come from Kailaha gaon, speaks of the samadhi as "the majaar", and is a regular visitor. Even as Shivdevi, a Saipur local, is busy getting tattooed a beauty spot on her chin – a lot of time and energy is spent on deciding the exact spot. She laughs when we tell her it suits her, and move on to continue our chat with Bholiya of Patvan village, who is planning a snack-break.
The Saipur mela exerts an influence well beyond the month of January in these parts – ripples and after-effects are felt months after too, through endless discussions and deconstructions – who bought what, how was my khichdi, what will  wear next year, and so on.
Faith too.  As Saddam of Urai village shares with us how he has grown up listening to the stories of Saipur mela ever since he was a child, "Now that I have finally visited, aakar badi thandak mili hai (I feel at peace). There is a sukoon here." When we approach the usually-grumpy cop, we feel the peace too, because a pleasant greeting awaits us! Raj Kapur is relaxed in a productive way – an unusual sight for U.P. Police, we'll have you know – "This place has a great atmosphere," he says, and adds, "Everyone here is to pay their respects and make the most of an outing. They are co-operating, so there is no law and order situation."
The harmony is historic, Saipur local Bansi Lal would have us believe, "This is our mela. We are Hindus, we are Muslims. Ekta ka prateek hai. This is a symbol of unity."

– Pooja Pande