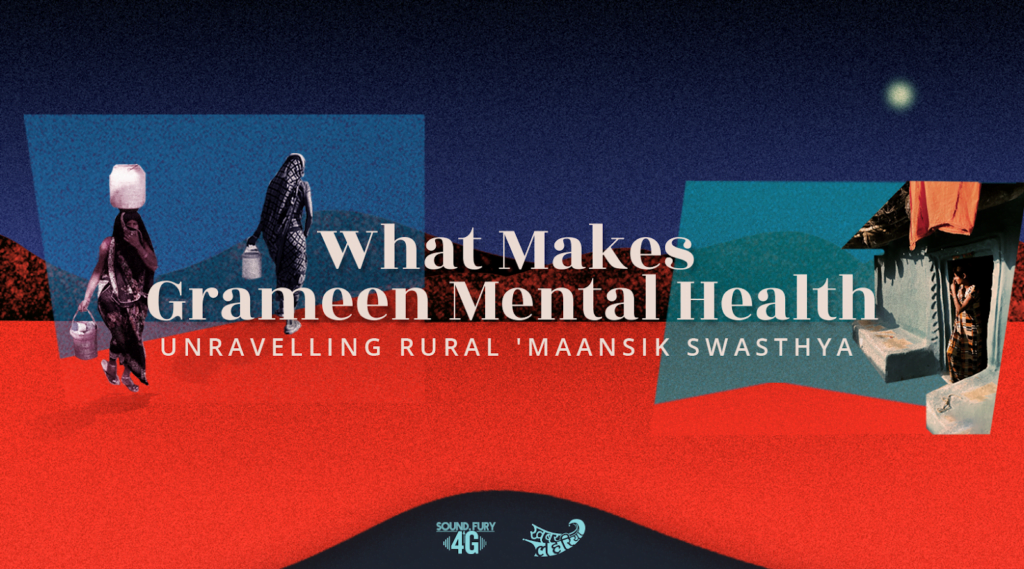 In September 2017 KL met 12 year old Ritisha Kesharwani, a young dancer in Karwi Chitrakoot. Ritisha showed off her skills, grooving and doing backflips to Dil Disco Disco Kare Saari Raat Sajna — her reigning favourite number.  
Descended into the quiet and then not-so-quiet hell of 2021, where the second wave of this darn virus has made its way into rural U.P — you'll have to forgive us if we want to loiter a minute or two, in that carefree space where dil disco disco kare (the heart does the disco). 
Ritisha, a student of the Michael Jackson Dance Academy (named after MJ), happened to perform her dance routine under the not-so-keen gaze of her mother. Perhaps Mrs. Kesharwani was of the commonly held opinion, that girls should be more demure, and behave in the manner appropriate to young ladies. Even inside — or perhaps especially inside a space as private as one's own home — the domain of so many feminist struggles and contestations. This fortnight's longread is part 1 of our Mental Health Awareness Month special series: What Makes Grameen Mental Health: Unravelling rural maansik swasthya, in which we unravel what this phrase 'mental health' means when you plop it in grameen (rural) India. Particularly, what does it mean for women? 
So we want to start here. Picture young Ritisha — refusing to be self-conscious. Picture her, bounding off her toes, ricocheting through the air, spinning, and turning the whole world upside down —  and she comes back to earth, triumphantly landing. Picture her dil beating defiantly in the face of a world that tells little girls what to do, and dreaming in the face of a country that patronises its small towns and villages. Picture her dil doing disco-disco. 
The thing is, mental health or maansik swasthya is not synonymous with illness. Although that's what you might believe if you lived in Karwi, Chitrakoot in U.P — where it's more likely to be put in ruder terms as pagalpan (madness), tanaav (tension), rona dhona (crying) or depression. Or more often, not spoken of at all. Mental illness or mental health conditions, clubbed together with maansik swasthya are often dismissed as a 'shehri' (city) affair. Why bring up all this in the village away from big-city lights, and big-city problems? It's not like there aren't enough homegrown problems unique to the villages — the ever present berozgaari (unemployment), the health problems like Tuberculosis (nearly absent in the cities, but deadly here) arising from living near quarries and tyre factories, starvation, aarthik (financial) distress, dreams deferred, delayed and dashed in the face of reality. 
In the cities, conversely, particularly during the pandemic and lockdown where social distancing and webinars on mental health have proliferated — sometimes it feels like mental health awareness is overdone. Buzzworded and stripped of meaning as self-care that wants you to buy something cute advertised to you on Instagram, or attend a mandatory mental-health check-in at work instead of  the eight hours for 'what you will' that was a bulwark of worker's rights. So coming to yet another Mental Health Awareness month, we thought we would break it down into its component parts. What does mental health mean when grameen? 
Kya hai yeh grameen maansik swasthya?
(What is rural mental health?)
After delving into KL archives all the way back to 2015 we'd like to present certain aspects from our reportage and KL reporters own lived experiences. For grameen mental health there seem to be three aspects:
First, you need to be able to name and speak of it — that's awareness.
Second, a community of people to whom you can speak freely and be truly heard — whether friends, family or healthcare professionals. 
Third, access to care. This branches into medical care (which is self explanatory) if required, and social care. Social care requires material welfare. Meaning it is extremely limited to speak of mental health awareness, if people do not have their basic needs i.e food, shelter, livelihood, safety, and health taken care of. If you're terrified you won't be able to get your next meal, a talk on how taking walks is beneficial to mental health is not going to help you. If you've worked towards and dreamed of getting a Master's degree en route to becoming a professor, but find you can no longer study, and will live a life of waged labour because your family has taken too many loans and you're trapped in a cycle generational poverty — advice to see a psychologist elides the root of your issues. 
Simply put, awareness is not enough. In India, where a large portion of rural Indians and marginalised castes live in generational poverty, it is essential to attend to the socioeconomic determinants that go into the make-up of mental health. In fact, grameen or shehri, Indian or videshi (foreign) —  an over-reliance on awareness programs related to mental health has been found to be…rather useless in promoting mental health without concrete (often policy related) societal action. Before we get into the Bundelkhand-landscape of mental health, let's zoom out to see the state of affairs at the national level. 
One in seven people or a total of 197.3 million people in India live with mental illness according to the 2019 Global Burden of Disease Study. Of them, only one in ten people with mental health conditions receive evidence-based treatments in India, the latest National Mental Health Survey (NMHS) found in 2016. India's foundation for mental health is the National Mental Health Programme under which the District Mental Health Programme (DMHP) was launched in 1996 to decentralise and provide mental healthcare integrated with general healthcare at the community level. So you should be able to saunter into your district, block and panchayat PHC and receive mental healthcare under the supervision of the district team. There are allegedly over 600 DMHP clinics in India. 
However about 68-98% persons with serious mental illness are able to access care for the first time at a district or tertiary state mental hospital, and not at a neighbourhood Primary Health Center (PHC). The NMHS found in 2016 that "Despite 3 decades of implementing the NMHP, the proportion of districts covered by it ranged from 13.64% in Punjab to 100% in Kerala… Only 1/3rd of the surveyed states had more than 50% of the population covered by DMHP." 
In 2020 for persons living with mental illness and their families, the disruption in essential services like free medication during the lockdown compounded the impact of the pandemic. For persons with disabilities, including those with chronic or severe mental illness, out of pocket expenditure is often a huge source of financial distress and consequently further mental distress. In rural areas, 25.8% of persons with disabilities spent an average of Rs 2,117 out of pocket on health costs per month, and 39.1% in urban areas spent Rs 3,112 monthly, a survey by the National Statistical Office (NSO) had found in 2018. Overall, 29.4% of Indians with disabilities spent an average of Rs 2,477 per month out of pocket, the survey reported. Disaggregated information on mental illness or psychosocial disabilities, caste and class is missing. 
Further, government financial support in the form of disability pension, during and since the lockdown for persons with psychosocial disabilities from low-income families, many of which had lost income, was inadequate. These disability pensions are dependent on a dehumanising assessment and certification process. In rural areas, unsurprisingly, awareness of mental illness, access to government social support, and functional PHCs or district hospitals with DMHP clinics is limited to say the least. Instead there is a reliance on 'jhaad phookh' — something that we see also in case of more 'physical' illness like the Coronavirus for instance. 
What does it sound like?
In July 2020 KL found that Chitrakoot residents cited the pandemic and increasing unemployment as the root of their 'maansik tanav' (mental tension). For women, the pandemic and associated lockdowns have also had the effect of restricting their freedom, and increasing the demands on them. 
With the whole family at home, fancies around what to eat by husbands and children, ideas on how the wife should behave, and taking out one's anger at increasing financial distress on one's wife— were issues that came to light. Men take out their distress by drinking or spending time with other men — somehow or the other, was the consensus. For women however, stuck at home, balancing endless demands and children, bearing the brunt of everyone's whims — it is difficult to even express any sort of 'mental distress'.
"Uska sunne wala hi koi nahi hai (There is no one to listen to her)", KL EIC Kavita says. "What 'mental illness' looks like here is that women won't eat or sleep. They'll drive their own health to ruin, go someplace where no one can see them and burst into tears. Sometimes they take it out on their children. All the while they'll continue working, put up with the husband's (sexual) demands after he returns at night (often drunk) — which leads to even more mental distress — and not show how they're feeling."
"I take it out on myself, to be honest," said Shehroj Fatima in Karwi, Chitrakoot. "I stop talking to people. I can't sleep at night. Poori poori raat aankhein band rahengi par dimaag khula rahega (The whole night my eyes will be shut but my brain will stay on). I'll keep ruminating over the distressing thing for two weeks, I'll keep going over it. I forget things — my hands start to tremble. I stop wanting to spend time with my friends. I stop seeing or speaking to them."
The pandemic has added its own assorted worries to this load. Saloni Singh of Karwi said, "We're constantly afraid of getting  infected. You never know whom you have touched and how you have carried it back to your family. Right now in my neighbourhood two people have got this infection. Even though they've been mostly at home." Saloni has been volunteering for Coronavirus relief work through this period. 
Atul, the founder of Rukmani Seva Sansthan, a relief organisation in Chitrakoot told KL that since migrant workers were compelled to return by state indifference to their plight last year, he has observed alongside a rise in unemployment, a spike in theft and petty crimes. He said, "Many men drink away their exhaustion and beat their wives as a form of release. The youth are depressed without work; in the meantime expenses keep rising, and their parents are unable to keep supporting them."
Mohammad Hakim of Karhuna, Chitrakoot provided his insight as a man in this situation: "You work all day, then you go home and see your children are roaming or the road, or being a nuisance. Of course you'll feel angry. Maar-peet se faayda nahi. Maarna sahi nahi, aur pata nahi kab palat haye, apni hi beizatti ho.  (There's no point beating them. It's not right. Besides, you never know when they turn on you and you are the one humiliated)." 
In such circumstances he said, "Tension aurat pe hi aati hai. Usi ko sunaaye. Vo ro dho ke baith jayegi. (The tension is taken out on the wife. You shout at her, and she sits crying.)"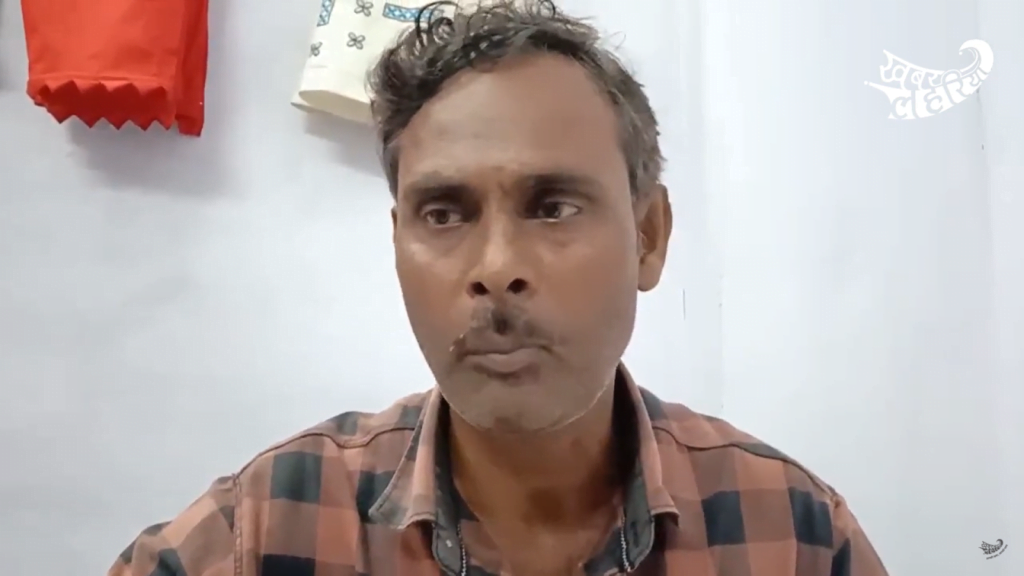 Mohammad Hakim says, inevitably the target of financial distress and consequent mental tension does become the wife. "When there is no money with the man, and then the children trouble you, you're already tensed, and the wife says this is needed-that is needed, when all your work-business is stopped — where will you bring it from?" he asks.
"Jab aadmi ke paas paisa nahi hai, us time bachhe pareshaan karein, aur bhi tension hai, aurat bolegi ye laana hain, wo laana hain — kaam dhanda band hai toh kahaan se layega?," 
Hakim asks. (When there is no money with the man, and then the children trouble you, you're already tensed, and the wife says this is needed-that is needed, when all your work-business is stopped — where will you bring it from?)
While our naarivadi (feminist) lens has us firmly against the circumstances that put the bullseye on the woman's back — we can acknowledge, the truth at the end of Hakim's sentence. Dr Narendra Dev Patel, a psychologist in Chitrakoot concurs. "Since the pandemic, everyone is losing jobs and sitting at home. They can't go out to work. Obviously this has led to a spike in distress, depression, and sometimes even suicide."
Mental health cannot be divorced from material realities
In Banda KL met the families of two such youths, bereaved by exactly these circumstances. 24 year old Sant Kumar of Paparenda village, Tindvari block had died of suicide in August 2020. While alive, he had dreamt of being a PhD scholar and spent his days assiduously studying. However, this future was tenuous — confronted with generational poverty and debt, in his family of labourers with four children to feed and a daughter to marry off. Sant Kumar must have seen the future he had cherished and worked for, slipping away before him. Guru Prasad, his brother is left, confused about what he sees as an impulsive decision. "I told him, go ahead. We told him we'll adjust and figure out a way to arrange the fees," he said. 
A little distance away, in Kotwali, Mahoba, Vandana, the laadli younger daughter of farmer Baburam, died by suicide after her B.Com examinations were cancelled due to the pandemic. "I'm nothing without my daughters," he told KL, inconsolate after the loss. While a mere postponed exam may not seem like a catastrophe — just a deferral — for thousands of rural students whose families live in economic precarity and spend their all on just one year of education, a year's delay means much more than being stuck home, bored or mildly depressed. It could mean the waste of an entire family's savings, being married off into a future you never wanted, or death. 
We can't help but be reminded of writer Manu Joseph's callous column, declaring the institutional murder of Dalit scholar Rohith Vemula, a result of depression. For such thousands of marginalised caste students, and rural students across the country — we emphasise again — you cannot separate mental health from material realities and societal structures. Mental health does not exist in a vacuum. Neither does depression or anvaad as it would be called in Bundelkhand. Rohith, we hope, is among the stars he wrote so eloquently of. 
Closer home, in Mahoba, the government and it's institutions continue to disappoint young hopeful academics from marginalised locations. Harshita Singh, a district level topper, told KL of her disappointment in January 2021. "While U.P state toppers have been promised 1 lakh rupees, a laptop, and a paved road to their village, there has been no announcement for the district toppers. It's also so strange— firstly, providing paved roads is anyway the job of the government. And secondly, if next year the topper is once again from the same region, will they re-pave the road?" Harshita, a first generation learner, had hoped to take the load of her farmer father. She doesn't understand why the money couldn't be redistributed more equitably— or why ostensibly the work of the Nagar Palika was being offloaded as a 'prize' in this harebrained scheme instead of once again, encouraging more rural students with a financial incentive. Harshita has swallowed her distress, and resigned herself now to a Bachelor's degree in Science, instead of appearing for the JEE engineering entrance examinations she had dreamt of. This is still a better outcome than many that come to young girls in Bundelkhand — stories KL reporters are sadly familiar with. 
Turning back to Vandana's story, there is an additional complicating factor that led to her death: the lack of adequate healthcare infrastructure in rural U.P. "If the doctor wanted, she could have been saved, because before bringing her to the hospital we had made her throw up the poison several times. It took us 15 minutes to get to Charkhari because our village is 8km away. We did everything as fast as we could, but the moment we arrived, the doctor referred her to Mahoba," her cousin Amit told KL. "They didn't even inject her with a glucose bottle. When we asked for it they said, go buy it from the medical store in front of the hospital. When we asked for an ambulance, they said it would only be available in an hour. The doctor told us to drive our own vehicle, and when we told him it wasn't our vehicle, we would have to arrange another one, he didn't care. He didn't do anything to help."
'Clever and sharp' Vandana, the apple of her father's eye lives on in memory. Another grameen girl whose future was lost to indifference. The costs of this lack of basic healthcare, and the sorely missing 'care' aspect of a system that often functions bureaucratically — always rigged against the marginalised and vulnerable — cannot be divorced from mental health either. Particularly in a pandemic, where rural India is plagued by a toxic cocktail of superstition, misinformation, vaccine hesitancy and lack of facilities — we must consider the mental health aspects of denied 'general' healthcare too. 
***
Find out more on this in part 2 of our series 'What Makes Grameen Mental Health: Unravelling rural maansik swasthya'  next week when we delve into the mental health costs of failing health infrastructure, what mental health means to women, and how they grapple with it in their daily lives.
Kya hai yeh grameen maansik swasthya?

We set out to find an answer to this question in rural UP which resulted in a two-part #SoundFury4G series, What Makes Grameen Mental Health.

Armed with insights and learnings from the series, we bring you a conversation grounded in reality pic.twitter.com/gYFFHZbWVf

— Khabar Lahariya (@KhabarLahariya) August 11, 2021
Riddhi Dastidar is a writer and researcher in New Delhi. Their work focuses on disability justice, gender and culture. You can follow their work at riddhidastidar.com.