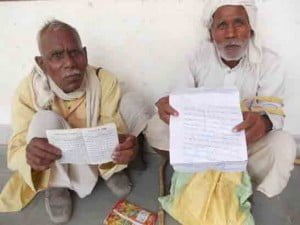 In Supa village of Charkhari block, Mahoba district, many people don't know what a ration card looks like. In all these years, no cards have been made for their village.
Surveys have been conducted, according to Ramkishan and Munna Ahirwar, but cards have not been made. Kashiya is disabled; she needs a ration card as a proof of identity; its difficult to function without one. According to the village pradhan Kaushal, ration cards are not being made these days. Once the order is issued, we'll make them for everyone in the village.
In Khamhariya village of Kabrai block, Ramdas and Ram Prasad Ahirwar have the red coloured ration cards – those meant for the poorest of the poor – but they haven't got food grains for six months. The cards show that they have been given food grains till 26 July, 2014 – much before the date mentioned. They claim that the kotedar (Public Distribution Shop distributor) Maina Devi's husband had taken all their cards. Its only when they complained in the local police station that they got their cards back.
The regional inspector at the district supplies department Inspector Salim Ahmed has a different take on the issue. According to him, Ram Prasad's name is entered as Mulchandra. The computer records also show his name as Mulchandra and this has created some confusion.
Click here to read original Bundeli story