Special Bundelkhand treats in the market and hot on everyone's choolhas in the hinterland, this festive season!
So, here's a fun festive fact: The famed Ram Leelas of Chitrakoot – also known as Ram Dham in Bundelkhand, since it is believed that this is where Ram spent his 14 years of exile with Sita and Lakshman – only feature male actors. Even the young Sita awaiting her beau-to-be at the dhanush-tod swayamvar is played by a 10-year-old boy!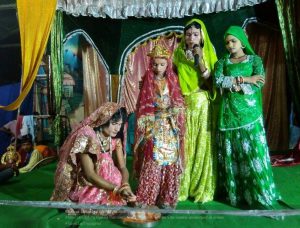 No wonder then that girls and women get their kicks from planning elaborate fasting and feasting menus all-through the festive season.
The weather gods assist too, because in a landscape notorious for its aridity and relentless bouts of life-sapping heatwaves, comes the season that can afford a few laughs and even inspire joy. The almost-ceaseless monsoons that have descended upon the badlands of Bundelkhand coincides with the festival calendar that works like an internal body clock for most. "Kanwaar ka mahina chal raha hai", say the women to each other, and it's like unwritten Bundeli code that translates into pujas of all sorts – Mahalakshmi ki puja, Navratras, Devi pujas, dhaage pujna. There are ritualistic baths, 4 am menus, buying of the right ingredients, and general shopping too.
And all that piety goes hand-in-hand with a few special foods and treats that you'll only find in the fields and markets of Banda, Chitrakoot, Mahoba.
Such as the delightful mahua ke pua! As lovely as the tree it owes its origins to. Made from the flowers of the mahua tree – dried and ground and worked into dough – they lend warmth in the slowly-but-surely-inching-towards-winters weather. They are also extremely tasty, like sweet crisps, with some desi texture.
The saag that grows in these parts is wild and free – they do not require much care and looking-after and so form easy staple diet of the over-worked farmer. In a seasoned cook's hands, they can beat your regular spinach anyday! Plus, they are known to have higher iron and calcium value.
The ratanjot is a bunch of herbs celebrated as being "mahilaon ke liye khaas". As the Delhi newsroom perpetually on the lookout for the next trip to Bundelkhand puts it, "like your daily dose of vitamins, only better".
With the Navami looming on the horizon, the Ramleelas in Chitrakoot are all progressing towards their climaxes. Like the story so often told, so often heard, and much-too-often televised, the epic is nearing its end that is déjà vu for one and all. We all know how it goes, and yet we all find reasons to partake of the joyous spirits.
We invite you inside our kitchens and we sit down together close to the hearths. And we let you in on a few secret recipes that add that extra zest to a Bundeli Navratra.
It's fasting and feasting time here. Dig in. Ram and Sita have almost made it home. Even if Sita's in drag!