"Kaam nahi karenge to khayenge kya?", Bundelkhand's farmers ask basic questions around food and feeding, for them, for us, in these days of the pandemic.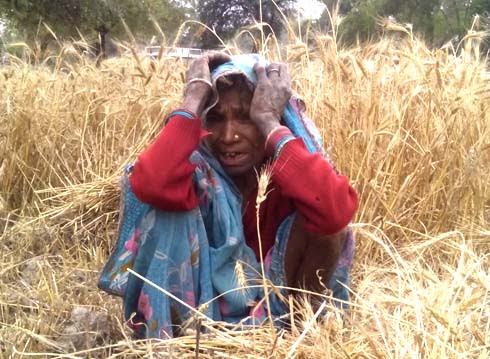 The wheat field shimmers golden. Ripe for harvesting, it sways with a gentle wind even as the legendary heat, like an unwelcome guest, has just about started to make its presence felt. Five or six women farmers scattered in different parts of the field crop and bundle stalks, quietly and efficiently, readying them for threshing. 
On any other day, these are the scenes that make for picture-perfect political campaigns and international communication campaigns, when the messaging is around how farmers are the backbone of our country. Except we are in the middle of the biggest pandemic the world has seen in recent history, and under government's orders to stop work – the wheat field here in Mahoba district, in Bundelkhand of the nation's most populous state, is anything but a bucolic haven. 
The Epidemic Diseases Act, a colonial law dating back to 1897, is in place in most Indian states today, in order stop the spread of the virus. But while those better off on the socio-economic strata are all indoors, safely cocooned in housing societies and bungalows, hoarding ration and vegetables, learning new ways to upskill on LinkedIn, the central question that hangs in the air around the unwelcome guest of the novel coronavirus in the rural interiors of the country is – Can farmers work from home? The farmers who are facing dire survival yet again, who have no option, no back-up plan, and yet it is them we're relying on, their skills, to get us through the many uncertain months to follow, without the possibility of starvation looming large on our minds. 
COVID19 has worked quickly and efficiently to bring the world to its knees. The first case was reported by China towards the end of December.  By then it had already spread to a world that was completely unprepared to handle anything of this scale. (Even though there were simulations done to the powers that be.) Post factum, every avid op-ed reader is now well-versed in the Dunning-Kruger effect that plagues governments not just in our country, but the world over. As the death toll keeps increasing, there is no clear action plan we can all agree as effective. Meanwhile, the world is waiting and watching. 
Well, maybe not everyone. For Bundelkhand farmers, it appears to be business as usual. 
"We have a farm, if we don't harvest the crop, how will we eat?",
says Geeta, a farmer, assiduously working, sans mask. After taking a moment to cover her face with her gamchha, her voice rose an octave when asked why she was still out, working. "Are you suggesting that we don't? I have to earn money to eat." Geeta claims she doesn't really know anything about the virus, and almost dismisses them in the manner one would a fable or suspicious lore.
Farming has always been a woman's game in India. They are the silent, unacknowledged backbone that tirelessly works in extreme and inhospitable conditions. Most of the non-mechanised farming activities-sowing, winnowing, harvesting, are solely done by female labourers.  Recent statistics released by University of Maryland and the National Council of Applied Economic Research state that women constitute 42 percent of agricultural labour force but own only 2 percent of agricultural land. "My family is here but they are resting. The sun is too much for them", says Bhuri. She, as well as the other women farmers, continue working. An unidentified young farmer explains that the resting members are older, and anyway the government has asked them not to step out. The women work from 10 am till 8 pm. "Majboori hai humari (We are completely helpless)", she says. For them, this is a crucial time of the year, the year's survival depends on what they are able to successfully harvest. "We are on the farm from morning till evening. We don't have time to get to know of these things", adds Geeta.
It is not the same everyone. Maya, another farmer, does know that covering one's face is important and also that one shouldn't stand too close to other people, if they don't want to fall sick. "We are following the government's orders," says the young farmer when asked whether they leave home together in a group or separately, but social distancing rings a different note here. "Maybe one or two people step out of the house together, the rest of us follow one by one, keeping some distance from each other." 
As for their workplace, they each take a slightly different corner of the field to maintain distance. The pokhars in the field are used to wash hands. "We use the mitti or if there is soap, we use soap to wash our hands. We are poor so we make do with what we have. The government can say that it will get us these things, but we probably won't get them", says the young farmer, almost matter-of-factly. "Yes, I wash my hands," says Geeta vehemently,
"When I have money, I even buy Dettol soap and I wash my hands with it."  
Speaking of essentials, while the Chief Minister of Uttar Pradesh Yogi Adityanath took his time cancelling a major religious mela that has a usual attendance record of a close to a million people, he has appeared to have swung quickly into lockdown action, imposing Section 144, considering the NSA, and promising smooth deliveries of ration, medicines and other essentials. WhatsApp was flooded with news of the fleet of 10,000 vehicles that the U.P. government was planning to use to tide its citizens over the crisis. An announcement of direct bank transfers to the bank accounts of daily wage workers followed soon after. Major tractor and farm equipment companies have also issued free-usage orders for U.P. farmers specifically for the rabi season – a move that is not entirely beneficial for farmers with small land-holdings, such as the women farmers of Mahoba.
They have no idea of the aid they are eligible for. None of them have had ration delivered to their doorsteps. There is a telling silence before Maya finally answers when asked where she gets her vegetables from. "We cook a simple dal or something." Making do with less is not a new situation for them. "We bought a few things, there are some things that we already had. We will make do with that till we can. After that, we will stay hungry. What's new in that?", she says. The ongoing pandemic has nothing on what the farmers have been battling all their lives, including starvation, malnutrition, and lack of basic amenities such as sanitation.
 "I have no idea about these schemes of ration, vegetables and money transferred to accounts,"
says Bhuri. Another blames corruption, "Anyway, the people on the top will take everything. The poor and illiterate don't know their rights and have no idea what they are entitled to. The government can say many things but they never really reach us, they don't come themselves to check on us, to ensure that we have food. We could die of hunger and they wouldn't even know." "We survive on what we grow", the young farmer says, "If markets are shut, then what we harvest is what we will use to survive. That's how it is."
The swaying fields bend to the blowing winds, perhaps in desperate surrender.
For more on-ground reporting of how the pandemic is affecting grassroots issues in the north Indian hinterland, subscribe to Khabar Lahariya's special newsletter, COVID19, The Last Mile. Read the manifesto here.