An ongoing dispute between farmers and authorities has the Unnao village swarming with police.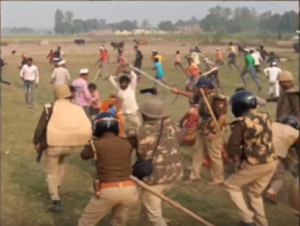 In Shankarpur Sarai village of Unnao district, there aren't many people on the roads. Groups of policemen and policewomen stand around, in an otherwise deserted town. Sheshnarayan, a resident of the village, says it's because the police are rounding up men and putting them in jail. "Almost 70% of the farmers are not even there in the village. Only women are left. And even now, whoever is left, are being picked up by the police. This has scared people so much that they have decided to leave rather than be randomly persecuted." 
The reason behind this is the protest against Trans Ganga Project that resulted in lathi charge on the 17th of November. Trans Ganga project kicked off somewhere in 2003 and has been mired in controversy since. No one even really knows whether it's a park, a township or something completely different. Spanning 1152 acres near Ganga Barrage in Kanpur City, the project area is strategically placed between Lucknow and Kanpur. And post-development, investments worth thousands of crores were supposed flow in. Or so it was pitched as by the authorities. The then government struck a deal with the farmers, promising 7.5lac over 4 instalments. Most farmers received only the first of those instalments, and some none at all. The protests continue till today, with farmers demanding fair compensation for taking away their only source of income.
Sheshnarayan has seen the turn of events from the beginning. "The land has been taken from us in 2003. And till date there are about 140 to 150 farmers who have received zero compensation for their land. In the original deal, the farmers were promised 7.5 lac over 4 instalments. But after one instalment, it was shut down. Because of that, the farmers were protesting here. And were met with lathi charge" 
On 17th of November, the farmers affected by Trans Ganga Project had gathered at the project construction site to start a dialogue with the authorities about receiving the pending compensation for their land. The site has been under construction for some time, and the workers there requested the presence of higher officials because of the protest. As per Vinod Kumar Pandey, Upper SP, Unnao, the crowd threw a stone towards the workers and the police, who tried to control the crowd. When things continued to escalate, the police used high pressure water cannon, tear gas and finally lathi charge to restore peace.
"Farmers have been ploughing this land for years. And then orders came from above and they forcefully took it from us. And on paper they are showing it as barren land.", Sheshnarayan says. As land, Shankarpur Sarai gets as fertile as it gets. With the shifting of course, the Ganga which earlier flowed 1km away, now flows 3 km away. This means nutrient rich soil that is perfect to grow many different crops on. Farmers have been able to grow up to 4 crops a year on it. The district authorities categorised the land as banjar or barren, to justify the takeover. In 2002, the farmers were given little choice in giving up their land. And offered a paltry sum of 2.5 lac per bigha. The loss of the rightful claim of their land for farmers like Sheshnarayan, followed by the rescinded compensation has brought things to a head here in Shankarpur Sarai.
"The farmers need to be compensated for their land. In 2011, the Supreme Court passed judgement that farmers should be paid four times the paltry compensation. Rahul Gandhi had passed the bill. We are fighting for what has been awarded to us by the court. We should be getting four times the compensation." Sheshnarayan says.
The construction has been on for some time. As per Pankaj Gupta, MLA, work worth about 250 crores has already been finished. But large swathes of land still remained unused. So, some of the farmers had tried to take back their land. The unused land was being ploughed by them for different types of crops. Shaamni, a farmer was growing various vegetables and grains. But the authorities evicted them and flattened the crops grown there. 'We have lost crops worth one to two lacs. We had borrowed money to sow those.", she says as she dismantles the small thatch-roofed shelter at what was once a farmland. "What will I do with all this? Our land is gone. There is no point holding on to anything else now."
The unrest amongst the farmers had been brewing for a while. Their demand for revised compensation found some hope in the Land Acquisition Act of 2014. Instead, they have been met with denials from the authorities about any pending compensation. MLA Gupta says part of the problem is the poor implementation that happened during the previous governments' tenure. "The current government has ironed out a lot of the details.", he says. As per his official records, farmers have received the last and final instalment of 7 lac in 2014-2015. No pending compensation remains. "There are some other demands that the farmers have but those are beyond the ability of the government to fulfil." Sheshnarayan says that the scheme included a lot more benefits for farmers whose only source of income was being taken by the government. "This scheme also included a house, job etc, and we should get that. But we are only getting lathi."
Upper SP Pandey claims no serious injuries were caused due to the lathi charge. "See, the stones were being thrown from their side and their own people got caught between the stone-pelters and the police. Most of their injuries have been caused because they were in the middle of the pelting." A couple of buses used to ferry the construction workers were also vandalised. "Some people had suffered head injuries. But they refused to talk. They wanted to start a stampede by releasing snakes in the crowd. They had hung noose from the trees, and were threatening to hang themselves. The protestors took the law in their own hands and started stone-pelting. The CO City was hurt, I was injured, around 200 police constables including women constables were injured. We were left with no choice but to retaliate. We sprayed high-pressure water, then tear gas and then we lathi charged to disperse the crowd. In all this no one was seriously injured, nobody broke a hand or suffered a head injury. Yes, some people may have got hurt but it would not be serious. There was no extreme use of force by the police. We were just controlling the crowd."
Sushil Kumar, a farmer, was present at the scene of the lathi charge.  "I am a disabled person so I went to join the protest with a few other people. We went there hoping to negotiate but we got lathi charge." He alleges that the ADM hit him. Angry blue-black bruises reveal themselves from underneath the long sleeves of his shirt. The bruises run up his arms. Two of his fingers are bandaged, possibly broken. He nurses another bruise on his  thigh. "They attacked us with sticks." Another farmer Suresh sports bruises and looks like he has been severely beaten. He had just about reached the protest when the lathi charge started. He couldn't run away because he had been operated on a week back. "I reached the protest site after visiting the hospital for my medicines. I was told that the DM would be coming today to give a decision on the matter. Almost as soon as I reached, the lathi charge began. I couldn't run because I have been operated on recently and so they beat me." An older woman-farmer, Ganga Dei too has many bruises and her pain has made sleep impossible for her.
 "The administration has relayed that when they reached the site to start work, stone pelting happened from the farmers' side. Some officials got injured in the process. Things escalated fast from there and we had no option but to use force to subdue their side and stop the violence.", maintains MLA Gupta. "We have written records of all the disputes that have taken place over the years on this land. We have compensated the farmers many times and the government has investigated the matter multiple times too. The points that the farmers have raised an issue over have also been investigated thoroughly and nothing has come out of it." 
Many farmers including two women spoke to Khabar Lahariya about their injuries. However, the authorities don't have any information about anyone being seriously injured. Upper SP Pandey says nobody has come forward with any complaint. "I don't have any reports of anyone breaking their limbs or such like. And if someone has information then come to us." 
Meanwhile, three cases that have been registered against the protestors. One is against unnamed person/s and two are nominated. In one case 29 people have been named and 200 unnamed. In another case, 5 are named and 200 are unnamed. The accused, once arrested will be booked under sections for attacking police, causing violence, chaos etc.
 "We have begun the investigation.", says Upper SP Pandey. 
"Farmers are the ones who give us our food. And any issue that they have is worthy of attention and I condemn every person saying otherwise." MLA Gupta says, "And whoever is found guilty will be punished as per law."
We maybe an agricultural country, a place where our farmers would be taken care of. But once again, they find themselves alone in a fight for their survival.