A student body leader is a first-time candidate from SP this #UPElections2017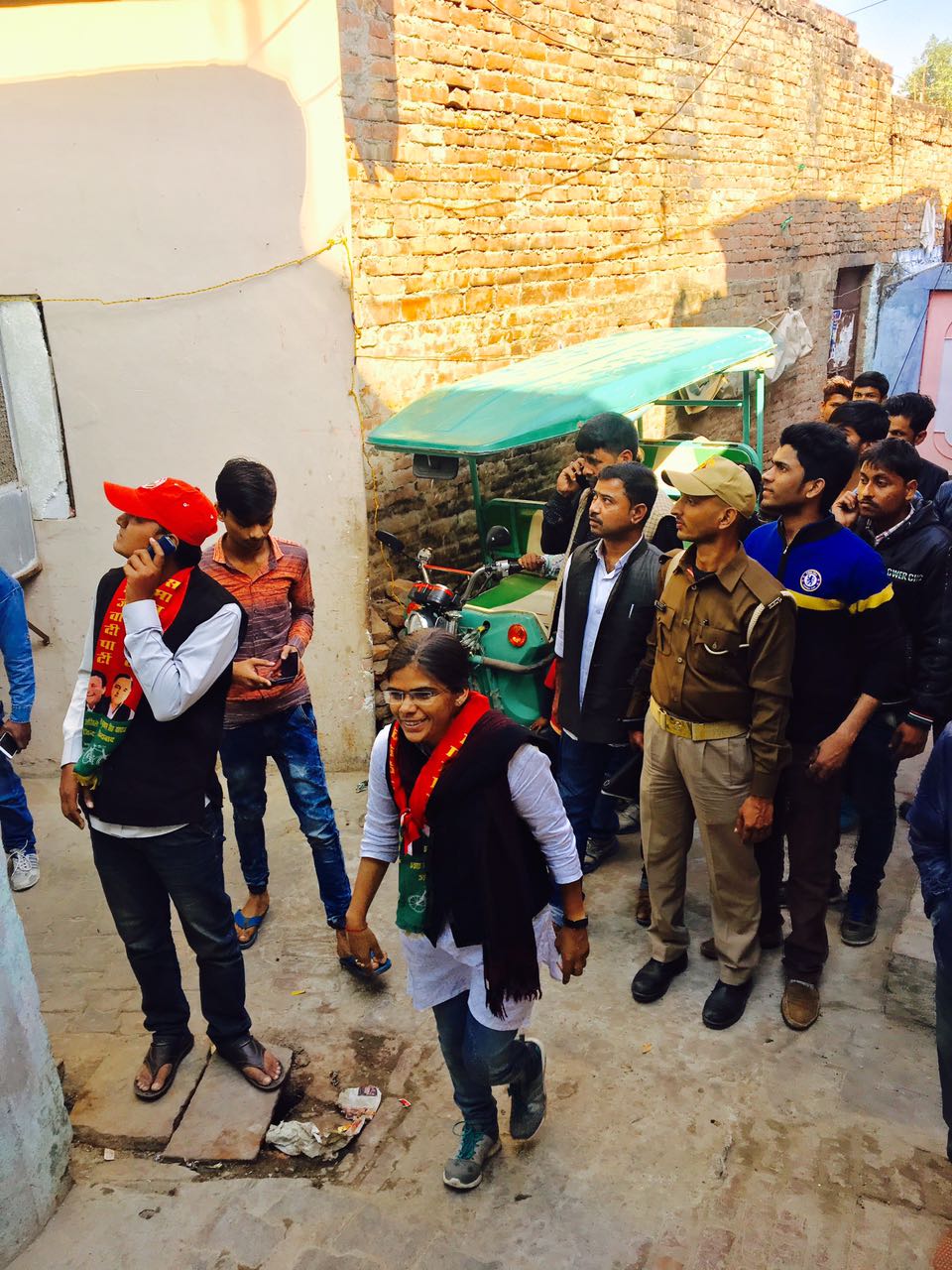 Not too long ago, though it does seem like another era already, in 2015, a young woman, a girl, fought hard to get herself to a place no woman had gone before. Not since 1927, at least.
She became the head of an esteemed body at a prestigious educational institute – the President of the Allahabad University Students' Union (AUSU). An educational centre that resonates, thrillingly, with history, politics and culture, and has the distinct glory of being the fourth oldest university in the country. "Allahabad waale" still holds as an evocative descriptor when speaking of people, idioms, a way of being that is "cultured". There's the Lucknawi tehzeeb sure, but this is Ilahabadi literariness – favoured by The Creator Brahma himself, it is believed. A city that sadhus at its famous Kumbh mela still refer to as Prayag, Allahabad's Vedic name, which means 'sacred confluence'. Akbar himself named this one of his 12 subahs Ilahabad, or the abode of God. In the centuries to follow, Allahabad became a city that identified loud and proud with the freedom movement, with Gandhi, Naidu, and several other leaders making their way through its places and spaces.
This 2017 UP election season, we find ourselves on the campaign trail in Allahabad with Richa Singh, AUSU President and contender for the hot seat from the Allahabad (W) constituency. The city goes to polls on the 23rd and Richa is busy with her meet-and-greets, jan sampark, interviews, and last-minute details – an election schedule with a million tasks, and then some.
When we'd met her exactly 2 weeks ago, she was close to euphoria – it had just been announced that she'd been given the Samajwadi Party ticket. The mainstream media was still to descend, and Richa chose a quiet corner of the campus to speak with us. We had smiled at the frame, bicycles lined up in the background, as we asked her 'why the Samajwadi Party?' We heard what we hear often about the Samaajvadi Party "vichaar-dhaara", and how progress-oriented it is. The vikaas-vikaas-vikaas is akin to a chant by now, but familiar as we are with the tone, we can't help but notice a shade of difference.
Richa Singh, the youngest of six children, has no family connections in the field of rajneeti and first began to channel her energies onto the public realm in her early twenties. Her drive was every woman's drive in this "pitrasatatmak-type" world – all those feelings of being second-class citizens in a patriarchal world. In 2008, she founded the Stree Mukti Sangathan with a focus on women's welfare and at Uni, she floated the Friends' Club. This in keeping with a tradition that came into being in 1989, and has been super-active ever since the voting age was brought down from 21 to 18, when political parties began to place party cadres and power of all sorts, especially muscle, behind those who showed promise as emergent student netas. Friends' Club was an alt-of-the mainstream outfit, deliberately steering clear of the complex dynamics that make and mar students' wings backed by major political parties. It was meant as a students' platform, helping them find the essentials, from books to accommodation, and it grew in popularity on campus, as did Richa.
In November of 2015, Richa decided to run for the student body elections, as an indie candidate – a decision she calls "an experiment", the results of which turned out to be pretty immediate. As soon as she'd filed her paperwork, Richa was suddenly under immense pressure to back out, or back off would be more apt – but she chose to stay on. The elections that followed were rife with manoeuvring and paitre-baazi – as in all things UP, caste politics came into the picture, there was a fair bit of Yadav and anti-Yadav lobbying – but ultimately the gods smiled on Richa. Or, given the remarkably low voter turnout (with barely 20% women exercising their franchise), and the fact that she won by a mere 11 votes, we could say perhaps that the gods merely nodded. Richa became the President, while all the other student body posts, all four of them, were bagged by the Akhil Bhartiya Vidyarthi Parishad (ABVP), the student wing of the Bhartiya Janta Party. All men, it must be noted.
"They said, 'Ladki hai, galti se adhyaksh ban gayi. (She's a girl, she's become the head by mistake)," recalls Richa and adds, "Glad as I was at having won, I realized that the real challenge starts now. After winning the elections." She claims the witch hunt took on many forms – "Nobody else in the history of this university must have got as many notices as I did" – as we read article after article on the apparent confusion at play apparently during her admission. A confusion, we must add, about a student who went onto become a gold medallist at AU – an anomaly in UP politics, almost as strange and uncommon as an articulate, ambitious woman in the fray.
Not that there haven't been women in U.P. politics, of course, but then, you know, there's that formulaic feminine power women must align themselves with in order to connect. That old Shakti rigmarole we see Sampat Pal portraying in her Gulabi Gang stance. Or they must stay in that designated respectable space that is under the shadow of a man, preferably a husband. (Although fathers-in-law will do as well). Like Richa's opponent from the BSP, the incumbent MLA of the constituency, Pooja Pal, a repeat winner (both 2005 and 2012) and wife of the late Raju Pal, the BSP MLA from the same seat who was gunned down in 2005. They were newlyweds and an overwhelming sympathy wave ensured Pooja's seat in 2005 and then again in an election that otherwise went the SP way five years ago.
Richa ain't no Mayawati. She prefers the passive-aggressive approach, it seems. In a high octane drama that succeeded the 2015 AUSU elections, the ABVP invited BJP MP hardline Hindutva Yogi Adityanath to preside over a ceremony. Richa, then 27, protested, citing the MP's problematic politics as opposed to the university ethos. She went on a hunger strike, backed by many. The visit was ultimately cancelled, even though payback unfolded when Richa invited Siddharth Varadarajan, senior journalist and founder, The Wire, to campus, which had her peers in the union fret up. How dare she call "a Maoist sympathizer" and an "anti-national" to pollute the minds of young, impressionable students! Richa had no choice but to change the venue of the event, though she did host it. What caused bigger ripples was this unfamiliar brand of aggression within the community, ushering in a new kind of student politics – or just reminiscent of the idealistic, progressive student politics of another time. But of course it was new and unfamiliar only because here was a woman doing it.
"Mahila hoon, isliye mat vote kijiye. Par mahila hoon, isliye vote kaatiye bhi mat. (Don't vote for me because I am a woman. But also don't not vote for me because I am a woman)," she emphasizes, displaying something characteristic of this 30-year-old prolific student – a penchant for language and word-echoes with the power to influence your thought-stream.
Perhaps that's what brought her to the attention of SP and it is believed, Akhilesh Yadav himself, who takes a keen interest in backing her – a reason why Richa was felicitated with the Rani Laxmi Bai Bravery Award on Womens' Day in March last year.
Now that she's in deep, this first-time candidate is working it well. Stepping in and out of the car every five minutes, Richa springs from the panwadi's dukaan after having struck up a conversation with him, to the young girls hanging around who seem to have been waiting forever, making sure to interact with everyone. Her "manavta ke liye soch (a positive approach towards humanity)" often comes up amidst the chatter on the street, indicative of the buzz she's managed to initiate.
She is well-aware of the transition from "chaatra rajneeti" to "kshetra rajneeti" that she's making or has already made, in some ways. She is no exception when it comes to towing the party line, as we hear the usual party talk – like the citing of dead-and-gone ideologists and philosophers and reformers to lend what current politics and politicians lack deeply and profoundly – gravitas. Richa brings up Ram Manohar Lohia and Lohia's principles, even as she insists that the party is above the "dharm-jaati" game – maybe because, to misquote Justin Trudeau, "It's 2017". But most likely because word-echoes of CM babu are what make sense to her right now. Which is, arguably, also why she lists out her main muddas of development – water, power – and the big question mark around the safety of women.
Richa also knows she must not mince words, articulating a win she sees in the near-future, "I can show them now that not only can a woman win, she can also do good work."
It's a sentiment that's irresistible though – you can't help but respond as women, living as we all do in this pitrasatatmak-type world.
Like when we notice the plaques at the Allahabad University, and find they read like an illustrious roster of alumni, all of whom went onto make a huge mark in the field of Indian politics: V.P. Singh, N.D. Tiwari, S.D. Sharma, Madan Lal Khurana, G.B. Pant, to mention just a few.
You're right, we didn't read any women's' names either. We'll know in March of course if the voters considered this food for thought or not, even as we try and fathom what's going through their minds right now, because Allahabad heads out to cast their vote this week.
Watch this space.
Written by Pooja Pande based on field reporting by Rizwana Tabassum.