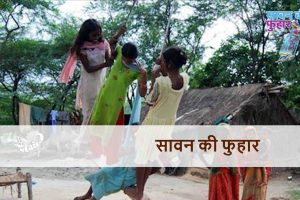 "Nowadays, everyone is so busy. Not too many people come together to sing sawan songs. It used to be different though – not so long ago, people used to get together and sing loudly all through the night. Ab toh shauk hi nahi raha (Nobody's into it now)."
Perhaps Prabha Devi of Chitrakoot district puts it aptly as she recalls a sawan gone by, in a nostalgia-infused interview.
After a long summer marked by dry, scorching heat and a relentless sun, the onset of the rains is a harbinger of good things to come, especially for the parched Bundeli landscape and its people. Hot cups of tea begin to do the sharing rounds in tiny, roadside haunts while children splash around in puddles gleefully, much like other parts of the country, both semi-urban and urban. What defines the Bundeli sawan though, is the buzz of festivities it brings in – marked by a round of fresh planting for the farmers, and several rituals, traditions and festivals. With the new rice crop being sown, there're joyous activities all around – be it the religious calls of the kaanwars or the melodies of the women in praise of the monsoons.
First up is Teej – arguably the most popular festival among the women of the region – celebrated on the third day of the shukla paksh of the lunar calendar, and marked by a strict fast kept for husbands' long lives, often called the Karwa Chauth of U.P. It is a day for women of all ages to come together to paint their hands with intricate mehendi patterns and sing folk songs in honour of the rain gods. But the most celebrated highlight of the day, unarguably, comes when they go to their parents' house – be it the coy newly-wed brides or the older and wiser ones – to ride on improvised swings that are hung from trees especially for the occasion, to receive the fasting daughters. A Rasoi village local, from Lalitpur district, tells us, grinning, "Mann khush ho jaata hai", describing the simple joys of swinging on a swing in the outdoors. She continues, "It is the one time of the year we get to express ourselves like this – where we can sing and laugh together. We can let go of all our worries on this day and feel light and happy."
While playing on the swings to the tunes of folk songs was the singular most sought-after activity marked on a married Bundeli woman's calendar, things, we're told have changed now. It was once a huge event," says Mulli of Mahoba district, "All the women of the village would come dressed in their finest to play on the swings together like little girls and apply mehendi on each other's hands." But now, being caught up in day to day chores, no one has the time to come together and sing songs anymore. Mulli tells us how applying mehendi also seems to have lost its charm for young girls nowadays as they decorate their hands with mehendi practically all year round anyway. "What was a novel event earlier, meant exclusively for special occasions, it is now a routine activity. Kids just go out and get mehndi put. It's not a big deal anymore."
The sawni is another tradition peculiar to the monsoons in U.P. For sawni, the men of the village take a basket of gifts such as dolls, toys and sweets to their sisters' marital homes, and this mixed bag is what is fondly called sawni. Alternately, if the woman is at her parents' place, then her in-laws send out the sawni, which also includes a rakhi for her brother. Paan Devi of Mahoba tells us that the rakhi sent by her in-laws was what she looked forward to the most, amongst her sawni booty, "It is a nice gesture".
Replete with the killer combo of mahua pua and bahuri chana – a favourite of the region no matter which Bundeli era you happen to belong to – sawan stays a local's favourite season, regardless of the torrential showers that have claimed homes and lives.   
The ache for a time gone by only adds to the colour of the season then. Although Krishna Kumar, Mahoba shop owner, would disagree. "Thoda down hai ab market", he says, speaking of the manda dhanda (low-key sales) these days. "People are not buying sawni goodies so much anymore."
This Khabar Lahariya article first appeared on Firstpost.