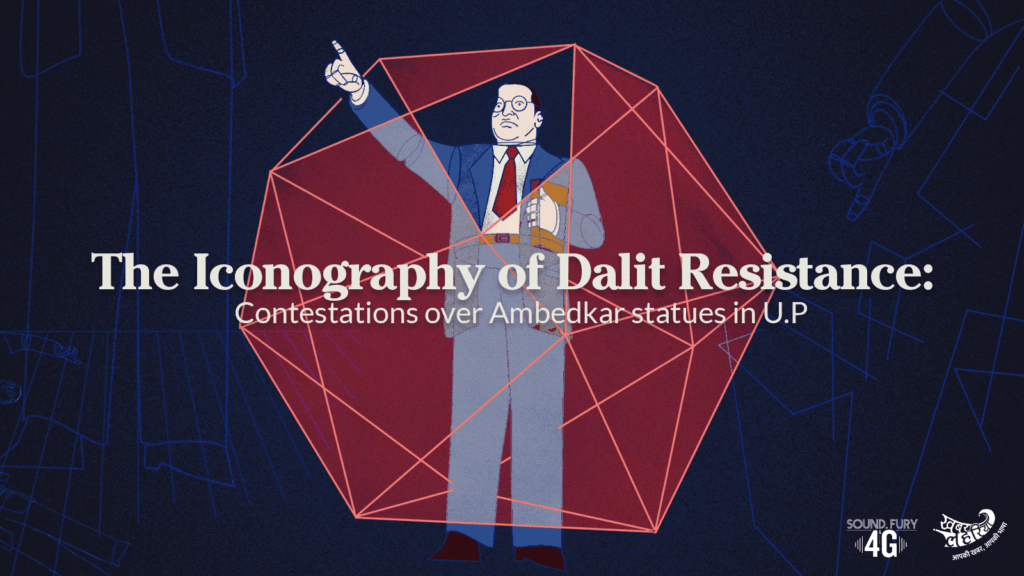 In Pachokhar village of Atarra, Banda the crickets are loud even in daytime. After midnight fell on 15th June last year, when the last person tired by this strange new pandemic had retreated to their bed, someone stole into the village park. The swell of crickets scored the scene — the only witness to an attack that was repeating itself even as the village slept on.
Mahapurush Park is a respite of green and breeze in water-hungry dusty Bundelkhand. A sea of trees and blue sky surround a figure, raised high on a pedestal in the center of the park. In the morning of 16th June, when villagers went to offer their routine-prayers they found that what used to be a statue of Dr. B.R. Ambedkar was missing a head. And the iconic raised arm, with its finger pointing towards a future —  that had been broken.  The statue stood there, headless still clutching a blue register on which was written, 'Bharatiya Samvidhan' (Indian Constitution). 
"Naam nishaan khatam kar diya  (They destroyed our symbol)," Kalli, a resident of Pachokhar told KL senior reporter Geeta on 17th June, her grey eyes brimming with tears. "If we had any other sahara (support), any God even that looked over us… Ambedkar is the only one." 
The local Buddha vihar manager, the police and SDM, various regional Bahujan Samaj Party (BSP) party workers had all congregated in Pachokhar. "This is the third time that Babasaheb's statue has been attacked but there has been no arrest. It's not just about a statue, Babasaheb is an icon for the BSP, and we work towards his ideals," said Ramsevak, BSP General Secretary in Banda's Jamreha village. "Tera mein ek baar haath toota tha. Aaj gardan, haath sab toot gaye (In 2013 they had broken the arm. Today the neck, hand, everything has been broken)," said Gulab Singh Varma, BSP Banda's district head. Back then too a court-case, and FIR had been registered but nothing came of the investigation. The police told KL they had tried, they shrugged indicating what can one do?, perhaps. 
The statue was speedily replaced by the next day. A recently built statue from nearby Narayanpur village that had not yet been installed was brought into Pachokhar– glasses intact, hair neatly combed and jacketed Constitution-carrying arm, finger raised to the sky. The villagers distributed sweets, the police watched over the installation, flimsy surgical masks safely tucked under several chins. 
"These cowards feel a jealousy burning inside them when they see Babasaheb's statue. They want to prove that Babasaheb se des nahi chalega, Manusmriti ke hisaab se chalega (the country will not run on the ideals of Babasaheb, it will run according to the Manusmriti)," said Dhirendra Kumar of nearby Radheshyam Purva. Soft-spoken but his words piercing, he continued. "Babasaheb is learned and famous, the rashtra nirmata (creator of the nation). In Columbia Journalism School his statue is installed, there he gets respect. Ek Bharat hi aisa des hai jahan samman nahi milta. Samajh lijiye ki yahan murkh zyada log rahte hain- vidwano ki koi value nahi hai. (It's only India where he doesn't get respect. You understand, it is more fools who live here — there is no value for learned men."
When KL  left, the painter was perched on a ladder, painting the face of the statue white over the dull grey stone, bringing it alive bit by bit.  "Khush khush khush," Kalli said. (Happy, happy happy). 
In Waiting For a Visa, Ambedkar begins, "It is difficult for them [foreigners] to understand how it is possible for a few untouchables to live on the edge of a village consisting of a large number of Hindus; go through the village daily to free it from the most disagreeable of its filth and to carry the errands of all and sundry; collect food at the doors of the Hindus; buy spices and oil at the shops of the Hindu Bania from a distance; regard the village in every way as their home–and yet never touch or be touched by any one belonging to the village."
At KL as we often say, this is the stuff of daily life and reportage. We know. We know and we write about such Dalit settlements denied clean water, circuitous routes taken by Dalit women through dacoit-filled jungles just to quench thirst. We report on the cattle-skinners and leather workers of Itwa and the children who walk away towards better futures, abandoning a traditional trade in the process. About a primary school in Lalitpur's Madavara village where the mid-day meal was not eaten because the cook is a Dalit woman. In yet another village of Lalitpur, where people of the Ahirvar caste were denied the "privilege" (read with biting sarcasm) of wearing chappals until KL reportage created a stink about the practice. About the rising figures of caste-violence and the 25 Dalit houses torched in Saharanpur by Thakurs in 2017. The twos systems of "justice" after sexual assault that exist in parallel — one kowtowing to the beck and call of the Thakurs and Brahmins, and the other full of barriers. 
In a casteist environment, where the innocuous act of wearing a chappal holds grave stakes, it is obvious that Ambedkar iconography and statues are an important means of Dalit and Bahujan assertion, defiance and resistance. This importance has been reinforced by dominant-caste attempts to injure pride by vandalising statues over the years. In 2019 as debates over 'merit' and reservation heated up once again, as the BJP government introduced 10% reservation for economically backward dominant caste groups, a spate of beheadings of Ambedkar statues followed in Azamgarh, U.P. Like the vandalism in Pachokhar village last year, these three beheadings in the villages of Chewar Domanpur, Srikantpur and Mirza Adampur took place under cover of night. This was not the first time Ambedkar statues were desecrated in Azamgarh. In 2018 after unprecedented BJP wins in the north-east, tearing down of Lenin, Periyar and Ambedkar statues followed in Tripura, Tamil Nadu, and in Meerut and Azamgarh in U.P. 
In Banda, nearly every village and kasbah boasts of a "mandatory Ambedkar statue" as Chief of Bureau Meera Devi puts it. But where did this iconic mould come from? 
To go back in time, the practice of erecting statues of political leaders in public spaces was introduced into India by the British and post-independence the newly formed Indian government picked up the practice, installing statues of freedom-struggle leaders like Gandhi, and historical figures. The first official statue of Ambedkar was installed in Bombay in 1962 at the Institute of Science crossing where he was depicted as an orator, "dressed in a three-piece suit, his right arm and finger upraised as a 'great man lecturing the nation', including his fellow Dalits to organise for their rights, Tartakov writes. In 1964 a similar statue made of bronze was set up in front of the National Parliament in Delhi — an attempt by the Indira Gandhi-led Congress Party to bring Ambedkar and Dalits within the national 'secular' fold. Then, as during Ambedkar's time, India's political leaders have been better at embracing the figure of Ambedkar while glossing over his radical anti-caste politics that were at odds with dominant caste hegemony and Hindu power over everything. 
In U.P, anthropologist Nicolas Jaoul writes, statues installed by the government have reproduced this bronze iconography while in villages smaller stone models proliferate with their own tweaks like 'Nike' painted on shoes or real black plastic glasses — similar to the Ambedkar statues whose contestations KL has covered many a time. Jaoul describes how in Uttar Pradesh specifically, Ambedkar statues have played an instrumental role in the BSP's successful mobilisations since the mid-1990s, as a political party founded on Ambedkarite politics by Kanshi Ram, and led by Ambedkarite Dalits. Once in power, Jaoul writes, the BSP emphasised official installations of statues and statue-parks particularly during CM Mayawati's tenure — an act that often drew criticism from dominant-caste led media –ostensibly questioning use of funds, but carrying an unmistakable whiff of superiority. It also encouraged Dalits to install more statues in their villages, Jaoul writes. 
KL's reportage from the field bears out the fact of Ambedkar statues as a deeply emotional issue — as perhaps one tangible element of Dalit and Bahujan assertion and pride in the face of a region where caste is extremely explicit. In 2018, KL reported on large-scale protests by Savarnas (dominant castes) who took to the streets in Mahoba, Chitrakoot and Varanasi demanding the repeal of an amendment of the SC/ST Prevention of Atrocities Act, which allowed arrest of the accused on complaint and prohibited anticipatory bail. The protestors called the amendment a 'grave atrocity' — perhaps stemming from their need to perpetuate atrocities against Dalits and Adivasis with nary a chance of  their impunity being dented. U.P. is also the region where CM Adityanath was awarded the honour of being a 'Dalit Mitra' in 2018 by the Lalji Prasad, President of the Ambedkar Mahasabha against uproar by other members. It will come as no surprise then that Lalji Prasad was appointed the Chairman of the SC Finance Development Commission just a few days later. What can we say? The 'Dalit mitra' sent a polite return gift. 
Painting it Saffron? 
In recent years, BJP and RSS efforts to subsume Ambedkar within a Hindu politic have ramped up. For instance this year Ambedkar Jayanti, the birth date of Ambedkar was celebrated officially as 'Samrasta Diwas'  On Ambedkar Jayanti in 2018 the BJP carried out an 'Ambedkar Yatra' and later that year changed his name in official records and correspondence to Bhimrao 'Ramji' Ambedkar against again, opposition from Dalit leaders and locals at this posthumous and frankly, remarkably unsubtle Brahminisation. In fact, just weeks after this move, Badun's Dugraiyya village brought in an Ambedkar statue literally dressed in a saffron kurta after vandals broke the original. 
In response to criticism, CM Adityanath said on record that "saffron represents purity" and invoked the sun as also being undeniably saffron as evidence of those questioning these moves as "narrow minded". Here we can quote Ambedkar himself who fought all his life against the heinous logic of "purity" and "pollution", and who declared at the Yeola Conversion Conference in Nasik in 1935: "Though I was born a Hindu, I solemnly assure you that I will not die as a Hindu". (Government of Maharashtra, 2002, Vol. 18, Part 1, p. 430)
In 'What Congress and Gandhi did to the Untouchables', Ambedkar wrote about the indifference of the dominant caste led Congress pre-independence to the inequities of Dalits, and a lapsed resolution which it ultimately lay on the door of the Hindu Mahasabha: 
"There could not be a body most unsuited to take up the work of the uplift of the Untouchables than the Hindu Mahasabha. If there is any body which is quite unfit for addressing itself to the problem of the