This week, on the Most Wanted List: A Witch. Or How the Banda Police & Press Seemed Complicit in this Tale of a Haunting We Also Know as Fake News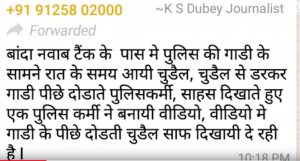 Nawab Tank, a popular hangout spot in Banda town, believed to be the preferred space for the nawab of Banda to indulge in some Kajli mela lovin' – what we would today term as mild PDA – with his wives, recently found itself at the centre of a social media whirlwind.
'Nawab Tank par, police ki gaadi ke saamne aayi chudail, sahas dikhate hue ek police karmi ne banaya video… (A witch intercepted a police car at Nawab Tank, and one brave police officer recorded this video)', so beeped all our collective Bundeli phones, one not-so-sleepy night last week. Needless to say, the accompanying video – of said witch – went viral well before that Goodnight wish appeared across all our What's App groups.  
To nurse the witchy hangover, we went vox-popping the locals next morning. We encountered an aghast Suman, "These things have increased so much. Kabhi choti kaatne vaala, kabhi kuch, toh kabhi kuch (Sometime back, it was the plait-cutter, then something else)." Putting it down to superstition, Suman blames "all these people" you can fool with the right dose of "andh-vishwaas". What's her theory then, we ask? She promptly replies, "It might be some poor woman trying to hide her face for some reason. Someone on the run, you know…" But just as we're all-set to hand Suman the crown of Miss Rational amidst a sea of easy-to-convince believers eagerly pressing the forward button, she springs the "ulte pair" logic on us, "See, if she really was a witch, her feet would have been crooked. Everyone knows that that's how you recognize a true witch."
We quickly scuttled off to chat with a few of our peers instead. Such as Manoj, who started off with a nod to the responsibility and respectability of the profession, "See, we are all journalists. We should all think twice before forwarding these videos and making them viral." Indeed, considering that the most amount of forwarded What's App messages we got that fated night were from our patrakar bhai-bandhus between 10 pm and 2 am, we couldn't agree more. Manoj continued with the moral high ground argument, "We should investigate deeply for the truth. Unless we don't see it, hear it, process it ourselves, we shouldn't act on it." And then soon went down Suman's path, as he shared with us the logic he used in condemning the chudail video fake, "How can a witch be recorded on a camera? It's not possible. Woh toh kaid hi nahi hogi camera mein."
Press Trust of Bundelkhand. Bundelkhand News Room. PTB What's App, were the names of just a few of the groups where the witch hunt was trending. When we met with S.K. Dube, perhaps one of the most prolific sharers of the message (see inset), he at first brushed it aside, citing "the pachchees groupein (25 groups)" he's part of where the message was going viral, "At first, you think it's in so many groups, it must be true." Presumably, this was Dube's reason to forward the video ahead, presumably across 25 groups. "But then you think, how do you know if it's authentic or not?", he said, thinking out loud, "Someone is now saying it's from Jhansi, not Banda. Someone else is saying it's from bahar se, outside India. Someone else is saying it's dated – at least a year old, or two years old." "Who knows?", was Dube's final shrug-like conclusion.
Khabar Lahariya Digital Head Kavita, for one, was not surprised with the Dubes and Manoj ji's responses. "How would they have an answer?", she asked in last Friday's episode of her popular local news and views weekly, The Kavita Show.
"After all, they when they were the ones who were feverishly forwarding these messages all through the night." She went onto thrash out the sexist subtext of the entire chudail saga, so her fans and followers would know fake from not. Or so she hopes, she adds cheekily.
Meanwhile, Banda S.P. is the zabardast Shalini, and she was not amused, "This is all nonsense, just an attempt to mislead people. Once we find out the source, we will make sure charges are pressed." Shalini dismissed any connections with the Banda police force, affirming that in her knowledge, no patrol van was out scouting Nawab tank witch-spotting.
It's not even Kajli mela season, you know.
– Pooja Pande
This Khabar Lahariya article first appeared on Firstpost.