Up-Close with a Dalit woman candidate running for office this #LokSabhaElections
One strong mid-week highlight of a high-powered Lok Sabha elections season, besides that highly publicized non-political interview that was anything but, was the news about BJP M.P. Udit Raj quitting his party and joining the Congress. A vocal critic of recent caste-centred decisions, such as the Supreme Court's dilution of the SC/ST Act, Raj is also the Chairman of the All India Confederation of Scheduled Caste & Scheduled Tribe organizations, and with his move to the Congress, he labelled the BJP "anti-Dalit".
Far away from Delhi, more metaphorically than geographically, the resident BJP M.P. from the Banda-Chitrakoot seat of Uttar Pradesh, Bhairon Prasad Mishra, is still frothing at the mouth over being denied a ticket to contest the polls, his main point being his caste status – upper. The BJP has chosen to field RK Patel, who belongs to the OBC – a fact that Mishra is simply unable to fathom. "Ab yahi toh nahi samajh mein aa raha ki unhone aisa kyon kiya (That's what I'm unable to comprehend, why they did this)", he'd shared with us after he'd spent a night of hunger strike in Delhi, demanding that senior leaders meet him and explain.
While the Math around caste politics might be complex, what is simpler to understand is the gender imbalance. Data from the last general election in India shows that, of 543 seats, 640 women candidates ran for election (that's 8% of the total 8208 candidates) and off these, only 12% won (that's 61 women). Only 12.6% of M.P.'s are women, against the international average of 24.3%. This places India 149th on the list (out of 193 countries), ranked for its percentage of women representatives in parliament – behind Bangladesh, Pakistan and even Saudi Arabia. In 2019, from the data available thus far, the percentage of women candidates still stands at around 8%, even as two prominent parties, Odisha's Biju Janata Dal and West Bengal's Trinamool Congress, announced over 30% reservations in party tickets for women. Closer home for us, in interior U.P., Bundelkhand has only had 11 women M.P.'s since Independence, Uma Bharti most prominent among them.
It is this world that Meera Bharti steps into. A woman, a Dalit, contesting the elections from her home, the constituency of Banda-Chitrakoot. Calling the village of Khanch in Chitrakoot her home, Meera is being fielded by the Swatantra Janta Party, a lesser known political outfit that finds itself on local Hindi newsfeeds only. Having risen up the ranks through her social activism, mobilizing and advocating for the rights of Dalits and other marginalized communities, Meera has tread a self-taught path. A lawyer by profession, Meera is often found at the local district court, hustling for cases centred around violence against women, or caste-based discrimination. "I learnt early on that you need to know the law to make anything work for you", she says, when we finally perch ourselves underneath a tree, its shade protecting us from the unrelenting heat and sun. Her offline mobilization is also deftly complemented with her online presence – On Facebook essentially, Meera is very active locally with regular 'Jai Bhim' updates and is sure to voice her opinions around episodes of caste-based discrimination and violence.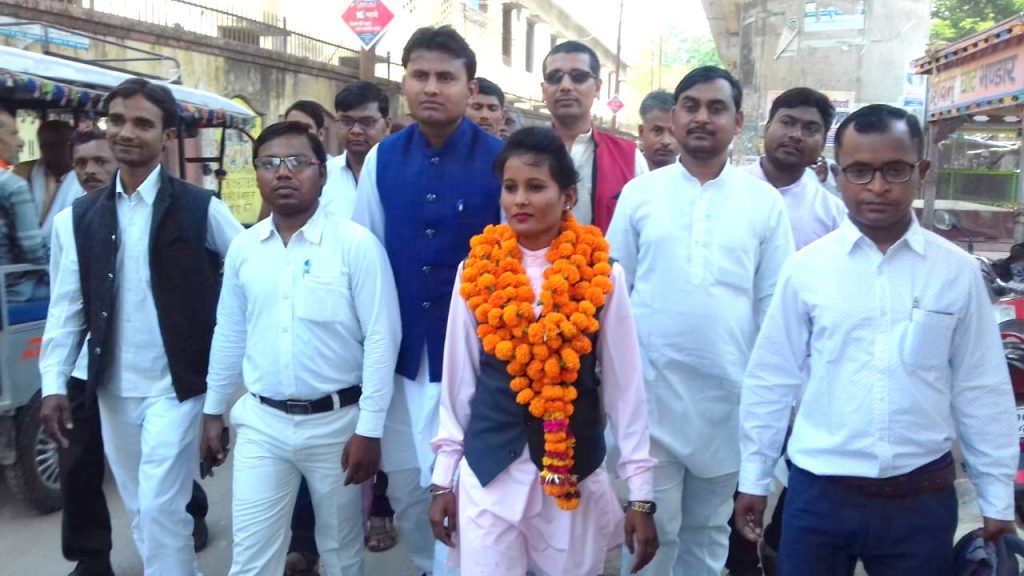 Petite of frame and still in her mid-twenties, the local expectations around Meera's political ambitions have been gaining ground for quite some time. Most had assumed that she would contest the 2019 elections, but as an independent candidate. She speaks of the support she has garnered, "I had also thought that I would contest as an independent. But when this party approached me, I realized it's a good option. They are also invested in speaking on behalf of the marginalized, which is so crucial in the current political climate." She is astute when she affirms, "It is good to have the muscle power of a party behind you."
Speaking of muscle, Meera is no novice at what it takes to bag a nomination and then to campaign, let alone win a seat. "I know that only powerful people make it to this fray", she says, referring to her rivals in the polls, "manjhe hue khiladi (highly experienced)" all – businessman Shyam Charan Gupta of the alliance, local MLA RK Patel of the BJP, and ex-SP honcho Bal Kumar Patel, more popularly known as "Daku Dadua ka bhai" (dacoit's brother). "These are all men who travel in cars, and big cars. I am someone who walks to work, walks to protests, walks everywhere", she says, and adds, "But I think the voice of the powerless is strong this time. People cannot be fooled anymore and they have a deep awareness of everything that's at stake this time." This is the wave she's hoping to ride, she says, "We have to snatch our rights, our freedoms back. There's no other way this is going to change." In true neta & U.P. style, she illustrates with an aphorism, "Even a mother doesn't feed her child until she cries."
The daughter of daily wage labourers Babadeen and Malti, both of whom she lost at a few years ago, Meera brings up her economic status as a possible campaign pitch, "I think the poor have an instinctive understanding of being powerless. I hope to appeal to that." And she also plans to keep her gender in focus, as it is wont to inevitably be. She has been vocal around sexual harassment in the past and she plans to take head-on patriarchal mores, "This is drilled into women right from birth. You are a girl, learn how to make rotis. If you step out for anything other than your marriage, your parents are questioned. 'How come you're letting her work?,' they ask. This has to stop."
With Meera fighting a crucial General Elections in an all-male space, under a big tree in Chitrakoot, feeling cool, we allow ourselves to dream, even if for a moment.
-Pooja Pande
This Khabar Lahariya article first appeared on The Wire.