District Banda, Block Mahua, Pithaurabad. In this village, about 80% of the residents have either left or are planning to leave. They are going away to find work. People say that the Pradhan is finishing up five years, and to this day, she has not given them any work through MGNREGA. "Our job card has remained empty throughout these five years. If we ask for work, she stalls and says, there is no work that you'd like to do."
Shamim and Fakruddin say that they go to Delhi, Punjab, Agra and Haryana to earn money – sometimes they are gone for up to four months. This is not a shocking amount of time to be gone, however; in this area, people often go away for a whole year. They go to do a variety of daily wage labour, but most often, they find informal employment in the brick kilns of Punjab (sometimes also in Delhi and Haryana). These kilns run the whole year, with the exception of the monsoon season during which they have to shut down. This is when labourers get to return home.
You may have heard about the horrible, often backbreaking conditions these workers face through a recent campaign to free Pakistan's bonded labourers that went viral. Migrant workers are often made bonded labourers – bandhak – on the basis of advance payments that then become debts that obligate them to work endlessly. The advance payment is impossible to turn down. The labourers have to make a choice between the whole family starving or being burdened by a debt that is near-impossible to pay off.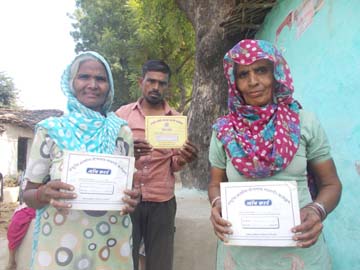 However, in U.P., daily wage labourers, who mostly work in agriculture, don't even get the choice of being in debt – in serially drought-struck Bundelkhand, no crops grow. Even when the farmers make the effort to sow the crop, there is nothing to harvest. So there is no work to be found. "We don't earn anything in Uttar Pradesh – our children go hungry if we work here. We don't even have a single biswa of land [that we could earn money from]! If we had any income here, we would give up the one roti we get when we work outside, to have half a roti in our home, our village, with our families." The dry earth and uncaring administration of Bundelkhand grudge them that half-roti. So Shamim and Fakruddin have become migrant labourers.
Migrant workers are largely not aware of the legislation drafted to protect them – the Inter-State Migrant Workment Act, 1979. Indeed, most of them are from communities and regions which are rarely approached by administrators – so how would they?
The Pradhan of Pithaurabad is a woman named Rukmin; but it's her husband, Neeraj, who talks to us. He tells us that 80% of the villagers have migrated this year because of the drought. No work has happened in the village since the election started. For the past two months, if not more, all able-bodied labourers have been heading out of the village with their families. He argues that it's not like work is not available – the labourers could work on the construction of the village pond, or the medbandis around people's fields. "Labourers support their families through daily wages, but the administration sends their compensation too late. That is why they go outside to work – they can't wait for their wages to come. Otherwise, the village has a budget of 80,000 for daily wage labour that needs to be done."
Amna, Khatun and Hamidan, however, tell us that in this village, there's no work for poor daily wage labourers. Nor do the benefits of government programmes like pension and ration card schemes reach them. Only when labourers migrate are they able to put together some money and feed their families.
Studies on brick kilns in Punjab find that the majority of labourers are migrant workers. They're young, illiterate, landless, poor, from Dalit, Adivasi and Muslim communities, and an overwhelming majority come from states like U.P., Rajasthan, and Chhatisgarh. U.P. is a massive source of brick kiln labour – multiple studies affirm that at least 30% of labourers arrive from these parts. Most workers from UP are moulders, also known as patheras. According to a study on the push and pull factors of migration among brick kiln workers, conducted by Gursharan Singh Kainth, patheras "are allotted a piece of land by the owner where the workers have to dug the earth and then wet it with water to make the mud suitable for moulding process. Generally for moulding, the whole family is engaged, including young children."
People don't travel alone – in Banda, and in the rest of the country, labourers are recruited by jamadars. These are agents who come looking for labour – and the whole family goes with them. It's an attractive prospect – you're allowed to take your family with you, everyone gets accomodation, and you get an advance even before you've started working. Kilns offer steady work and regular payments.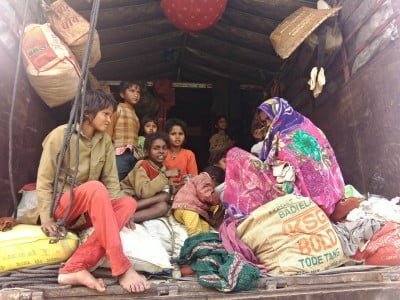 "Advance payment" is a thinly veiled term for debt, though, and accomodations are pitiful, where major health and safety hazards abound. Wages are low. Labourers, being Dalit, Muslim, and Adivasi, face discrimination and violence in the workplace. Women workers, especially, often face sexual violence in this unfamiliar place, and child workers are often not paid. In addition, only the male adult members of the family are enrolled as employees at brick kilns – that gives them a degree of legitimacy and empowerment (although they are still working within the unorganised sector) that women and children don't get. Workers bear medical expenses themselves – unsurprising in a country which shells out minimal money on public or institutionalized healthcare, but exploitative, because brick kilns are a massively unsafe place to work.
But it's not like the Banda migrants don't realize this. Most have been going to work in brick kilns in a few years. What is the option?  Especially this year, when they are facing a drought the likes of which they have never seen before.
Read the original Bundeli story here.