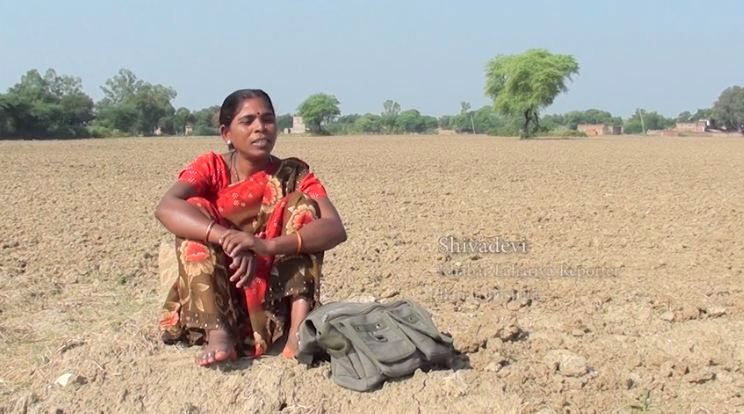 At a glance, Shivdevi from Banda, Uttar Pradesh might appear like just another Dalit village woman, attending to the chores and leading a nondescript life. But one cannot overlook a certain confidence, an unmistakable grit in her demeanour. A notebook and a pen, a camera phone and a dusty satchel together gives out her true identity.
Shivdevi, a young mother driven out by her tyrannical in-laws, is actually a journalist – one of the very few women reporters etching an example in a patriarchal rural setting. She scours the rustic roads in her new scooter, unearthing stories of injustice, deprivation and atrocities. Abuse by the local leaders, the nonchalance of the police authorities and the ever-existent apathy of many villagers towards a woman reporter –  nothing stops Shivdevi.
She cannot help but express her gratitude towards Khabar Lahariya – India's first and only hyperlocal media organisation which is training rural women of Bundelkhand to be journalists. As a newspaper, Khabar Lahariya was circulated in the Hindi and Bundeli languages, among others, across an 80,000-strong reader base in Uttar Pradesh and Madhya Pradesh. Two years ago, they launched their digital avatar, adding a sizeable urban population to their reader base.
Breaking into a male bastion
"Heated discussions over feminism and being a feminist, had to go beyond portraying women in a positive light in a context where they were only 'bechari' (helpless) or 'besharam' (shameless). It had to be about looking at the use and abuse of power by people, institutions and systems," briefs Pooja Pande, who handles Partnerships at Khabar Lahariya, explaining why Khabar Lahariya was started in 2002.
"We wanted to establish the women from Dalit, Muslim, tribal communities as journalists, breaking into a male bastion. Challenges were aplenty. We were told by the district magistrate that Khabar Lahariya was ideal to train these women to make achaar (pickle) and papad," states the Khabar Lahariya team, highlighting that at those times, making reporters out of these women was beyond imagination for everyone else.
A journey spanning decades
The organisation is operated by a competent all-women team. Editor-In-Chief Meera Jatav is a self-made woman, hailing from the rural hinterlands of Bundelkhand. Khabar Lahariya materialised through the zeal and persistence of Meera and like-minded women, supported by Nirantar, Centre For Gender And Education from Delhi.
In 1994, 24-year-old Meera joined as a supervisor with Mahila Samakhya, the women literacy project by the government. Her qualifications stood at 10th Pass back then, which she upscaled to a postgraduate in the course of the next few years.
The women at Mahila Samakhya, supervised by Meera and others, started their own four-page monthly newspaper Mahila Dakiya, which unfortunately was discontinued due to fund constraints. But, it was undoubtedly the precursor to Khabar Lahariya, which soon became a reality when Nirantar stepped in from Delhi to fulfil the journalistic aspirations of these feisty women.
From mistreated wives and mothers to full-time reporters
Shivdevi, whose story we shared in the beginning, is one of the many women reporters from marginalised communities at Khabar Lahariya with equally compelling stories. Resistance from the family, obligations as a mother and above all, the orthodox social set-up comprise only the tip of the iceberg if one tries to analyse the obstacles for these women.
"There are too many firsts altogether. A woman actually had to lift the ghunghat (veil), go into crowded areas, talk to men and work for irregular hours. Families and in-laws oppose all this. On average, five out of every 15 women we trained would stay, rest would drop out mid-way, submitting to the societal pressure," Kavita Devi, Digital Head of Khabar Lahariya, reveals the reality.
The reporters of Khabar Lahariya are all full-time employees. They earned their independence and respect through sincere persistence for over a decade. Naturally, it raises the question, how?
Pooja answers, "Through word of mouth, social media and NGO networks, we publicise the information that we are hiring in a particular district. Applications are invited, and applicants are shortlisted on the basis of their basic qualifications (10th pass). Marginalised women are given preference. Senior KL members travel to the districts to interview shortlisted candidates: a process that involves talking about their aspirations, family circumstances and testing their confidence, general knowledge and technical aptitude. If we think a woman has it in her, then she is called for training and then an internship in Chitrakoot."
Impacting some new change every day
Be it caste-based violence or gender atrocities, the gritty women stop at nothing to report the truth. Meeting the police or the district administration is now a cakewalk for them. They have impacted ample social, political and infrastructural improvement in the region. The initial days were difficult, but over the course of 17 years, Khabar Lahariya has earned the trust of the local people. They now reach out to the organisation to report untoward incidents and avail justice.
Moving over the traditional pen and notebook, the women have recently been equipped with smartphones and basic computer knowledge, making their jobs easier and faster.
"Her story makes history"
In eight pages, Khabar Lahariya presents unreported stories across diverse domains, which is popularising the habit of reading newspapers in these regions. In the villages with a low literacy level, the reporters themselves often read out the news aloud to keep people well-informed.
"We would like to expand our geographical reach and add to our reporting strength, in the next three years. So, 100 reporters and 10 million unique visitors," informs Pooja.
"Her story makes history" – goes the Khabar Lahariya tagline. In a bid to make the subaltern narratives thrive, Khabar Lahariya is striving every day, hoping to popularise rural journalism and in turn empower women throughout India.