As the tsunami of a win coloured saffron ebbs in the badlands of Bundelkhand, there is much stocktaking to do. Even as we reel from the mukhyamantri selection, or perhaps, because of it, we must not lose our eye on the ball – the ask is huge and the tasks are many. If there was an urgent need on the ground to "try something never tried before", which fed into a BJP wave across Uttar Pradesh, well then, there's much that needs to be done. Now that a lot has been said.  
Epic Shit, Part I of a new series presenting an overview of some of the big tasks ahead for the new government in U.P.
It's close to a non-sequitur bandied about in our Delhi newsroom, almost 24-7. A one-word response to many a question that flies about the office on a daily basis, along the lines of "What story are you working on today?", "Which story is being edited next?", "What was the issue that reporter in Jhansi was talking about, which she's going to file today?", "What video are you transcribing?", "What is the Rajapur reporter going to talk to the pradhan about today?".
The answer is almost always, "Shauchalay".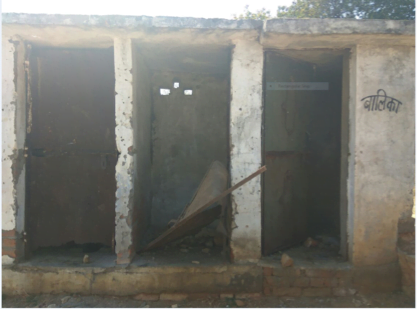 Perhaps we must assign it all a serendipitous alignment of the stars, the coming to power of this new government – the state has voted in the very party that chose to own the shitty narrative, so to speak, on a pretty large scale. The very face of the narrative, in fact, seeing how everybody seemed to have followed the "kamal pe button dabao" mandate, mesmerised and gripped by his word and his aura alone. As a lawyer in Chitrakoot termed it, "This is Modi's black magic", elaborating, with some distaste, "behek jaate hain log (people just get swayed)". So, seeing how he is the man to have elevated the problem of toilets to a whole new level, lifting it right upto the stratosphere where that utopic vision of India resides – somewhere in 2019 – it remains to be seen how the issues of sanitation will be addressed in the upcoming months and years of a new regime in U.P., on the ground.
In our experience of reporting on the Swacch Bharat Abhiyan in rural UP, the story is as complicated as any other well-meaning large-scale policy, when it comes to brass tacks. A lot of noise, lots of holes, and and not many pots. Listen to Halki for instance, in our recent story from Mahoba's Imlia Dog village, over 70 years old and clambering over Mahoba's hilly terrain when she wants to crap. Other women, Shyamrani, Shivkali, have similarly hair-raising stories of grabbing their walking sticks each dawn and risking their lives; Pana of the fear she feels when her small children need to use the toilet: they either disappear up the hills, or then they just do their business in the lane outside their homes.
There is a reason why our reporters send in these stories of distress, shame, mortification, anger and sheer apathy, to us every single day. Faces after faces, villages upon villages, tell us again and again of the non-existence of toilets, the distant shouts and murmurs of a campaign that aims to give it to them very soon, the horrific and absurd tales of open pits going to waste where the campaign did reach apparently. As one exasperated lady told us, "My old mother-in-law fell into it one night and broke her leg." During one of our Sampat Pal trailing expeditions, we waited in her jeep as she, after endless rounds of chai-paani jan sampark in every village and frustrated beyond belief at not finding even one half-decent place to answer nature's call, finally went off into the fields. "Latrine is my number one issue", she told us, hauling herself back into the jeep when she got back.
This is indeed a world far away from Swachh Bharat and its shiny shenanigans.
We see the irony in it all, when we think of the Prime Minister's pet campaign and how it was launched amidst much fanfare, invoking all the usual suspects – a name-chanting of the sister, the mother, the wife, and the bhabhi – the same woman proceeding to the fields or tracks, sometimes in the stealth and dark of the night, to take a dump, mortified of men and other wild animals.All the famous peoples' attention it brought (attention that went right back to the famous people, as is wont to happen with celebrity endorsements): Right from Amitabh Bachchan playing on compost and composht oh-so-cutely for the urban wing of the abhiyaan to Vidya Balan urging women to insist on the construction of toilets in their soon-to-be-marital-homes or to call the wedding off – as if! Salman bhai famously feverishly tweeting out his support, and asking Rajinikant to join in. (Fun fact: The Thalaivva is not even on Twitter because well, he doesn't need it). Mark Zuckerberg too offered to help spread the word by developing a Swachh Bharat app, even as it attracted funding from the World Bank.
Huge amounts are set aside in annual budgets for it, to the tune of 9,000 crores, while the entire campaign has manged to execute the perfect coup of yet another appropriation – this time, of the one, the only, the ultimate ball-and-chain that tugs at our collective heartstrings, Gandhi. Mahatma Gandhi. Bapu. The Swachh Bharat Abhiyaan target itself is set for October 2, 2019, Gandhi's 150th birth anniversary, because it was, apparently, one of "Bapuji's unfulfilled dreams". We're working towards it, an ODF India – Open Defecation Free India.
The mission boasts of fool-proof status – it is the stuff of legend, straight out of a What They Don't Teach You at Harvard Business School bestseller. Its use of technology and social media is unparalleled as is its mastery over wordplay via rhetoric – both aspects that fed into the recent phenomenal electoral win. There is astute appropriation of SDGs, just right for an India bolting into the 2020s: for instance in its deliberate alignment with as aspirant, quasi-progressive thought-processes within culture, such as 'gender equality' –how cool it is now to present girls and women as being equal or ahead of boys and men. (See for example, the several female sarpanches who double role as "swachhata senanis", and receive special awards to them from none less than Modi himself, promoting them to 'SBM Women Champions' status.
The Swachh Bharat Abhiyaan has tapped into all of this, in a mind-boggling demonstration of effort and will power, never mind the doublespeak. Women's empowerment? A little more filing of FIRs for rape cases, a little less jargon, is what we say.
So, let's cut the crap. Let's zoom in to those villages upon villages awaiting their shauchalays, those promised holes in the ground, which have a great big 'Construction complete' on official records. Because if there is no water in the toilets, no maintenance, no intervention programs to enable sensitization and education of the people meant to be using them, they are a failure. And those are just the places where the abhiyaan has reared its head.
A lot remains to be seen, a whole lot awaits to get done. And we, hawk-eyed more than ever now, intend to keep a watch on this shit.
Accountability before everything else. If there's a democracy left here somewhere.