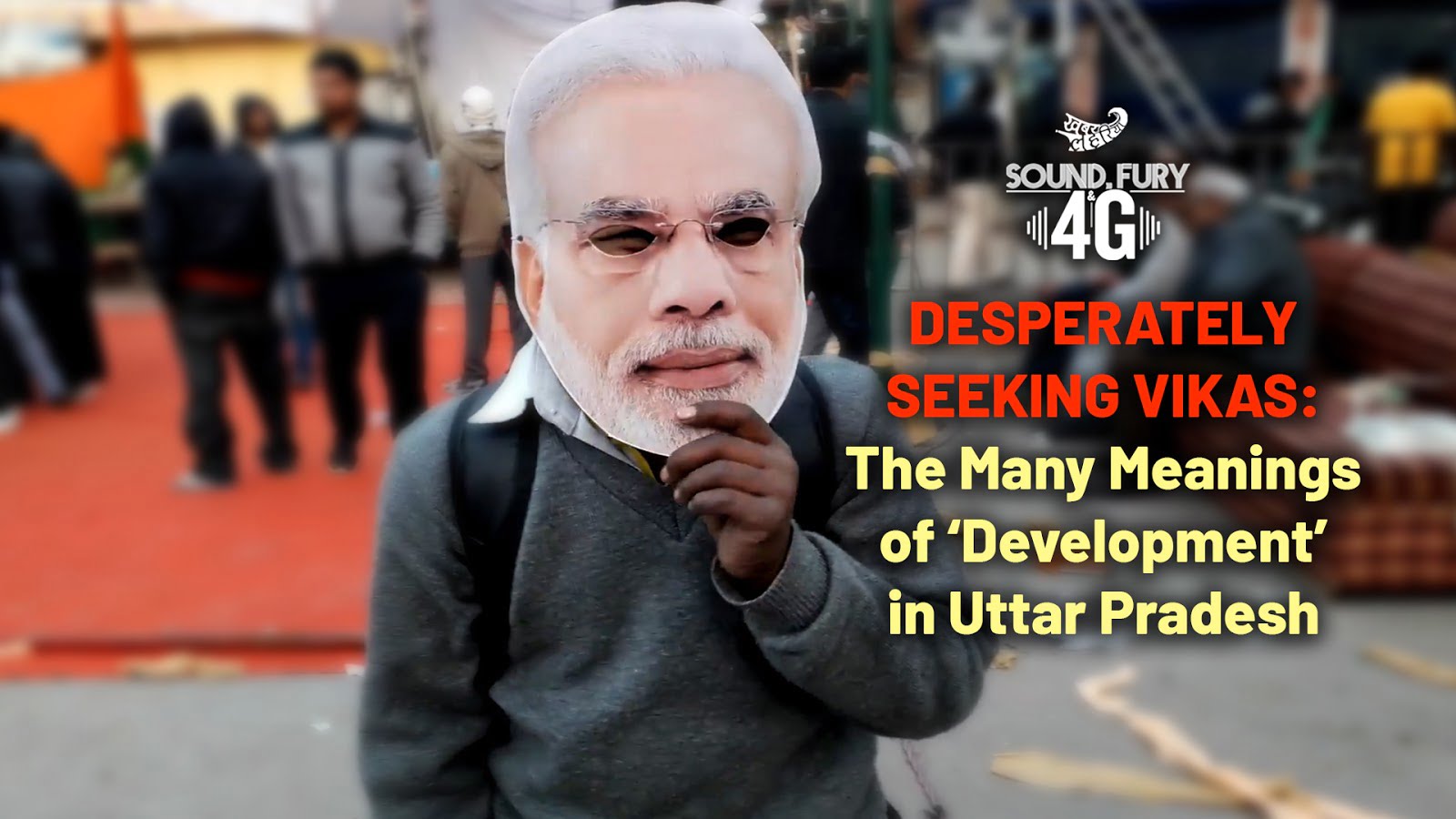 In 1977 the telephone booths and walls of New York city found themselves plastered with sheets of paper bearing truisms. Listed alphabetically, a chorus of one-liner claims in all caps clashed and jangled in the minds of the city dwellers who encountered them. 
The artist behind them, Jenny Holzer rose to fame over the years for her conceptual art that grapples with different forms of power and responds in methods traditionally considered "lowbrow". The most famous of the truisms has taken on a life of its own: ABUSE OF POWER COMES AS NO SURPRISE.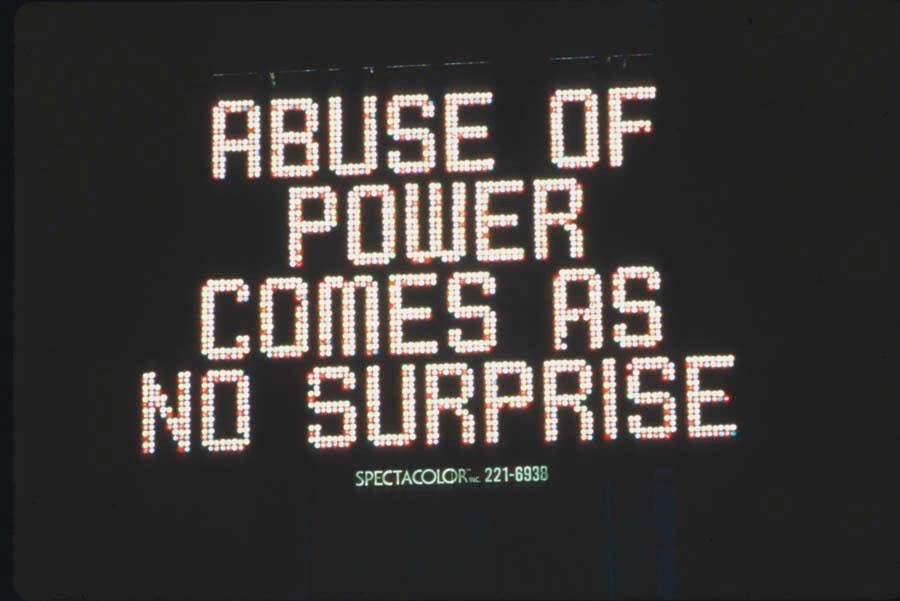 Over the years, Holzer has projected these truisms in public spaces, for instance a giant electronic sign board in Times Square. The signs capture attention by the tactics of guerilla warfare. Where you expected an advertisement for Nike, you find yourself instead confronting/contemplating the world. 
Closer to home, performance-pieces like Amitesh Grover's Five Million Incidents, and graffiti artists like Daku and Tyler have proliferated in recent years but the political subversion involved here is more mixed, as writer Satwik Gade has written. In 2017 after the walls of Ahmedabad were painted with 'Hindu daughters beware of love jihad' in Gujarati, dancer and founder of Conflictorium, Avni Sethi took to the streets to perform to Pyaar Kiya to darna kya from Mughal-e-Azam in front of the graffiti at various spots in the city. In 2021 after the enactment of anti-Muslim 'Love Jihad' laws in several states and concurrent arrests, this performance perhaps holds even more resonance. 
In Khabar Lahariya's 18 years of reporting from Uttar Pradesh certain patterns have played themselves out repeatedly. Indifferent lekhpals (local government bureaucrat) who confer favours (read as compensation for myriad tragedies from a farmer suicide to a land-grab by the government) based on their whims, abduction of children and fights to report a rape as rape, the sand-mining mafia — Bundelkhand's ultimate inside job… It's easy to fall into the passivity of yeh sab chalta rehta hain (these things keep happening). Abuse of power comes as no surprise. Perhaps as journalists, we are trying to do the same job: how do you make people care about something that keeps repeating itself?
Holzer's truisms defamiliarize. They make the mundane strange again by going up close or zooming out, so we can see the thing for itself. At this change of seasons and start of a new year, we thought it worthwhile to similarly contemplate the often cited figure of vikas (development). What is it? 
The party-line of the BJP at the centre and Yogi Adityanath's U.P. government; famously reported missing in October 2020; previously known as 'development'' — we wondered, what does vikas look like, how do you identify it? When vikas comes to your doorstep, cuts a path through your fields, promises to give you what you're owed, makes you wait in line for half a day, is inaugurated by the Prime Minister  — how does your life change? 
The length and breadth of vikas
According to the Uttar Pradesh Expressways Industrial Authority (UPEIDA) development measures 296 kilometers. It spans four to six lanes and connects a highway in Chitrakoot to Etawah's Agra-Lucknow expressway, promising easy transit from Bundelkhand to Delhi, and potential for setting up factories in the region. 
This avatar of vikas, the flagship project of CM Adityanath is the Bundelkhand Expressway. It has a budget of Rs 5,900 crores involving loans from 6 banks, and requires 3,700 hectares of land for construction of which 95% of land was acquired last year in record time. 
The Times of India reported this as "seamless" acquisition of land with at least 20,860 farmers earning a total of Rs 2,200 crore by selling drought-hit land at four times the circle rate. It dubs the expressway a successful model for cutting red tape, speedy land acquisition and low project cost — quoting UPEIDA CEO Awanish Kumar Awasthi (and no farmers).
If one unpacks these statements, a number of components of vikas come into view: the farmers and people who own and live in and around the land allocated for vikas, the 5% of land that has yet to be acquired due to unwillingness, the matter of drought and implied tribulations of pursuing livelihood as a farmer, and the wisdom in giving up your land at a projected profitable rate. 
The UPEIDA website claims that the expressway will play a "vital role in development of Bundelkhand", proposing that this is the reason that "especially in less developed districts like Chitrakoot, Banda, Hamirpur, and Jalaun the State Government has pledged to construct Bundelkhand Expressway."
The incongruously emotional framing of a government "pledging" a construction project aside, the UPEIDA also notes the developers contracted to build the expressway: Apco Infratech Private Limited, Ashoka Buildcon Limited, Gavar Constructions Limited and Dilip Buildcon. The mode of construction is the Engineering, Procurement and Construction (EPC) model wherein the contractors are responsible for project design, material procurement, managing labour and actual construction —following which the completed product is delivered to the state. 
This EPC model means the regulations and labour practices for the workers through whose labour the vikas will be built, are entirely up to the discretion of the companies. In Bundelkhand, another mode of promised vikas lies in the laal sona (red gold) of the river-sand and sand-quarries that are used to run a thriving sand mining operation, controlled by the local sand and land acquisition mafia. The construction boom in 'more developed' regions like Delhi creates an enduring need for daily wage labour in Bundelkhand to power this vikas. 
As elaborated in our deep-dive into the grisly sand mafia chronicles of Bundelkhand, the labourers here work in high-risk conditions without safety equipment, lose limbs and lives in frequent accidents, and run from court to police station seeking some kind of redress which never comes since in an open secret, illegal sand-mining operators and local government are rather friendly.
Accordingly, the people of Bundelkhand are well acquainted with false promises of income generation and development.  "I don't think the expressway will benefit the people who live here. It will help the rich, make travel easy for the big businessmen," said Mohit Yadav of Mainpuri village, Chitrakoot in February last year at the inauguration ceremony by PM Modi. "The whole country benefits from our mines here but we get nothing in return. We don't have a good college or a decent hospital. It takes an ambulance an hour to reach a patient." 
Each of the 20,000 farmers whose land has been acquired have been paid an average of 10.5 lakhs which might seem like a large sum at first glance. However, look closer and the vikas starts to falter. 
 "1 bigha of land yields an income of Rs 50-60,000 a year just from the sesame harvest. If someone has five bighas of land then sesame alone can bring in four to six lakh in a year. Where is the compensation for that?" farmer Yuvraj Yadav in Collector Purva village, Banda told KL in October. "And these fields are also for our children — to be passed down through generations. In these circumstances of land-grab by dictatorship by the government, what will the farming families of Bundelkhand do?"
The compensation amount at four times the circle rate, also does not compensate any trees lost cut in the process. 
An RTI by Banda-based activist Kuldeep Shukla revealed that the UPEIDA cut 1,89,036 trees for the expressway in Banda, Chitrakoot, Mahoba, Hamirpur, Jalaun, Aurraiya and Etawah. This fits easily into the central government's penchant for promoting "ease of doing business". The mascot for these vikas–friendly vibes is the BJP's Prakash Javadekar, who just happens to be both the Minister for Environment, Forest and Climate Change, and the Minister of Heavy Industries and Public Enterprises. 
"I saw old, giant trees of mango, mahua, lying felled on the side of the road for about six to eight kilometers," KL EIC Kavita recalled from her reporting. "These trees must have been 100 years old — and they just cut them down. Bahut takleef dene wala scene tha (It was a very painful scene to witness.)"
Farmer Yuvraj Yadav in Collector Purva village, Banda was blunt about where vikas is pushing 95 percent of rural farming families whose lands have been destroyed. "Road pe aa jaayega log. (What will the farmer do, he'll be out on the streets with nothing.) he said matter of factly. 
"When the expressway was being created in Greater Noida, people there specified the amount they wanted for their land. Here, the government had everyone sign their names and silently sold the land without asking. No one asked the farmers whether they wanted to sell their land and for how much," Mohit observed. 
This cannibalising of rural regions to service the cities where the now dispossessed workers will then be compelled to migrate in search of income, seems to be an unspoken part of vikas. 
In the fields of vikas
The UPEIDA site provides a map of the region to be 'developed' by the Bundelkhand Expressway.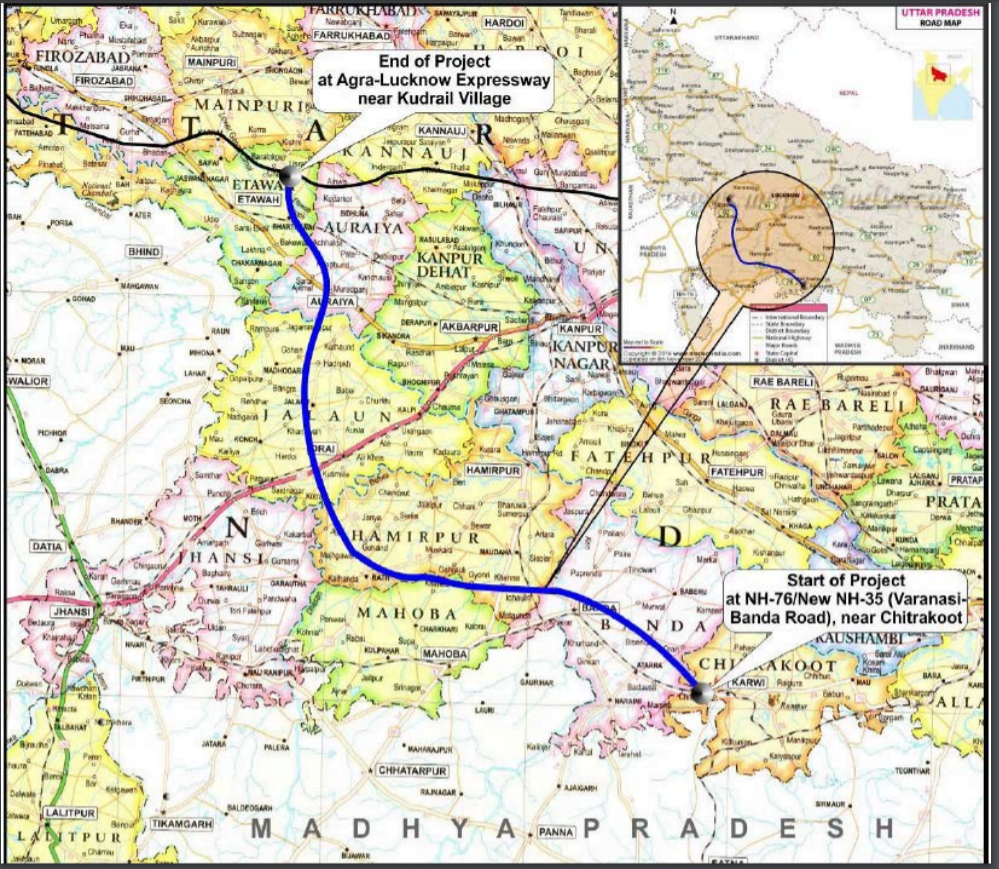 On 22 October, as the praised speedy construction was well underway, KL zoomed into


Thank you for reading Khabar Lahariya
This article requires a subscription. Support our unique newsroom comprised of incredible women who have travelled great distances to tell unheard stories from remote, rural areas in India.

Subscribe