Reporting on the play of politics in the demolishment of statues around Uttar Pradesh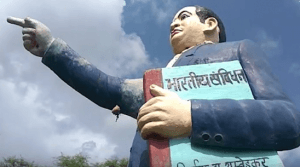 "This is an attack on ideologies, that much should be clear." R.P. Chaudhuri, manager, Sanghmitra Baudhvihar, Banda, calls a spade a spade, in response to the recent statue-demolishing activity the country's been witnessing, and specifically to the Ambedkar busts that were vandalized in Meerut and Azamgarh. Starting with Lenin, Ambedkar, and threats of Periyar thrown in somewhere, the recent BJP wins in the north-east – a first in close to three decades – were shockingly accompanied by the tearing down of statues that have come to be iconic of entire states, not to mention, as Chaudhuri puts it, so precisely, ideologies.
Or perhaps, not so shockingly – in the light of other recent reports that read like cautionary tales, wherein power is being used to re-write history, literally – and "moorti giraane ka silsila" was perhaps a pre-destined event.
In Banda, almost every little village and kasbah boasts of the "mandatory Ambedkar statue" as chief reporter Meera Devi calls it, standing in front of one such statue that adorns the yard of the community centre in Mohan Purva village. "But what of his ideals?" she had asked, in August 2017, in a bid to understand what was the place he occupied in contemporary rural India. She had, almost predictably, only found herself brushed up against Dalit politics and its keepers. "Of course he was a great man, he has great importance for us," Lallu Prasad Nishad, the district head of the Bahujan Samaj Party in Banda, the one party that lays claim to Ambedkar's legacy in the state, had told us. Adding, "Not only for us actually, but he is a man of great importance for the entire country." Sure enough, almost every BSP rally in Banda and around has invoked, cited and paid homages to Ambedkar, mostly around campaigning time, when even local Indian Idol aspirants have been roped in to belt out a few Babasaheb-inspired tunes. Most importantly though, Meera says, tongue firmly in cheek, he is important because of Ambedkar Jayanti when schools are off and "government departments refuse to work", she adds.
Local advocate Jaykar condones the attacks, terming them unconstitutional, linking the acts to the "general upsurge in crime" in the state – "There is an act of violence, there is retaliation. Badle ki bhavna ko uksaya jar aha hai (The thirst for revenge is being fanned)." His younger colleague, Umlesh Bharti however, sees them as a link in the chain of history, a narrative that has always been defined by the powerful, "As far as I know my history, when Babasaheb had spoken of social discrimination, and even after he had authored the Constitution, his effigies were burnt. People who think that way have since been celebrating Ambedkar Jayanti and what-not, but they don't think twice about manufacturing these attacks. They serve as good distractions, and are part of obvious vote-bank games."
Ram Sukhram, a Dalit resident of Devli village, Gazipur district, Banda, has no illusions about the politics behind it all, and the decades of systemic caste oppression, "Our voices need to be stifled for status quo to be maintained. That is why these events happen."
In 2017, Chaudhuri had opined, "Governments and leaders get these statues installed in the name of honour and ideals, but that's about it, isn't it?" and had posed the rhetoric, "Who is really following in his footsteps?" The lack of cleaners and "rakh-rakhaav (care-taking)" at the Mohan Purva community centre – the same scenario greets us in both our 2017 report and the recent follow-up – certainly indicated an apathy that was not merely passive – the pigeons roosting on Babasaheb's head would've agreed.
In 2018, amidst all the well-meaning left-leaning ire against the "bhakt-ist" mentality hell-bent on tearing down idols and ideologies, nobody seems to be posing important rhetoric. Questions such as: When was the last time you paid your respects at this statue?; When was the last time you deliberately applied Ambedkar-ian values to a life-decision? Or Lenin's? Or Periyar's, for that matter?
Not to say these questions should dilute our focus from what's at stake here.
It should, all the more, urge us into rediscovering our own icons. It might just be the only option available to us to ensure the movements against equality do not gain ground, no matter who holds power. Fighting against "the very conscious narrative of asamaanta (inequality)", as Chaudhuri puts is, is the answer.
– Pooja Pande
An edited version of this article first appeared on The Wire.