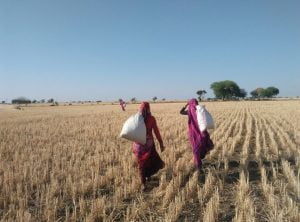 12 kilometres from Khajuraho, roadworks have restarted to widen National Highway 75, which connects Gwalior and Rewa, and many other significant tourist towns in northern Madhya Pradesh. As usual, development obscures the voices of citizens in whose name it takes place.
Raj Nagar Tehsil, Chattarpur, Madhya Pradesh. 10-15 farmers gathered here on the 5 of June 2018, demanding the SDM to show them a notice and provide compensation for possessing and beginning roadworks on their farm land, along the National Highway 75. The process of claiming land from the farmers began in 2004, and was meant to be to widen the road from 'single' to 'four-lane'. The road sees considerable traffic – especially buses and trucks – between major towns like Chattarpur, Satna, Panna and Rewa, and numerous accidents have occurred as the volume of traffic has increased.
We followed the farmers back to Basari village, where the roadworks have begun, and of which these farmers are all resident. Many own small shops along the main road, which leads to the Tehsil headquarters. The area, now marked by dry land and fallen trees where aggressive roadwork has begun once saw successful wheat, mustard and peanut farming, which slowly dwindled with successive years of drought. The past two years have seen barely any cultivation, and this has been What this 'four-lane', in the midst of arid Chattarpur, will do for these farmers is unclear. Maybe hasten the progress of more tourists to Khajurao, barely a 12 minute drive away. All the name of good development, and Bundelkhand vikas, we don't doubt.
Or maybe the story is slightly more complicated. Lakhan Lal, resident/farmer, is concerned, but not as incensed as you may imagine, '100-150 farmers' land has been taken. We don't know how much more will be taken. There's been no notice or compensation. They've already cut the trees on our land. If we knew then it wouldn't be so objectionable, if they let us know how much and whether we'd be getting a compensation.' Lakhan stands in front of a kaccha dwelling, and so it makes sense that a cash compensation which would come in handy to build his house. The problem is not so much that the land – agricultural land prices have fallen considerably, and the possibility of being bought out by the state is not such a bad option according to these farmers – is being taken, it's that it is being taken unfairly and without due compensation. As of the reform in the Land Acquisition (Right to Fair Compensation and Transparency in Land Acquisition, Rehabilitation and Resettlement (RFCTLARR) Act in 2013, and the more recent First Schedule to this Act in 2015, there has been a rise in land prices in order to ease the process of land acquisition. Acquisition prices for for highways especially has increased substantially, from Rs 0.9 crore in FY14 to Rs 2.05 crore in FY16, according to government data. Subsequently, the prospect of some money in the bank in order to counter an acute situation of poverty and hunger, is not such a bad idea.
Roshan Kumar, a teenager manning his parents' kirana shop along the main road parrots what is clearly the only thing adults in the village are talking about, 'We don't have any information – about how much land is being taken, when is the work going to begin, how much money will we get for our land. We're totally in the dark. All we were told, by the SDO (sic) and the Tehsildar, was to turn up at Raj Nagar (the block) (the next day).'
Himalaya Yadav, turns to the camera and speaks directly to the powers that be, 'You tell us, where does it happen that you first take our land, and then think about a notice or compensation? The contractors make an appearance here; they're bullies, throw money in the police station and take the land and begin the work.'
According to Yadav, and around 20 other farmers who had gathered, with similar testimonies, the SDM had declared that the compensation announced in 2017 to farmers' with this land, would be paid. What the farmers are implying, is that compensation offered at the time of the first proposed acquisition of land in 2004, was not adequate, whereas the increased compensation they are entitled to as of 2015, is something that they are agreeable to. It's a better deal than farming arid land in a drought-stricken region. They only need to know, on paper, how much land is being acquired and what will be the compensation due. Whether land reform on paper ever translates into fair compensation for poor land owners, is a question worth asking in a Madhya Pradesh approaching polls.
This Khabar Lahariya article first appeared on The Wire.