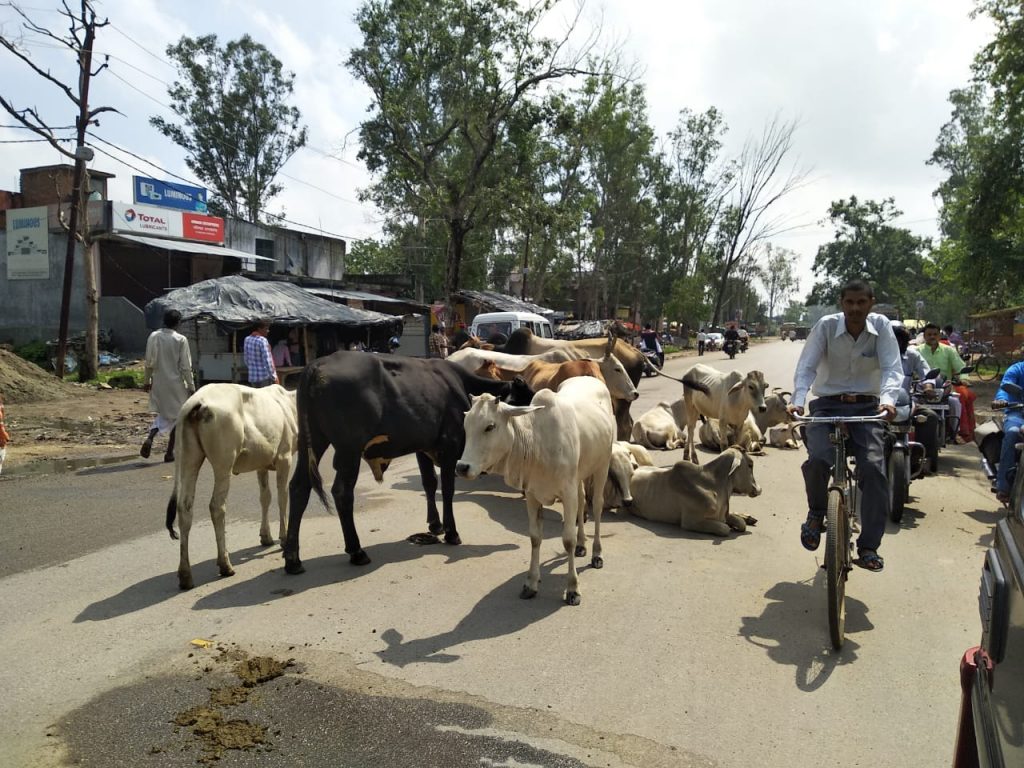 I would like to enlighten all those of you reading this and especially the one considered the most honorable here, the very own Chief Minister of this state Yogi Adityanath. He once declared (note: as per every farmer's plea) that by the 10th of January each of those stray cattle roaming on streets and farms would be kept under protection in sheds, under governmental authority. But is this really happening?
I haven't even noticed a single cowshed here. Have you Yogi Ji?
Or maybe we went wrong. Oh! And how could we forget that a bundle a fake promises lies behind your saffron patronage.
But it still seems as if you have been deviated or simply slewed from your word of promise. Is that so?
Or maybe our voices and demands are somewhat not reaching you. So this time, simply amplifying the unheard voices of every farmer, I (a poor farmer that lives in Rasin village, block Karvi, District Chitrakoot) hereby present an open letter to you considering the plea and issues that have been hassling up the lives of farmers each day. Being a farmer , and beholding the concerns of every farmer present here in Rasin village of Chitrakoot district, I would like to set your keen interest, towards this more controversial issue of stray cattle.
Yogi ji, you might have forgotten this but here I am to help you freshen up your memory. You once promised to provide shelter places for all these stray cattle that roam around our farms. But we could not see even a single one. Do you even remember any of your promises that you plead considering the lives of every farmer?
Is that the paper work or some political agenda that it's not happening?
Because still we could not see such sheds or protection places provided to these cows that once mattered to you in your manifesto.
Exerting ourselves even in the nights, we work on a 24/7 schedule, spending out lives in despair.
But still, hard work never ever pays back to us. We exhaust ourselves sitting and protecting our farms, and what we get is just hopelessness.
Five years of this government has been layering up the practice of playing fake promises, where no such development could be seen till now.
We already suffer every year for not producing a good harvest. And what remains now, gets eaten up by those cattle.
Leading us to the path of a more darkened life and poor lifestyle .
Where in this season rabi crops would have ensured us a good harvest and sale but what could be grown on those barren lands? Despite of putting efforts diligently to all those days and nights, there still remains nothing for us. Maybe our fate might be just forcing us to suffer for the remaining life too.
India is the only nation where animals are worshiped as deities. It is our responsibility to protect them and lend them care. The only thing that we demand you is your support. Being the person in authority it is your responsibility to do so. Remember the pledge that you took while standing amidst thousands of them. You promised to be the public savior. You promised to help. Do you remember anything of it?
Though we might think for a second that the lives of farmers mean nothing to you, but what about those thousands of lives that have been surviving in this nation all because of us? How would the beings survive, when the one fulfilling their stomach dies each day?
Agriculture is the primary need of this nation. But what would this nation do when the ones working behind this are just the non-existents? Think of India surviving without farmers like us.
Oh! Would it then actually survive?
Hoping that someday there would be no animals straying in the farms that all of them would be kept properly in sheds, we still hope the best from this government. But is this government efficient enough to consider us?
We need your support, to care for us and the ones who survive because of us.
Is there still a need to remind you your own duties?
Is there still a need to remind you that we are suffering.
We cry, we plead and then we die.
End of the story…