Banda Dist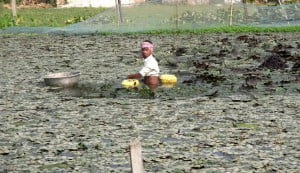 rict. There is no rain. The moist soil of the field is no more, and the crops are fast drying up.
MGNREGA has failed to provide relief in this drought-stricken region. How will the farmers who have lost all hope of crop this year feed their families? And if farmers do not have enough crop
to run their households, how will the rest of the nation feed their families? To find the answers to these very questions, the KL Banda team talked to some farmers, as well as government departments working for the benefit of farmers.

Block Badokhar Khurd, Village Kulkumhari. Farmer Munnalal Vishwakarma leaves his house at about 12 o'clock, to head to the field. He takes with him two cows and two calves which will graze in the field. He will plough the field with bullocks. He says that every single year, the yield is decreasing. It is becoming difficult to manage the costs of food and drink, medicine, education, and weddings. He had 8 bighas of land, in which he had sown til (sesame). He barely got one sack of til out of that entire crop.

Sushila, Devarti, and Rani say that their village is 15 kilometres away from Banda. Because there is no work in the fields, and no work to be found with MGNREGA, they go to Banda every day to find work. It costs thirty rupees to get to and from Banda. On the days they find work, it is fine, but otherwise they have to return empty handed. If they ask the Pradhan, Ramesh Kumar Trivedi, for MGNREGA work, he responds asking – for how many people is he supposed to find employment?
Block Badokhar Khurd, Village Mawai. Farmer Badkauna has this to say – he only has a one and a half bigha strip of land. He also sowed til but it didn't take, because there just was no rain and no way to irrigate the land.

Bhola Prasad says, "I am a landless farm labourer. Every year, I take tenancy on some land and somehow make do for the year, scraping together enough food. This year, I have sown 8 bighas of til. I had sown 4 kilos of seed – now it looks like the land will not return anything, not even the seed itself."
Block Badokhar Khurd, Village Bodha Purva. Kallu says that their village is settled next to a river. When it rains, there's a flood – when it doesn't, there's a drought. In eight bighas of land, they had sown 4 bighas of til and 15 biswas of jowar (sorghum). The rest of the field was empty. Both crops failed.
MGNREGA fails at helping farmers.
When we asked MGNREGA's chief development officer, Ram Mani Tripathi, whether there is a department to help farmers struggling with floods or droughts, he responded: "No. We have the same rules as everyone else over here – people are given a guarantee of 100 days of work."
Is the Agriculture Department doing anything?
Bal Govind, the agriculture officer for Purva district, says that as soon as they got to know that there was a drought, they encouraged the farmers to plant as much til as they could. "I went to various fields myself to see the crop. The yield is quite good. The farmers are getting ready for the Rabi crop. On 7th October, there is a conference of the mandal and district levels of administration. We will take decisions after some discussion and debate on what kinds of seeds, crops and manure need to be used in order to benefit the farmers in the absence of monsoons this year."
The bigger picture
The 2015-16 UP budget declares that Rs. 1900 crore has been set aside for the National Rural Drinking Water Programme. In addition, there is a special provision for Bundelkhand (that includes Banda, but also Jhansi, Mahoba and Chitrakoot) for water management, irrigation facilities and drinking water works – for which there is a budget of Rs. 800 crore.
Recently, Yogendra Yadav (previously of Aam Aadmi Party), who is on a "Samvedna Yatra" to visit drought-affected areas (during which he visited Banda district as well), brought public attention to the plight of Bundelkhand. People and their livestock, he said, are struggling with access to food and drinking water due to the poor monsoon for the past three years, and the lack of power supply.
He says that he plans to meet with the CM to inform him about the seriousness of the situation. He is asking for the area be declared drought-hit. Maharashtra and Karnataka have already declared official droughts, and many districts in Bihar and eastern UP are rain deficient this year. Akhilesh Yadav has not yet made the same declaration for UP – a move which would make many farmers eligible for compensation for crop damage and relief in terms of money, electricity, irrigation, and ration.
Click here to read the original Hindi version of this story in last week's Khabar Lahariya (Banda edition).