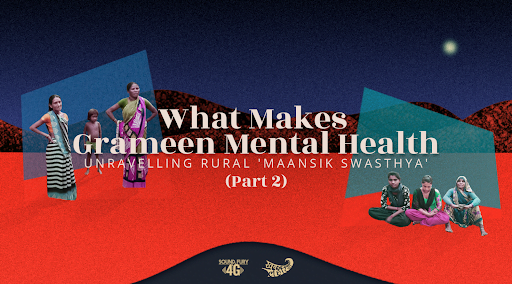 "Field work has come to a halt because of Corona, so has talking with people outside. Ghar se bahar nikalna, wo hi apne aap mein bahut badi baat hai (Being able to step outside the house, that in itself is a very big deal)." This is what Meera Devi, KL's Chief of Bureau, a reporter of some fifteen years now, says immediately when I ask after her mental health in April. "Free nahi mahsoos ho raha (I'm not feeling free)," she says. 
 Amid being ensnared in household work, managing a team and being stuck on the phone and social media, Meera isn't able to devote as much time as she would like to her children, now in high-school. They too are justifiably irritable, not being able to see their friends. Meera worries about the years of work poured into her daughter's education and what the results of her examinations will be. She worries about the health and safety of her colleagues reporting from Covid-death struck villages. Not being able to meet her colleagues, and not having the easy physical intimacies of friendship, the gale milna — weighs heavy on her mind. 
"Humko lagta hai kya ho gaya hai, life kaisi ho gayi hain. Kya woh cheezein aayenge waapas us tarah se?(I feel like, what has happened? How strange life has become. Will those ordinary precious things ever return in the same way?)," she tells me. Meera was meant to visit the KL Delhi office taking the overnighter train from Bundelkhand. She was meant to travel abroad, and take a reporting trip to Faizabad for a feature-story. "Sab tal gaya hai. Kitna ajeeb lag raha hai (Everything has been put on pause. It's all feeling so strange)," she says.
This week, in part 2 of our series 'What Makes Grameen Mental Health', we delve into the costs of failing health infrastructure, what mental health means to women, and how they grapple with it in their daily lives. If you missed part 1, where we introduced the three aspects as they relate to grameen India (awareness, community and care both medical and material), you can read it here. Meera's immediate association between freedom,work, being outside the threshold of the house, and their synonymy with mental health — is a theme that finds resonance among the grameen women of Uttar Pradesh. 
Since the pandemic and lockdown, women in rural U.P have found their work to have increased and mental health to have taken a corresponding decline. Increased stress due to rising domestic violence, a spike in unpaid care-work and running the household on next-to-nothing were threads that ran through the experiences of women we interviewed. Further, there did not seem to be an appropriate space for women to express negative emotions.
Mamta Vishvakarma, a teacher in Chitrakoot told us, "Women are not even allowed to express their feelings. They get scolded further for speaking up." Her solution? An exceptionally belligerent stance, uncharacteristic for women in the region: "I get very angry and report things to the police," she says and grins. It beats swallowing one's feelings and running your own health to shit like the many women she knows, she told us.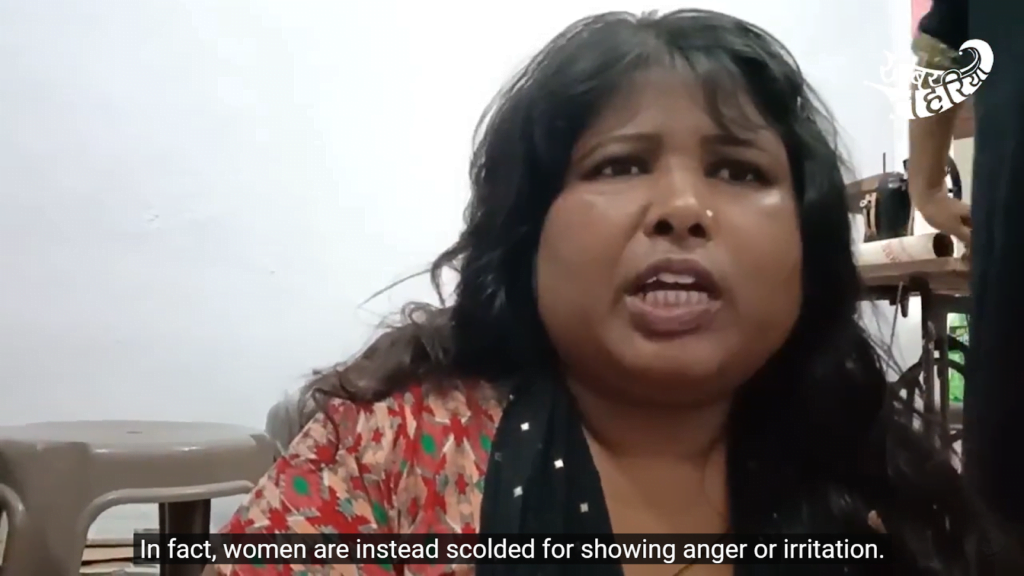 Mamta Vishvakarma, a teacher in Chitrakoot complains that women experiencing depression or mental health issues are ironically scolded for speaking up. Any attempt at expressing anger or irritation is suppressed. Chitrakoot, July 2020.
Concurrently domestic violence rose throughout lockdown. "He keeps asking for something or the other throughout the day, bothering me constantly", Reshma, a young woman from Chhatarpur said in June 2020. Requests for her husband to help were met with demands for hot meals, verbal and sometimes physical abuse. Kanija Begum rued the "monumental difference" lockdown had wrought. "We might have been poor then too, but there were no continuous requests for cooking chicken, fish, and all delicacies in the same day or week. I have to manage my husband's demands while balancing the household expenses. If we exhaust all our savings within a week, we'll starve to death the rest of the lockdown!" Her house reflected the ugly realities of small-town and rural India where KL has its roots, and domestic violence and marital rape is still considered a part and parcel of married life. KL reporters too have had their share of domestic violence over the lockdown, with husbands and in-laws monitoring their Facebook timeline and internet usage. They too have left the marital home to return to their maayka (mother's house). How can we dream of hundreds of rural women reporters when the champions we've already got are still battling their demons of patriarchy, we have wondered. 
The "maansik hinsa" (mental torture) meted out to women in rural U.P includes the devaluing of girls from birth and incessant pressure to be a baby-making machine till the prize i.e a boy, pops out. The mother of eight girls, Sushila of Belha village, Chitrakoot spoke of the jadi-booti (herb concoctions) and fake medicines from quacks promising results, that were commonly forced on women. "Any household conflict comes back to the issue that I have no sons. It's always blamed on me," she said in February last year. Saurabh Singh, Child Protection Officer in Chitrakoot told KL that the sex ratio of girls : boys in U.P was 850: 1000 despite all the schemes of 'Beti bachao, beti padhao'. "Biwi sabko chahiye, bahen, bitiya kisi ko nahi (Everyone wants a wife — no one wants a sister or daughter)," quipped another woman in Chitrakoot who preferred to remain anonymous. She imagined a sinister future for U.P where rich households will "kheench ke" take home a bride because women will be scarce in number. "And of course, torture against women will increase," she added matter of factly. Aarti, who works at the Chitrakoot Women Helpline concurred, also predicting an increase in rape.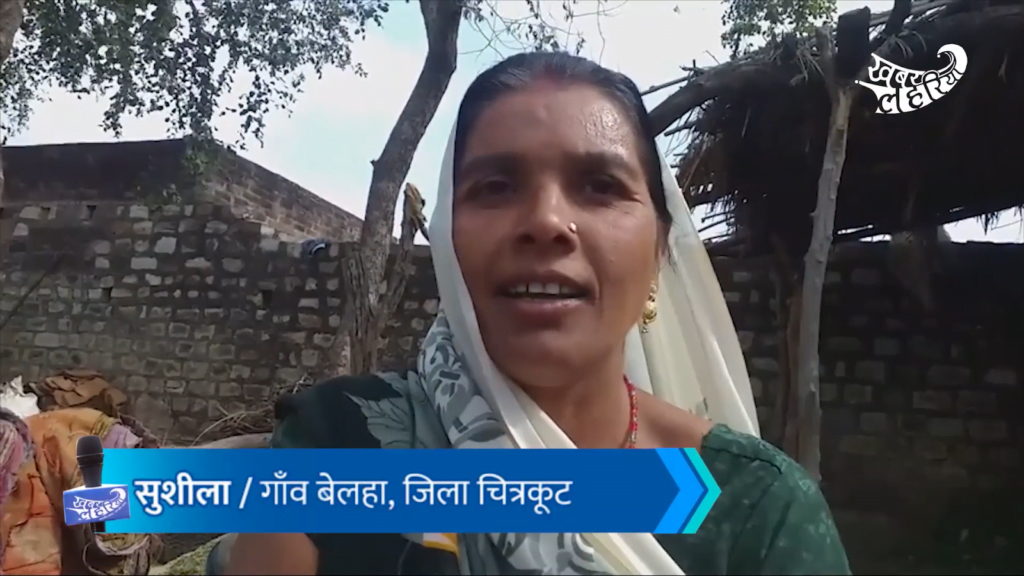 Mother of eight girls, Sushila of Baleha village, Chitrakoot says that every household argument comes back to the clinching failure of her not being able to birth a boy despite the biological facts of Y chromosomes being the sole contribute of the father.
Ground report: The present state of the DMHP in U.P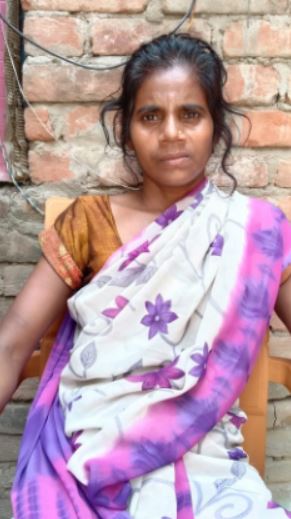 The myriad socioemotional and material oppressions experienced by women can unsurprisingly overwhelm their coping mechanism of sweeping it under the carpet, and result in full blown chronic mental illness, depression or psychosis. A mother of four in Karwi who lives with chronic mental illness tells KL senior reporter Nazni of being turned out by her husband after facing extreme abuse. She had attempted to file a case against her husband but the police did what they do in the region: samjhauta, and suppressed the case. 
Her mayke-wale (natal home) are the ones who support her food, her children's education but often there isn't enough to eat. "Bhaaji waaji khaa lete hain, bhukhe pyaase reh lete hai (I persist on dry-bhaji, when there isn't enough we stay hungry and thirsty)," she says, dry-eyed, her sweet ten year old son peeping over her shoulder. 
What quarter is available to these women for mental health care in these circumstances? According to the website of the Directorate of Medical and Health Services, Uttar Pradesh, the National Mental Health Programme (NMHP) is operational in all districts of U.P, with awareness programmes for early detection, OPD and indoor services provided in addition to disability certification facilities and camps organised. It also mentions counselling services provided under the District Mental Health Program (DMHP) — the implementation mechanism of the NMHP. The idea of the DMHP is to provide mental health care within the community itself. It operates through DMHP clinics which have a mental health professional, psychiatrist and social worker at district hospitals and visiting Primary Health Centers (PHC) and Community Health Centers (CHC) at the village and block level respectively. 
As the website claims that the DMHP is fully functional in U.P, this should mean that there is a mental health professional visiting every PHC or CHC in every village, every week at the very least. So we decided to take them on their word and confirm this week. 
In Panna district which has 6 CHCs and 16 PHCs, there is no mental health professional in the entire district, Panna district Health Official Dr. R.S. Pandey told KL. This has concrete consequences, forcing patients with severe mental illness who require medication to travel out of state for treatment. In Ajaygarh, Panna, Raju is compelled to travel with a companion to Gwalior, Madhya Pradesh every month for a review and medication. The medication cost comes to around Rs 3000 and the travel and kharcha-paani of the trip takes another Rs 3000 — a hefty sum for most people in rural U.P whose material circumstances are less than ideal — particularly in lockdown. "Agar zile mein is bimari ka doctor hota toh humare samay jo aane jaane mein lagta hai, vo bachta aur jo itni door jaane mein kiraya kharch lagta hai, vo bachta. (If there was a doctor who could treat my illness in Panna, then the time and money it takes for two to travel so far would have been saved)," he told KL. 
In Banda, Najneen told KL, "In my mayke there is only my mother, no father. There is also my younger brother — so they were in no position to help me. My husband used to torture me a lot and I had to tolerate it all these years. Eventually he even picked up a relationship with another woman and this pushed me into severe depression. 
Dheere deere yeh depression ne ek bimari ka roop le liya. Main pagalo ki tarah badbadane lagi,  raaton mein bahar nikal jaati, chillati… Sab pagal kehne lage. (The depression aggravated and I started raving incoherently like a madwoman, leaving the house at night to roam the neighbourhood and shout… everyone started calling me mad)." 
This aggravated her condition. There was no doctor in Banda who could treat her so she too had to travel to Gwalior like Raju. Nazni is currently on a course of medication and has scaled down from visiting every month for review to once in three months — a less than ideal situation. KL tried to contact the Banda CMO to no avail.
Chitrakoot has 6 CHCs and 29 PHCs. There is one psychiatrist for the entire district of Chitrakoot who tours the district, spending 3 days at the district hospital and two days at other PHCs or CHCs, Dr. R.K Karvariya the District Program Officer told KL. Shehroj Fatima of Karwi told KL, the arrival of the psychiatrist one year ago has significantly improved the situation. Earlier Shehroj would take her sister Razia to private sector psychiatrists in Kanpur and Allahabad. This travel would take the entire day and come with its own costs. The cost of medication is still prohibitively expensive ranging from Rs 4000 to 6000 a month. This is consistent with research that has reported high out-of-pocket expenditure for persons living with mental illness in India. Ideally for such families, this medication should be free and easily accessible, as should access to mental health professionals. 
In Rampur, which has 27 PHCs and 5 CHCs there are no psychiatrists in the entire district. People travel to Bareilly for treatment. Ayodhya has a total of 11 health centers including PHCs and CHCs, and nary a government mental health professional in the district, CMO Dr. Ghanshyam Singh, told KL. 
Overall our findings this week were less than encouraging, and we would like to ask the U.P Directorate of Medical and Health Services to perhaps update their website to more accurately reflect the state of affairs. Or preferable, change the state of affairs.
"Boriyat mehsoos hoti hai bahut zyaada": How women cope and self-soothe
The lack of facilities also affect teenage girls undergoing hormonal changes and