Growing up in Banda, Nazni did not cook, unlike most young girls. She recalls her initiation into adulthood through food.
When she turned fourteen, relatives came calling and she was married by consensus into a family of four brothers in Moradabad. The brothers had great trouble with food, being compelled to eat out constantly, at small-time hotels and dhabas. Their parents were long-dead. A bahu would provide hot, home-cooked food waiting at home, the relatives said. And so there was a wedding. The man to whom Nazni was married was twenty two at the time. They had five children together over the next ten years. He gambled away their money until she left for her parents'. Soon after giving birth to her infant daughter, Nazni walked out of her maayka (parents house) with just a basta of clothes, and found shelter one stormy night in a kitchen in someone's empty house. Her son caught a panni (packet) whirling on the road, and brought it back. Her children and her spread out that panni on the kitchen floor, and curled up while thunder roared outside all night. Telling this story now, Nazni has trouble believing it really happened. That this has been her life.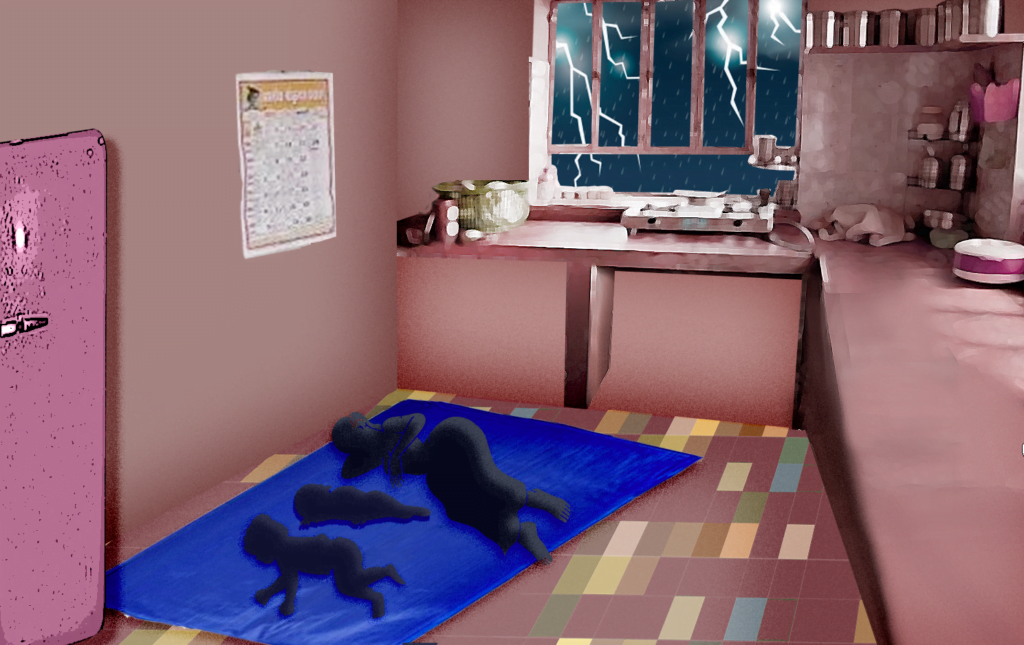 How she  learned overnight at fourteen to cook and feed a family — her husband, his three brothers, and herself for ten years. Now at forty, a senior reporter with Khabar Lahariya and the long-standing host of our show 'Aa Gayi Re Chatori' (Here Comes the Gourmand), she says, "Khaane se hi toh shuruaat hoti hai. Subah uthega toh kitchen dekhega, pehle fridge dekhega ki usme kya rakha hai khaane ke liye. Baaki sapne toh baad mein hain, woh kabhi kabhi dekhe jaate hain, par khaane ke sapne roz dekhe jaate hain.
(Everything begins with food, isn't it? When a person wakes in the morning, the first thing they do is look into the kitchen, the fridge to see what is there to eat. All other dreams come later. They are dreamt only sometimes, but dreams of food are dreamt every single day.)"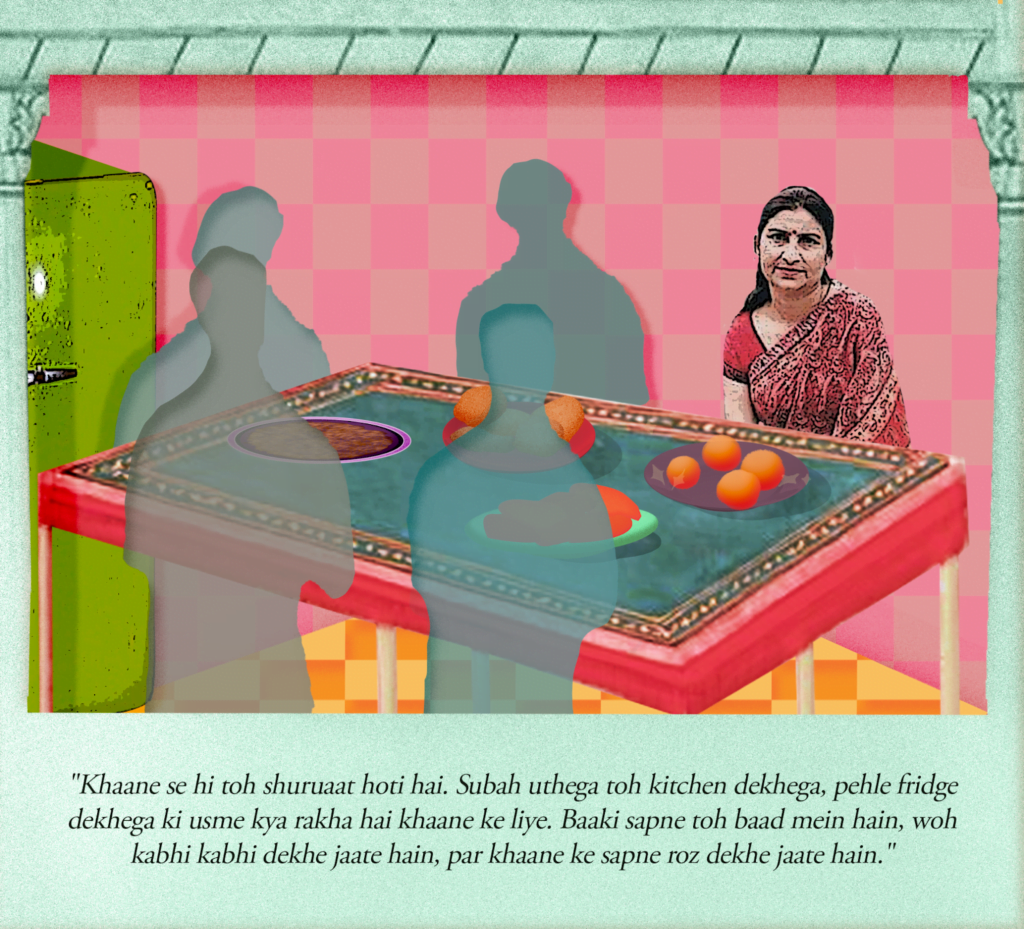 Nazni describes her relationship with food as "bahut alag (very different)". Her reporting qualities of curiosity and efficiency mediate this relationship too — as a woman with an appetite for good food, and a desire to devise new recipes with which to delight herself and her children. Her relationship with food is a kind of metric of her evolving station in life, she says. She traces it back to back to her beginnings as an eight-standard dropout, a new bahu at fourteen.  
Nazni's husband worked as a craftsman making and polishing Moradabadi bartan (the brass vessels Moradabad is famous for). While the brothers went out to work by day, they returned hungry, expecting the promised home-cooked meals. She remembers,"Even though they were older than me by at least ten years, they looked at me like a mother. Because I would take care of them like that, customising to their whims and fancies– someone would want chawal ki roti, someone would want gehu ki, someone would want paratha…" 
Nazni learned to cook by covertly spying into the kitchen of the woman who lived upstairs. Her life was partitioned by, and revolved around the day's meals. The morning's bread-and-butter, the afternoon's tehri, khichdi or dal-chawal (vegetable-pilaf, lentil-rice or rice with lentils), and in the evening "non-veg — whether chicken, mutton or badhe (beef)." 
In a departure from traditional Muslim families, including her own, Nazni did not eat non-vegetarian food before her marriage. On moving to Moradabad she realised that she would have to cook meat daily. At first she ate her own rice and roti with scattershot sides: "I tried to hide it, by eating sometimes with chutney, sometimes with saalan (gravy with yoghurt). I worried that if I cooked something vegetarian separately for myself, they might think it odd. Still they noticed, and began to say Yeh Hindu hai, yeh gosht nahi khaati (She is Hindu, she doesn't eat meat)." 
The comments did not phase her, but she grew tired of eating separately in the same house. Eventually she developed a taste for gosht herself, particularly given the regional affinities of the Muslim community in Moradabad. "Moradabad mein har sabzi, har dal mein gosht daal ke banate hain (In Moradabad, every vegetable curry or dish, every dish of lentils too would have meat in it)," she says. "Once I remember I was craving rajma (kidney beans) so I bought some for myself. The same day a guest from Delhi turned up at home. I ended up cooking keema (minced beef) in rajma so that I could satisfy my craving, and they would enjoy it too. It was such a hit that since then every time we visited Delhi, he would ask me to make that same rajma-keema."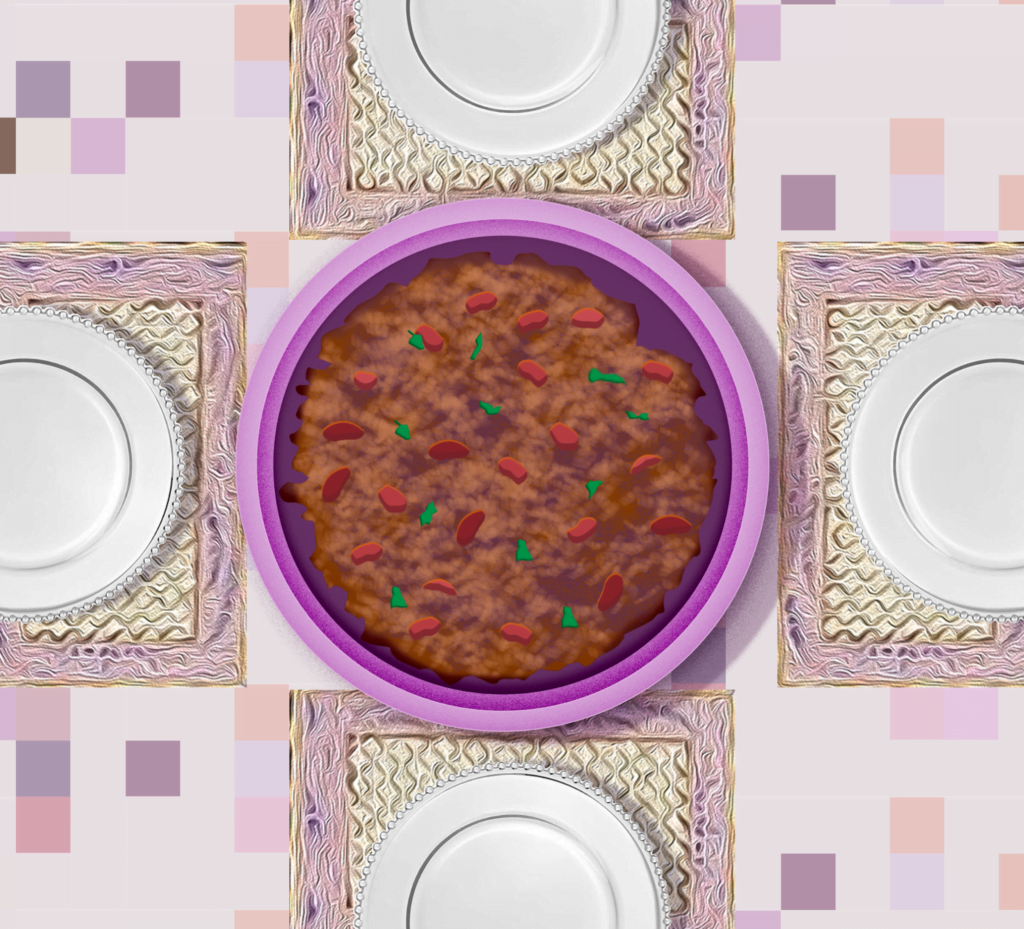 Although it's been decades since she lived there Moradabad-specific food remains her favourite. In the winter when the shaljam (turnip) grows, Nazni makes her favourite dish:
Jab shaljam ugta hai, unke choti choti patti upar aati and shaljam neeche ke side hota hai. Un pattiya aur thoda sa paalak milakar ke use gosht mein banate hain. Aur chaawal ki roti uske saath.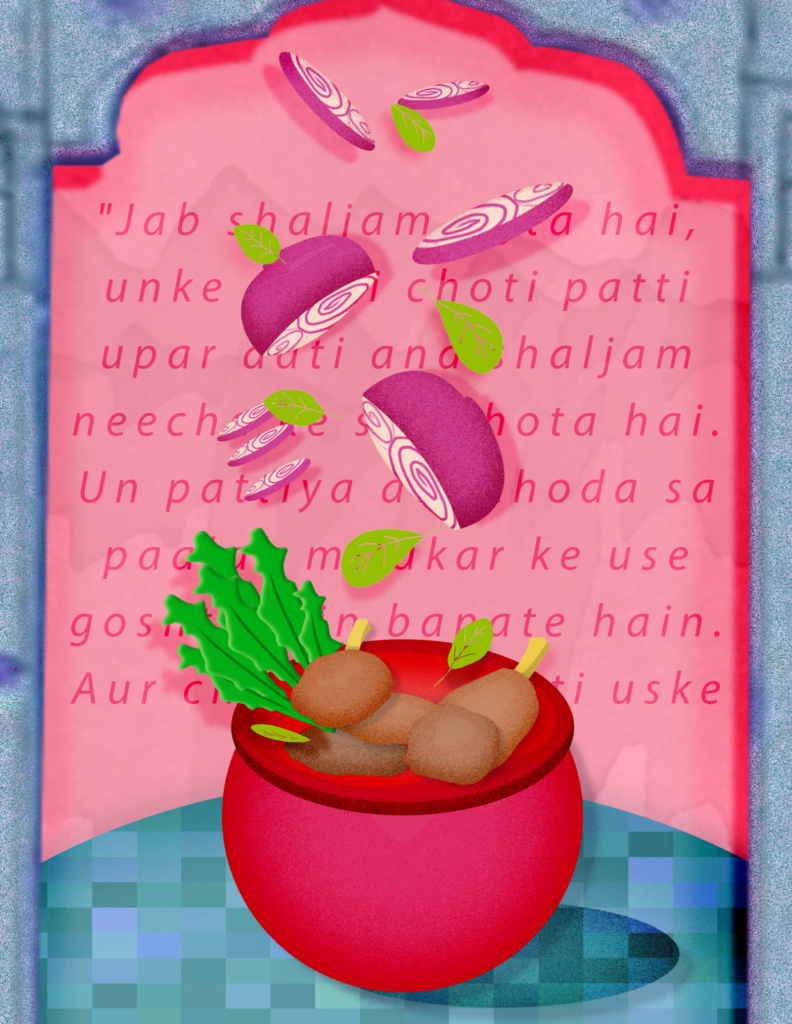 (When the turnip grows, there are small leaves on top and the turnip grows below.  You harvest those small turnip leaves, mix it with a little spinach and make a dry curry with meat — mutton or beef. And to top it off, rotis made of rice-flour.)
The show begins
Often KL EIC Kavita has noted, there is an expectation in U.P.'s male dominated-media that women reporters will only do 'soft coverage' related to fashion or food — something thoroughly debunked by KL over the years. Still, around 2019, noticing how popular our food-coverage usually was, KL launched Aa Gayi re Chatori or the 'khana show' (food show) as it's called behind the scenes. Given her inherent and overt 'chatori-ness' Nazni was a natural choice for leading the show, alongside Kumkum Yadav, a KL youth-reporter from Faizabad. The idea was to show off and record the disappearing regional foods of Bundelkhand — dishes that older generations, particularly in the villages loved, cooked and ate. Dishes that were often invented out of necessity and scarcity, now fast being left behind in favour of Maggi and take-out. 
The show also inadvertently and inevitably became a record of the labour put in by women in the villages, because it has been overwhelmingly women home-cooks featured in these videos including, sometimes KL reporters and Nazni herself. The exceptions are men in sweet-shops who make khoye ki jalebi or in hotels making nihari — both instances outside the domain of the home and paid. 
"Yahan pe mahilao ko khane ke saath rishta hai ki, kyunki mard nahi banata hai roj ka khana (Here women have a relationship with food that is inevitable– because men don't make daily food)," says KL senior reporter Geeta. Geeta herself is the daughter of a halwai (confectioner) father from the Gupta caste of Banias, she explains, whose traditional occupation is to run sweet-shops, make sweetmeats, and cater food at weddings. Geeta grew up watching her grandfather make sweets and sell them in the village.  "Log kehte hai Gupta ka kaam hai halwai-giri aur dukan-dari (People say the work of Guptas is to make sweet-meats and run shops)," she says.
While she and her sister learned the trade and accompanied her father, now growing older and frailer to weddings, her brothers did not learn to cook–not even tea. She seems at ease with food, and sweet-making but not particularly enthused by the gender-binary. On having a sweet-craving, she would rather make a halwa or a barfi in two shakes out of ghee and milk, at home than buy it. Geeta appears in an episode of Chatori, making lauki ki barfi (sweets out of gourd). 
The women in Chatori are largely Dalit women, who show us foods they feed their families with, often when there is little available at home and hearth — food requiring the ingenuity of what will use little oil, little gas or coal even, food using the cheapest ingredients available. These are also foods eaten on special occasions — tyohar foods eaten on festivals like Holi, Diwali, or weddings.  
In Bakta Buzurg village of Pahadi block in Chitrakoot, a 'special' food for Diwali is 'jorainda' with channe ki dal. The jorainda is so named because it is made by joining two rotis together. 
Babbu Devi kneads the atta, making flat rotis, rubs them with oil on each side, joins the two together and fries them over the chulha (open stove). Then she fries them again, flipped over and joined to the opposite side, and folds them into small triangles.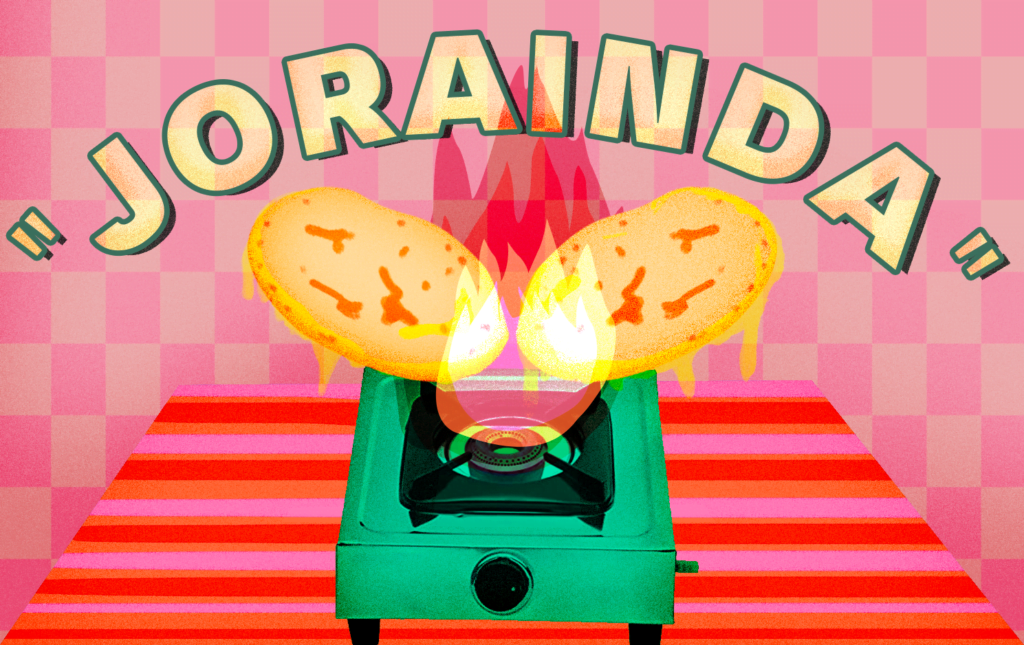 "Gareebi rahi hai, isliye pehle se hum khaatei aaye hain — poori, paratha, dal-chawal bas (We've been plagued by poverty over generations. This is why there is such an excessive reliance on puris, parathas, and lentils with rice.)," she explains. Even the celebratory side, the channe ki dal is just a basic dal– but special because channa is an elevated fare in this context. On regular days they eat arhar  and moong varieties of dal. On Diwali, the dish of honour is jorainda with channe ki dal served on the plate with chilli pickle.  
In drought-struck Bundelkhand, the villages face water-scarcity as a perennial problem, heightened in the summer. The Dalit and Adivasi neighbourhoods in particular, are often denied water by dominant castes in the region who commandeer the one functioning hand-pump or insist that marginalised caste communities take long circuitous routes for water. For Adivasi communities in particular, but Bundelkhan's rural poor at large, mahua, the sweet jungle-fruit is a perennial and reliable favourite as it is easily accessible to all. One episode of Chatori set in Manikpur block — a hilly region of Chitrakoot with a large Adivasi community, has KL reporter Sahodara making her beloved mahua ke pue — puffed malpoa-like pooris made of atta (wheat flour), sesame, and mahua which sweetens without the need for gud (jaggery) or sugar (expensive!). It's a savoury meal to be eaten with pickle or enjoyed as a treat for birthdays. It also keeps up to ten days without refrigeration, unlike regular pooris. 
Bundelkhand itself is a predominantly agriculture based economy where the primary crops are pulses, gram, rice, wheat and peas. It is plagued by infertility of land, inequitable land distribution, depleting forest and soil cover exacerbated by mining and the sand-mafia racket that operates under the not-so-watchful eye of the local administration, in addition to overgrazing by cattle under the gaze of U.P's gau rakshaks. Further the soil, a mixture of black and red-yellow is not very fertile. In rural U.P farmlands there is a lack of enforced MSP and schemes benefit farmers with deep pockets and large orchards and irrigation. Even shifting to commercially lucrative sugarcane farming in Western U.P as incentivised by the Yogi-government has not quite paid off. To add to this, the rains come more erratically every year and climate change saps the groundwater. The impact of all this of course can be seen in the kitchens and on the plates of the women featured in Chatori. So it is that many of the foods and dishes shown tend to be dry, reliant heavily on bajra, atta, spice rather than a lushness of vegetables or fish or meat. The ingredients common to most dishes are usually lehsun, mirchi,  jeera, namak, pyaaz (garlic, chillies, cumin, salt and onion) along with rotis made of bajra and atta. 
One such example is the very first episode where Suman in Prasidhpur village of Chitrakoot makes panbudda. She soaks daal, grinds it to make dough, and prepares the masala  —  lehsun, mircha, dhaniya, namak swad anusar (garlic, chillies, coriander and salt to taste). She mixes this dough of spiced dal as filling into small round balls of atta. The end result looks like little momos or pierogies, which she fries golden and sizzling in a giant steel kadhai  after boiling them in water for a bit.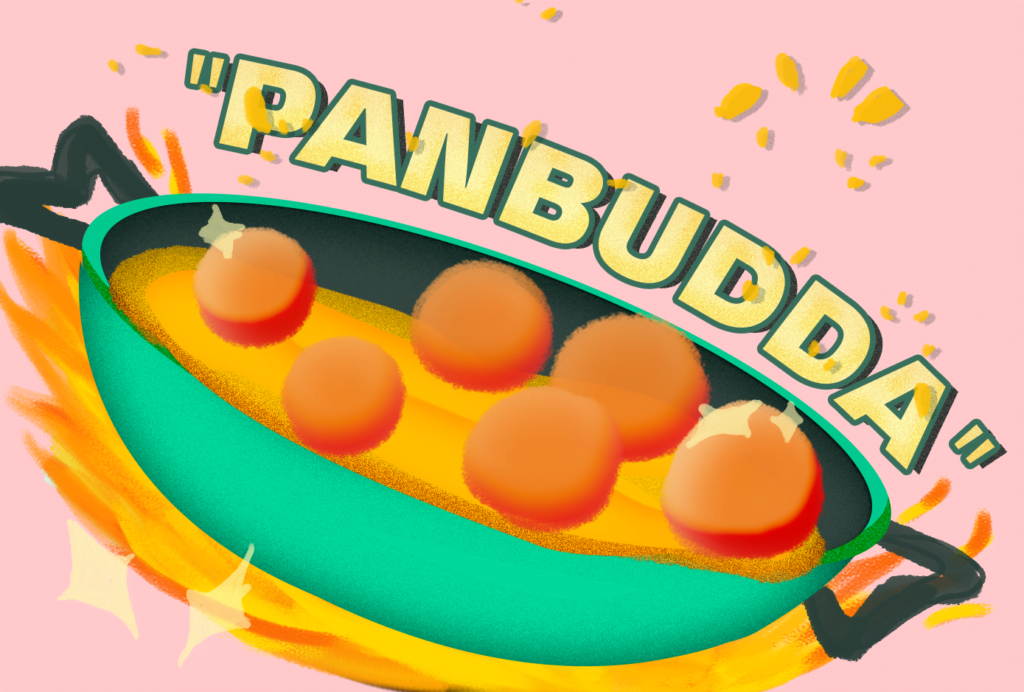 "Pak jayega toh tight ho jayega, (You know they're ready when they look tight)" Suman says. She sits on the floor as she makes this beside her gas cylinder. It is served alongside a watery red savoury chutney made from tomatoes. "It doesn't look like much, but it's tasty," Suman qualifies. Similarly, Tanveer Fatima makes til ki sabzi (vegetable curry from sesame) for when there isn't much else available at home, and one episode involves a dish made from leftover rotis. 
"This is real desi swaad (country taste), the kind elders in the village used to make," Nazni tells the camera as she eats the jorainda closing the episode. But what is this desi swaad?