Dhoondne se bhagwaan bhi milta hai, aur khodne se paani.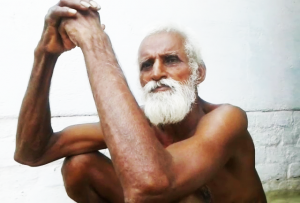 An important qualification to an age-old adage that was inspired by Sitaram Lodhi, a 70-year-old man who lives in Lovekush Nagar block's Pratappura gram panchayat of Chatarpur district in Bundelkhand, Madhya Pradesh.
Sitaram has lived through a water crisis that has deepened over the years, and in the last few, has intensified and magnified beyond imagination. Always prone to droughts and famines, Bundelkhand has been facing acute water shortages recently – from groundwater levels taking a nosedive to wells drying up as early as February. Coupled with a largely apathetic administration prone to knee-jerk quick fixes, the effects of an arid landscape on a populace that survives below poverty lines in this country, are abysmal to say the least.
And Sitaram has had enough.
So, armed with a phavda and a thasla, a spade and a vessel to collect the mud, Sitaram decided to dig a well in his village. He started in 2015, and his family tried to stop him initially, before labelling him mad. "They all said, what's the point? Don't do this. You won't get water this way. Par main khodta raha (But I kept on digging)." He did this for 18 months straight, day in and day out, almost every day, and that's when the first disappointment struck – it rained. "Before I could tap water, the monsoons arrived, and it was all washed away."
So, Sitaram did what only Sitaram could. He waited it out, and began once again. "I did it because we do not have water here. We do not have water for irrigation, primarily. And drinking water problems had also started to get worse. So, I decided I would dig a well." Sitaram prepped right after he made the decision, got the equipment, and announced his decision to the family, which comprises his brother, sister-in-law and their four children. Sitaram himself is single. "They got very angry, and said we don't have money, and you're thinking up these crazy ideas! But I knew what I was doing. I started work the very next day."
Interestingly, the Kapil Dhara Yojna, a scheme that falls under the MNREGA umbrella, includes exactly the kind of work Sitaram has been doing – the development of irrigation facilities such as new wells, ground water recharge, farm pond, masonry check dam, stop-dam. Perhaps, even more interestingly, the man who lugs 50-60 kgs of sand and rocks every single day in his efforts to build the well, has not taken up this initiative as part of the Kapil Dhara policy. "Everybody complains, but nobody does anything. So, I decided to do it alone," he says, as an explanation of his drive and perhaps a tiny aversion towards sarkari goodwill.
Sitaram's niece Urmila tells us about the man she's always known as the uncle who refuses to sit still, "It is not in his nature to sit around all day and be served food. He is a very hard working man, and he actually likes the hard work. Even at home, he's always helping with all the house work. Never have I seen him sitting around idle, and never once have I heard him say he's tired." A 2012 episode we hear about, stuff of local Sitaram legend, only goes to underline this fact further. It turns out that Sitaram, then 64, was walking about when he chanced upon the local college gearing up for a sprint. It was a sports competition and Sitaram decided to take part. The college principal tried to dissuade him, but Sitaram insisted. Finally, the principal relented, if only to indulge an old man, but what happened in the next five minutes belied everyone's expectations – Sitaram bagged first position! He narrates the episode with glee, and repeats twice that the "imtihaan rupaiyya" was sent to his home – a matter of great joy. "Saare ladke toh peeche reh gaye (All the boys were left behind)", he says, matter of factly, recalling the day of the race.
Urmila shares with us what she finds most special about her uncle, "You know, he always says that one must keep working hard, that the world should know his name, because of the parishram he did."
Well, Sitaram ji, consider this article our little nudge in that direction.
This article first appeared on Firstpost