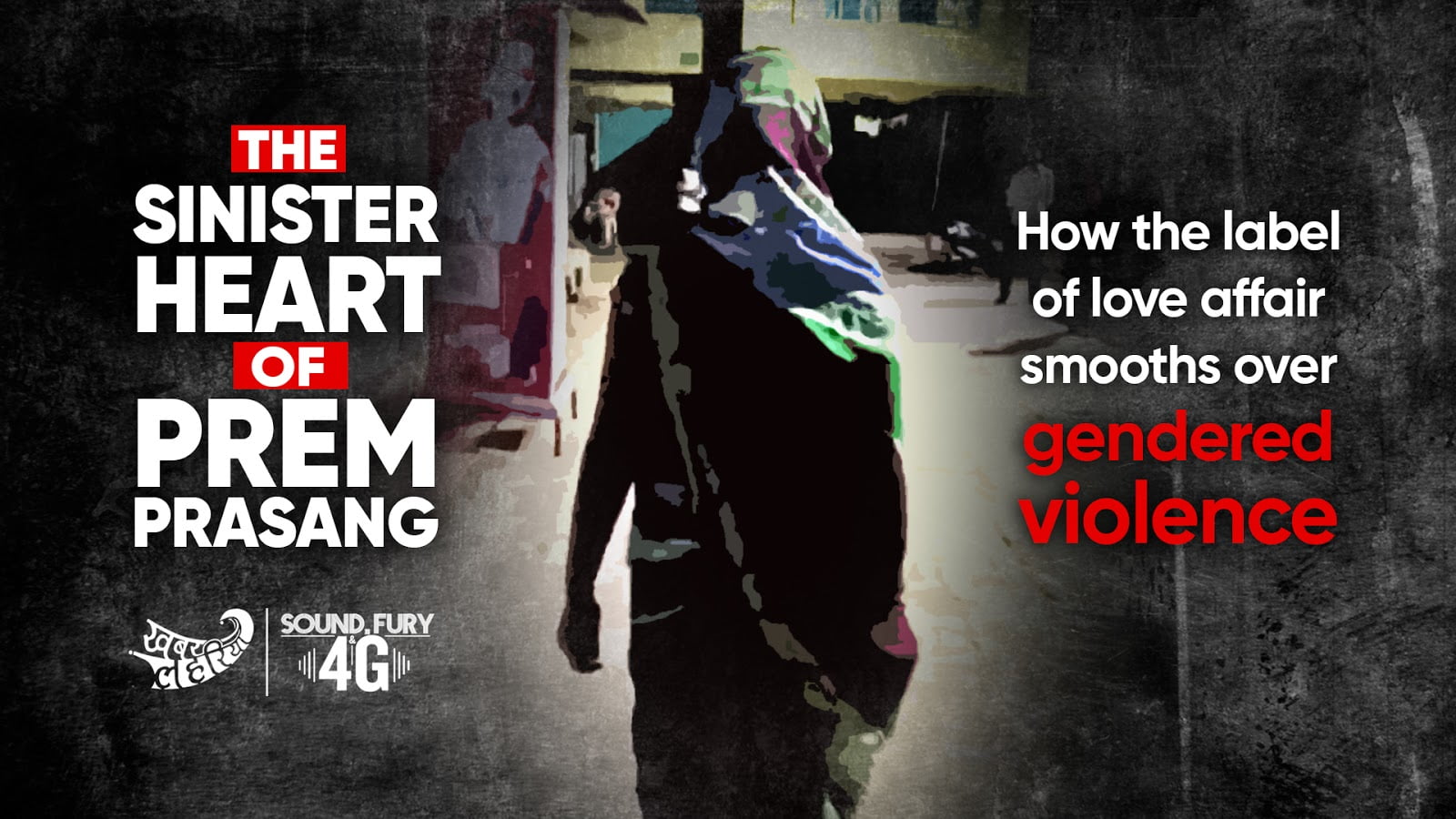 In the second part of our Valentine Month special, we delve into the phenomenon of 'prem-prasang' or love-affair, a label that sweeps sinister things under the carpet in U.P.
"If the phrase 'prem prasang' (love-affair) is being thrown around in public you know something has gone wrong. Because if all is well, then either there is nothing to discuss, or it stays private. It's truly a personal matter," Kavita, KL's Editor in Chief says. And when the words prem prasang are suddenly thrust into the harsh glare of daylight or media cameras, you know that something has gone terribly wrong. 
Prem prasangs happen outside the bounds of socially sanctioned, parentally approved, big dhoom dhaam se shaadi relationships. Usually it is a label bestowed by outsiders — the neighbouring villagers, the mostly male-dominated dominant caste press. At KL, our archives are bursting with cases tagged 'prem prasang'. 
To begin with, it helps to know what is not a prem prasang. Kalavati, a social worker with Chitrakoot-based NGO, Vanangana describes the prevalent attitudes towards love and relationships in the villages of Bundelkhand. Predictably, she says, an appropriate life partner tends to be one approved by one's parents, and prescribed by caste and religion. "Jismen hum baandhenge samaaj, usi mein bandhenge ladke ladkiyan. Lekin agar unke apne marzi se chaah rahe hai, toh woh nahi manzoor." (The mores by which we decide to tie society, those are the only acceptable ties for girls and boys to come together. But if they grow a mind of their own, and want to follow their own heart's desire for marriage, we cannot accept it.)
The consequences for flouting these mores is high — tremendously deadly and usually stacked disproportionately against women. Per the National Crime Records Bureau in 2018, murders attributed to love affairs increased by 28 percent between 2001 to 2017 in India. 
A typical case goes something like this: two corpses lie shrouded in a room, after they were found on a mountain 3 kilometers from the village in 2018. Their deaths are attributed to a suicide-pact and forbidden prem prasang. Another: Between September and October of 2020, three couples lose their lives in Chitrakoot— all variously filed away under prem prasang. 
In one of the cases, Seema and Chunnu Kewat of Tarauha village in Karwi are found dead. Seema's brother, with the women of the family in a silent line behind him, alleges calmly that Chunnu must have fed her poison. Chunnu's mother alleges on the other hand, that Seema's family attacked Chunnu and threw his body on the railway tracks. "We had proposed the matter of marriage to the family several times. His whole body was full of injuries—how else did they get there?" she weeps. 
Off-record, the police closes the case, ruling it a suicide-pact due to prem prasang. 
Commenting on this alarming trend, RK Patel, the BJP MP from Chitrakoot told KL in 2020, "See, there is a legal right of girls to marry according to their own wishes after 18. They shouldn't resort to suicide. They should struggle for their love. They should tell their parents. If someone has brought them up since childhood, obviously they would not want their children to die."
However, this seemingly reasonable argument contradicts what happens when the family finds out—particularly when the child in question is a girl. 
In Karcha village of Banda in August 2020, blood-smeared walls and nail scratches spoke of desperate scrabblings to escape, in an empty room. 
Phoolchandra, the older brother of Bhola Arakh, got a call from his sister at 2:30 in the afternoon urging him to return home. Come fast, was all she said again and again. 
Bhola's mother had gone looking for him at lunchtime and heard whispers that led her to the house of the Singhs in Asharam village. The family were directed to a nearby relative's house— told that some discussions were ongoing. Eventually they realised the couple had been locked in a room and set on fire. Everyone in the village knew but were watching the 'drama' unfold instead. The family desperately started calling the police but no one picked up. "We kept dialing the 112 number," Bhola's father said, close to tears. When the police finally arrived two hours later, the room was unlocked and the boy declared dead. The girl died on her way to the hospital. 
Nine members of the girl's family were arrested including her mother, father, and brother—Lakkhu Singh who had come home to find the couple together, attacked Bhola with a knife, then locked the two of them in a room and set it on fire when the girl tried to protect Bhola. 
What remains? A mother gesturing to her own head to show the wounds inflicted on her beloved son's body. 
What remains? Photographs: A girl chats on the phone, clutching a red-hatted, red teddy bear by its red nose. In the photograph she smiles distractedly at the camera, another giant smiling teddy bear to her side. A woman in purple wedding finery in front of a photo-studio set (a multi-storeyed house, a stream, trees), her bangled hands folded primly in front of her. 
In the space