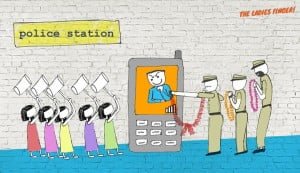 I edit a newspaper in Banda, Uttar Pradesh called Khabar Lahariya. Our 15 reporters across UP are all women.
It's January 8, 2015. The phone rings and the person on the other side asks me for the phone number of one of my colleagues. When I refuse, and hang up, he starts calling back every few seconds, trying me and my colleague by turn. When I ask him his name, he tells me, it's Nishu.
I told him to not call again and again, and he said, until he gets my colleague's number, he will harass each member of my team.
It was a production day, I remember. Story drafts strewn across the floor, tempers high, eyeballs fixed on screens. We were under a lot of pressure to send the file to press, there were calls from Delhi, from Kanpur. And every other minute, this man would call. Him, and 20 other men on 'conference', whispering lewdly. If we didn't answer, he'd start calling from 50 other numbers. We were so rattled by the phone ringing that we could barely think, except to use the power of our imagination to summon him up and beat the shit out of him.
That week, Nishu started calling my colleagues one by one – in Chitrakoot, Banda, Mahoba.
You know what he would open with? I want to talk to you about love. Because the woman I loved has left me.
That was the beginning.
Later, he'd call us when we were in the field, when we were out reporting or distributing our paper. He always knew where we were, what we were doing. Rama stopped answering the phone when she was riding the bus home. He could be sitting on the row behind her, she said, and then he would know what she looked like. Each time, the call would be from a different number. When we didn't answer, he'd message, and message again, and again. Call me please. Love story ke message. He'd call me at night, and I'd be able to hear a blue film in the background. Talk dirty to me, he'd say, madarchodi batein karo, else I'll have you kidnapped and raped, many times over. Wherever you hide, I'll find you. You and everyone in your team. I'll take your journalism and shove it up your ass.
How can I describe how he broke us? Us journalists who thought we'd made something of ourselves. Rama* began to look grey, in a way I had not seen her in 15 years of working together. He threatened to have her killed on sight, raaste mein goli se uda dega. For the first time, I saw Mumtaz* spontaneously weep when we met.
When we started refusing to speak to him, he got our SIM cards locked. First Rama's, then her husband's. Then Mumtaz's, then Hira's*, then mine.
We spoke to Vodafone. Madam, someone just called and said you'd lost your phone, with the SIM card, and that we should lock it? As soon as we'd get them unlocked, they'd be locked again. Four times a day, sometimes.
Nishu's calls had me upset, at my wit's end, paralysed. I stopped laughing, talking, eating, sleeping. My brain was tied into a knot. The only thing I could think of was Nishu.
I'd work all day, and come home and be unable to talk to my children, my partner. He'd call, again and again. He'd call my partner, Rama's partner. Midnight, 2am, 4am. He was in my sleep, my dreams. Nishu, Nishu, Nishu.
* * *
First we called the Women's Helpline – 1090. It was always busy.Then one day, awake at 4am, I got through. They promised an investigation within 24 hours, but Nishu never stopped calling. We called again, and they said the investigation was on, but Nishu never stopped calling. Then we went straight to the Deputy Inspector General (Banda), BR Meena, to complain.
While I was talking to the DIG, Nishu called. Over and over again. Finally, the DIG answered the call, and spoke to Nishu for a while, UP man to UP man. I listened, in shock, as he disclosed my location to the man who had harassed me for months. He put him on speakerphone. Let's see if you can catch me, Nishu told the DIG. The DIG told me that he'd have Nishu in jail within 24 hours, and that I should go to the police station and file an FIR right away.
The cops were sitting in a huddle, gossiping, when I entered the Banda police station. Feet up on the table, paan masala oozing from the corners of their lips. Madam, it's been a long time, the Sub-Inspector (SI) said. Where have you been? Come sit with us and tell us the latest news. What? Someone's been troubling you? We find that hard to believe. I could hear the sneer drip with the paan, near his feet.
My phone was ringing, and I said, see, he's calling right now. One cop took the phone from me and started chatting with Nishu. It seemed like such fun that another cop had to have a go too. My phone went round to each cop in the station.
When they were done, and I said I wanted to file my FIR against this man, the SI said I should just switch my phone off if I didn't want to talk to him. I said I couldn't, that I needed to use my phone. So get a new SIM card. But people have this number and call me on it. So if he abuses you, abuse him back. Get the men in your house to do it. The calls will stop.
He sounded like so many other men I knew. Let go of this desire to control your life, and everything will be ok. Really? One phone stalker was going to get me to let go of everything?
I'd begun to feel the same kind of fatigue that I felt at the end of every day, with Nishu's calls. Finally, the cops took a written complaint and told me to leave, that the investigation would begin. The only thing that I knew for sure that had begun was their sweet friendship with Nishu.
It was March now, two months since that first phone call. The FIR got lodged under Section 507 (criminal intimidation by an anonymous communication) of the Indian Penal Code and 66A (which has since been struck down) of the IT Act. In Chitrakoot, an FIR was lodged under Section 506 (punishment for criminal intimidation) of the IPC.
Nishu never stopped calling. I went to the Banda police station almost every day, to ask what was happening with the arrest. Apparently the calls were "under surveillance". I had a surreal sense of being in one of my own stories, watching myself pleading with the cops in the police station– this dingy, repellent, male space –being scoffed at, made to perform, repeatedly, each time someone new wanted in on the joke. Speculations flew around the room, about the mystery Nishu – he must work in a phone company, manage cell phone towers. But apparently he was untraceable.
We all performed, recorded our statements. No arrest has been made yet.
We started to feel the kind of despair, bordering on suicide, perhaps not unlike what Neetu Dwivedi must have felt, pleading with abusive policemen to release her husband from unlawful detention in a Barabanki police station two months ago. A fatal negotiation that resulted in the cops allegedly dousing her in petrol and setting her aflame, and she died from burn injuries two days later.
* * *
In June, I got a call from Anirudh Prasad Pande, the Inspector at the Crime Branch, Banda (where 'important crimes against women' are transferred). He wanted to record my testimony. I'd lost count of the number of times they'd recorded my statement by now, and I knew what the repetition of this performance entailed. But I went, thinking that a transfer, and to a Crime Branch – located next to the Superindent of Police's office – must mean progress on the investigation. Inspector Pande said: This is a weak FIR. What am I to say if this matter reaches court? I began protesting at the harassment, and the kinds of abuses Nishu would use on the phone, and Inspector Pande interrupted me. Tell me which gaalis, and how he would say them? Whatever he would say on the phone, repeat that for me. How can I, I said? These kinds of testimonies are meant to be qalam band, and recorded only in the presence of a magistrate. And here I was, the object of attention of almost the entire Banda police department. I felt my blood boiling in my head. The Inspector was now interested in my personal life, and I began to lose my patience. What does any of this have to do with my case? When you arrest Nishu and take him to court, I'll come and give my statement there, with each abuse and lewd comment he made to me. I left, Inspector Pande's smile following me out.
There are FIRs against Nishu in two police stations – Banda and Chitrakoot, and a complaint in Mahoba. No action has been taken yet. He called two weeks ago, over the Independence Day weekend. We haven't spoken in a while, he said. I heard you have the cops on my trail? Isn't that a little unfair?
**
This story was written for LadiesFinger's series on experiences of reporting cases of sexual assault, in association with Amnesty International India's Ready to Report Campaign. It was first published here.